I take it you've come here after going through my article on best protein skimmers overall? Then, you know for the fact what a protein skimmer does! Let me give you a basic rundown anyway.
A protein skimmer takes out the impurities from your coral or fish aquariums/tanks. Basically, it shoulders the responsibilities of 2 – 3 filters alone. That too, with minimal maintenance!
Now, "Nano Protein Skimmers" do the same. But on a smaller scale. Yes, these things are designed for smaller aquariums, fish, and coral tanks. These are less taxing on your electric systems, on you, and on all the organisms that reside in the tiny tank of yours.
As always, you'll find machines by the tons when you're out for a purchase. It's easy to get lost in the brands and all the models these companies have. That's why… I've compiled a list of best nano protein skimmers in this little article as well as giving you an insider's peek into how I found them!
Read along with me to find the device that suits you the most!
Some of the Top-Rated Nano Protein Skimmers – My recommendations!
Let's face it, researching and finding a nano skimmer that fits your schemes can be an arduous task for the untrained. It'll take you a long time and potentially a bigger wallet to pull things of. How about I show you the way to some of the best machines that I found through research and personal experience.
1. Eshopps Protein Nano 10-35G Skimmer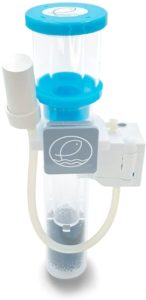 While making the list of the nano protein skimmers I researched, I had to put this one first. Eshopps is a brand that hails from the USA and holds quite a strong reputation at that. This product has been quality tested by the manufacturers to ensure that it doesn't let you down in any way.
The first thing that impressed me was the features that were prioritized in this device. You guessed it right… "Safety and Cleaning Capacity." No matter what others say to you, these aspects count (At least, in my book). Safety for both the user and aquatic life of the tank matters a lot.
As for the cleaning features, we'll get to that shortly.
Mounting and operation with this machine, were pretty simple. The needle wheel impeller mechanism that is used in this one is efficient, to say the least. And to go with it, the magnetic mount system was a pure lifesaver for me. No need to spend hours just to get it properly in place.
I just "Have" to mention that the collection cup is removable which makes cleaning almost hassle-free. Convenient disposal of collected waste materials is also an option. This small addition makes the product eco-friendly too. It simply can't get any better than this, right?
Yes, it can! With the utilization of the Italian made Sicce Micra Venturi Pump, this device here becomes super energy-efficient. This pump combined with the needle-wheel impeller consumes a lot less power than the contemporaries. 6 watts to be exact.
Now let's get into the measurements a bit. It has a rather small Footprint of ½x2 1/4×11 ½". The total height of this thing comes down to 12 inches. I wouldn't really call it bulky by any standard. Positioning it for optimal placement isn't difficult at all.
A common concern of most users would be, "Will it be compatible with the size of my tank?" There is a high probability that it will. This Protein skimmer is made for 10-35G tanks. This wonder of a machine here is best suited for marine aquariums.
This skimmer is safe for your aquatic pets and has no possibility of causing any harm. Plus, it works great if you have a blue thing going. The blue color scheme will definitely go with blue corals and your blue scaled fish friends.
All specifications and features aside, this one is definitely a good buy. It hasn't disappointed me in regards to what it was supposed to do. In fact, this nano skimmer actually did more than what I opted for. A big thumbs up from my side.
Things I Liked about the Product:
This little tool comes with a small footprint which makes usage and installation a lot easier for us.
Installing it is easy and takes no time at all. Even a newbie can do it in minutes.
The product is energy efficient and saves electricity costs in urban areas by a good margin.
I must say, this thing is well-built and compact when you take the size into account.
The guys at Eshopps made this tool with durable materials that make it long lasting.
Things I Didn't Like about the Product
The long break in period is an issue.
2. AQUATIC LIFE 115 Mini Internal Protein Skimmer/Filter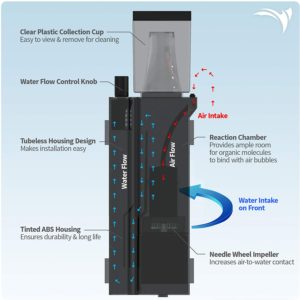 The first impression I got after getting this out of the box can be described in one word "Cool!". I mean this looks sleek, classy, and not to mention elegant. If you are someone who is opting for stylish equipment in your tank, then this one will definitely serve you well.
I'll start this off with a pointer, before deciding to get this for yourself look at the measurements of the filter box area. Otherwise, things might get a bit complicated. All that said and done this device here is optimal for mini reef aquariums.
Well, let me give you the measurements so you can be sure of yourself. The internal Mini Skimmer 115 measures only 3″ x 3-1/4″ x 10-5/8″. This compact size is great if you are considering to put it in your mini saltwater aquarium. You're good to go unless it crosses 30 gallons. Best to keep that in mind.
I'd say it's good enough for most rear overflow or filtration compartments.
Just like all the good ones. this particular skimmer is powered by an 8-watt needle-wheel impeller pump. Energy efficiency that comes with maximum air to water contact. Now, this is the type of organic waste removal that I recommend for everyone. Great efficiency all the way!
Another thing that gave my purchase ever more value was the low-profile design and mechanism. The product has a clear plastic 3.4oz collection cup. I mean, I can literally see how the cleaning is going on.
A mounting bracket is included. Plus, convenient placement of the suction cups come along with the suction cup, making installment super easy. Fitting inside all sorts of aquarium sumps within the size frame.
Needing minimal clearance above the waterline of 3.75inches for proper operation makes using this product a breeze. Waterline clearance issues can be hectic. You'd definitely know this if you've had experience with skimmers that don't prioritize user-friendly features.
With the power cord length of 1.4 M/4.5 ft, you definitely won't go wrong. Reaching a proper outlet shouldn't be an issue in any case. No matter how large of a room you place your tank in. Oh, and the built-in channel conceals the grounded power cord. No compromise when it comes to aesthetics.
As for cleaning and maintenance, I don't have to break a sweat. The quick lock feature makes it super easy to open and clean any time I want. An all-rounder in every aspect.
Things I Liked about the Product:
The mounting brackets have a very reliable locking mechanism which is great to have.
The size of this internal protein skimmer is rather compact and easy to handle even for newbies.
For me, the motor is rather quiet with minimal maintenance needs for this kind of machine.
The power cord is pretty long and can be connected to far off outlets.
There is a dedicated compartment to hide the power cord. Moving with this machine in tow is not an arduous task.
Things I Didn't Like about the Product
I must say, clogging issues can get annoying at times when you need the pipes to work most.
The suction cups don't attach themselves properly to the tank. I had to do a bit of jostling around.
3. Hydor USA SlimSkim Internal Skimmer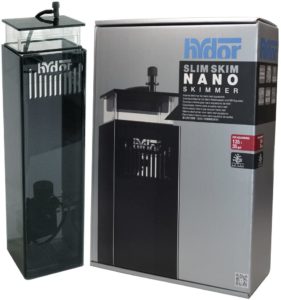 Can outstanding cleaning power come with power efficiency?
"Yes!"
This much is guaranteed by the compact-sized Hydor USA SlimSkim Internal Skimmer. With unique features that count in everyday use, this device proves itself to be a worthy contender among the contemporaries.
While making the list of best nano protein skimmers excluding this one here would literally have been a crime. It does what it should and does it right. When compatibility comes to the question, it can work with tanks up to 35 gallons. This little wonder means big business without a doubt.
You won't have to worry about breaking the bank because of electric bills as the SlimSkim consumes only 4 watts of power. How awesome is that? Just because it consumes less power doesn't mean it doesn't pack a punch. We'll get to that shortly.
As much as unboxing is concerned, the experience for me was nothing less than wholesome. The package came with the body, the venturi impeller, an adjustable suction cup, and lastly the venturi adjustment valve for precise air regulation.
Speaking of the Italian made pump, it provides optimal bubbles size to ensure optimal skimming. This is done subtly with low profile features that make it seem practically silent. The small size adds to the whole grey stealth scheme.
Ever had issues with unwanted surface oil with your aquarium?
Well… give it a kiss goodbye as the integrated surface intake grid takes care of it completely. Whether it be glass or acrylic, the magnetic suction cup works great with up to 0.4inches of thickness.
The adjustment and installment seemed pretty easy, to be honest. It's easy to position and place with its magnet-suction cup support. All I had to do was raise or lower the collection cup for precise regulation of foaming. The air volume too was adjustable to achieve accurate air volume intake.
With 3 1/8 x 3 1/8″ x 12* Height size without the suction cup, it doesn't look or feel that bulky. As I said, it has a grey thing going to complement a dark theme (If you're into that). If efficiency is your prime concern, this product is hands down one of the best ones out there.
Things I Liked about the Product:
The skimmer's size can be customized so that it fits the tank accurately. It's good for people using different sizes of fish or coral tanks.
Ask me and I'll tell you, energy efficiency of this skimmer is off the charts. It saves a lot of power.
The air controlling system is very precise and offers pin point accuracy.
It's really easy to adjust the foaming valve. You'll need "Two" tryouts at the most.
The build quality is impressive considering the makers used quality and sturdy materials.
Things I Didn't Like about the Product
To be perfectly honest with you, the motor is rather loud when the tool operates at peak.
There is a possibility of facing clogging issues if you leave the machine unattended for too long.
4. Tunze 9004.000 Comline DOC Skimmer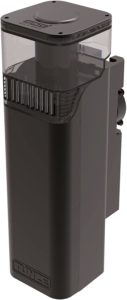 Go big, go fast with the Tunze 9004.000 Comline DOC Skimmer. This baby here can handle tanks up to 65 Gallons. Not only that, but it makes full use of the Flash Skimming" fast and efficient waste removal. This little monster means serious business and comes with an aggressive look as well.
Don't get startled by the large capacity that it can handle. It will also go just fine with pumps of lesser capacity levels. I've used this with nano tanks like the 29-gallon Coralife BioCube. It worked just fine. All I had to do was trim the rim plastic a bit and I was good to go.
As for the design and build quality, it felt rather solid. With the dimensions of 4.3 x 3.5 x 12 inches and a weight of only 3 pounds, it goes with most sumps just fine. It's quite obvious that the guys at Tunze gave full effort to push in as much efficiency as they can within optimal proportions.
Installing the product and overall adjustment was hassle-free. There were magnetic holders for glass measuring up to ½".
Now, let's discuss a bit how the device manages to get the work done so fast. The skimmer utilizes the Tunze Flash Skimming Principle. According to the system, it acquires water through efficient and accurate surface suction. It's done with a surface film removal mechanism. It's basically a stand-alone solution all in all.
I don't have to worry about bubble density at all. The Tunze Foamer makes sure that a large number of air bubbles are produced. These have a diameter of between 0.1 to 0.3mm which is just perfect.
As far as operation goes, it's one of the most silent and low-profile skimmers I have used so far. It's fairly quiet and creates no sort of "Whizzing" sound.
Cleaning and maintaining it isn't that much of a big deal. All I have to do is remove the waste regularly. Clean the container thoroughly and reattach it with the device. Voila! We're good to go again.
This little machine is eco-friendly and has zero possibilities of harming your aquatic pets in any way. Trust me, this assurance does matter. I mean… we are doing this for their health, right?
With all that said, I would give this device a flashy five-star rating from my side. I mean, I got a whole lot more than I opted for within this price range.
Things I Liked about the Product:
Efficiency-wise, this little tool is without a doubt one of the best I've seen.
Bubble production is more than adequate and offers great cleansing of our tanks in quick time.
The amount of foam this thing produces is great for all the waste you need removed from tank.
It includes a surface bacterial film removal which proves to be handy in dealing with micro-organisms.
I must say, this little device is aesthetically pleasing and looks classy.
Things I Didn't Like about the Product
Well, it could have been more competitively priced.
5. Coralife Biocube Protein Skimmer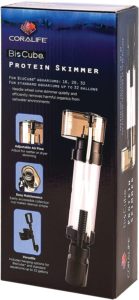 Don't get fooled by the simplistic design of this little skimmer. It's without a doubt an "Ace" of a performer. It's as efficient as it's subtle. A silent profile device that gets the job done just the way you want it.
Straight out of the box, the skimmer came with a removable collection cup, a well-built air pump, flow valve tubing, and a limewood air stone. Pretty much all you need to remove all those harmful organic and ensure a healthy environment for your pets in the water.
Before going into the details, I would suggest that you double-check the water level consistency of your tank. Also, before you decide to get this baby for yourself, know that it will remain in a constant position in the sump. It's best to raise or lower the whole unit before you set it up for operation.
Trust me, adjusting it beforehand is far better than fiddling around later.
This bit aside, this protein skimmer is designed by Coralife Biocube. So, it's pretty obvious that you won't have any trouble with a tank of the same brand. BioCube aquarium sizes of 14, 16, 29, and 32 are best suited for this device in particular.
Have no fear, if you have a smaller tank of say 12 gallons, it will still work just fine. Just make sure the installation is done properly.
With the dimensions of 8.2 x 7.6 x 2.4 inches and a bare minimum weight of 1.15 pounds, this product is very easy to adjust and use. To go along with it, this thing comes with a hanging clip (Just in case you need it). This makes good use of the back wall filtration chamber.
It had a hassle-free installation procedure and I find it very easy to clean. But that is to be expected from a renowned brand like Coralife Biocube, right?
Coming to the power cable, it was long enough to draw power from far off power outlets in my house. Yes, that's a big lifesaver without a doubt!
No one wants to set the whole thing up and find out that they can't actually power it up just because the cable isn't long enough. All facts discussed; this one is hands down worthy of recommendation to anyone I know. Yes, you included!
Things I Liked about the Product:
This skimmer is very compact and easy to deal with for beginners struggling with cleaning.
The design speaks of the added effort in user-friendliness makers granted us.
This thing is a perfect fit for BioCube aquariums and causes no problems at all.
When durability comes to question, it's simply top-notch.
Coralife Biocube is loaded with additional well-crafted accessories that come in handy
Things I Didn't Like about the Product
Fitting the top part in some aquariums might be an issue.
The balance between the power of the skimmer and the air pump has room for improvement.
6. Bubble Magus QQ1 Hang-On Nano Protein Skimmer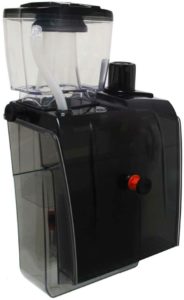 Honestly, the list of the very best nano protein skimmers wouldn't be justified without the Bubble Magus QQ1. This one isn't really built for larger tanks. Yet… within its capacity, it's a different beast entirely. Even from an aesthetic point of view, I have to say that it does stand apart.
Now, what everyone needs to consider is the type of pump the product is using. That is without a doubt the heart of the skimmer. The Bubble Magus QQ1 uses a needle-wheel pump. This is what you'll generally see in most nano protein skimmers. This pump is one of the most efficient ways to go about it.
The makers included Rock SP600 Pump in the package. It isn't something you can simply shrug off by any means. It's very much capable of producing an adequate amount of bubbles to remove all those unwanted wastes and keep your aquarium as clean as possible.
The usage procedure is, in one word… "Handy Dandy." No difficulties or hassle whatsoever. Perhaps, it's on par with the most efficient and easy-to-use skimmers I've come across so far. But you should be aware that this skimmer works best within the limit of 25 gallons. I'd rather not go above that.
Many of you might suffer as I too have suffered in the beginning by making my purchase without going about the aquarium thickness. This isn't a thing any of us should ignore. Compatibility is an issue. But you'll be glad to know that this one here will work fine with a thickness of 12mm.
Another piece of advice from my end would be to look at the dimensions of the skimmer. But have no fear as this device is pretty compact. With the dimensions of 5.8″L x 4.4″W x 10.5″H adjusting this device was a piece of cake.
Looking at the fundamentals, I would personally say that if you look at aesthetics, the skimmer isn't all that bad. With a simplistic design and a well-built body, it served me pretty well. It doesn't look shabby along with my nano reef tank. A "Win-Win" in every aspect.
If you want to overlook all the bells and whistles and want to go for a product that does what it should, then look no further. The bubble Magus QQ1 Hang-On Nano Protein Skimmer is serving me well and honestly speaking, I have no real complaints whatsoever.
Things I Liked about the Product:
The air intake is almost noise-free. You'll not here even the whirring noises the skimmers make.
I had no objections when it came to durability and reliability. Materials are sturdy to begin with.
The integrated pump is quite efficient as well. My tank becomes squeaky clean within minutes.
It's capable of going from zero to maximum level of its capacity within minutes of being turned on.
This machine has a hassle-free installation procedure like so many top protein skimmers out there.
Things I Didn't Like about the Product
For me, the capacity is a bit small compared to the price.
7. Comline DOC Protein Skimmer 9001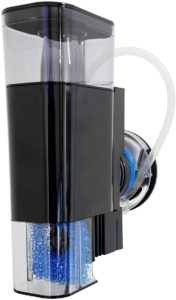 If you want to consider getting the very best skimmer for your nano aquarium then you have to know that size "Does" matter. It's actually quite the opposite of the saying, the bigger the better. I prefer compact yet well-optimized devices to keep the unwanted waste at bay for my tank.
Installing this one might not be too difficult. But I suggest you go through the manual. You'll find it in the box (duh). It does give a detailed description of how you can set it to the right place. With the dimensions of 4.3 X 2.5 X 8.5 Inches, it's not a big surprise that adjusting be too problematic.
This one has all the features you need to ensure some enhanced waste cleaning. But before you get certain that you'll pick this one up, take this into consideration. The magnet holder can support the thickness of 3/8" glass or acrylic. It's best not to go beyond that.
As far as compatibility issues are concerned, this baby here can handle up to 37 gallons. This is perfectly enough for most nano reef tanks. But if you want to get something for larger tanks then it's best to look for other options.
The needle-wheel pump is included and it works like magic. A sufficient amount of air bubbles forms each time it does the cleaning. Plus, the diameter of the bubbles seemed fine as well. Don't worry about the safety of the fishes. This device is eco-friendly inside and out.
I've used nano protein skimmers that really don't go easy on the electric bill. That bit had me worried a lot. But this one was fairly energy efficient. It does the job well with minimal wattage. This assurance is something I bet we all love to have.
As for the overall design and build quality. It didn't feel flimsy at all. Just holding it in my hand while installing it created a solid impression (If not Premium). The tubing was just fine and went great with my tinted acrylic tank. For me, the black color scheme was just perfect.
I really shouldn't miss out on mentioning that I have a dedicated SPS tank. It's best not to cross the 15-gallon threshold with this product. The same goes for those of you that own a high nutrient one. Keep this information in mind and that's about it. This device should do justice to every penny you spend.
Things I Liked about the Product:
Comline DOC protein Skimmer has a surface suction system in place for film removal.
Vibration transfers are kept to a bare minimal through silicone buffers. Hence, it's noise-free.
The outgoing water is fully bubble free. The drainage system is impressive to say the least.
This little machine is aesthetically pleasing to say the least. It looks good on most coral tanks.
I must say, makers did us good on this machine. It's well-built and quite sturdy.
Things I Didn't Like about the Product
This product might end up being a bit too big for some tanks out there. Measure your tank size.
8. IceCap K1-Nano Protein Skimmer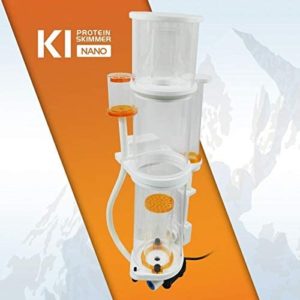 This one here might be the last on our list, but I would hardly call it the least. Loaded with awesome features, the IceCap K1-Nano Protein Skimmer is definitely one of the best ones you can get.
This protein skimmer is great at bio load handling. The wastes created by bio-organisms do need a certain amount of capacity to be cleansed and divided properly. The IceCap K1-Nano Protein Skimmer can take up to 30 gallons of bioload handling. This of course comes down to 10 gallons if heavy.
The product has a remarkably small footprint. The exact measurement of 2.75″ x 3.2″ is actually pretty compact. The reaction chamber is two inches and it has a height of approximately 13 inches. I'd call this a really balanced measurement when dimensions come to mind.
The magnet mount can take up to ½ inch thicknesses. Adjustment and installment are as easy as pie. Even in tight compartment applications, it fits in just nicely. I was even able to disassemble it without any issue. This makes cleaning far more efficient.
Speaking of efficiency, let's talk about how much impact it can have on performance. Well, it definitely surpasses many of the contenders. It offers a new level of refined filtration for marine aquariums ranging from 10 to 30 gallons.
Starting from the distinctive turbulence-reducing body, to the pipeless output valve, it's clear that a lot of thought has been invested towards the design. The bubble dispersant chambers work fine as well. I got all these including a low-profile operation. There was practically no noise at all.
This product is specially crafted for in sump installation. The materials used to manufacture it are robust PVC and high-quality acrylic. You'll be glad to know that all of it is fully marine safe and refined in every way to deliver the latest enhancements in foam fractionation. Cool right?
The built-in DCair 200 skimmer pump is downright impressive. I found the performance to be absolutely flawless. As I said before, the pump is the heart of every top-rated nano protein skimmer. This one has a beast inside in that aspect.
The features actually speak for themselves. If you don't have issues with the white color scheme of the device, then an instant buy won't be to your shortcoming. A great product from top to bottom!
Things I Liked about the Product:
The pump is quite strong and very efficient considering the price range of these things.
The turbulence reduction system is great to have. You'll not have to deal with vibrations and sound.
A variety of options are available when it comes to compatibility. You can fit it anywhere inside the tank.
The size is pretty compact and that makes it easy to adjust with your tank and the overall system.
The IceCap guys used quality materials to offer a solid build AND sturdiness to the product.
Things I Didn't Like about the Product
The white color scheme might not be for everyone. I mean, if you have specific color preferences.
How'd You Pick a Protein Skimmer on Your Own!
If, by any chance… you don't find the thing you're looking for in my list, this little segment will offer you some advice. You can do your own research in your own time using my footprints. Take it slow and refine your choice of machineries for your aquarium and/or nano tanks for corals.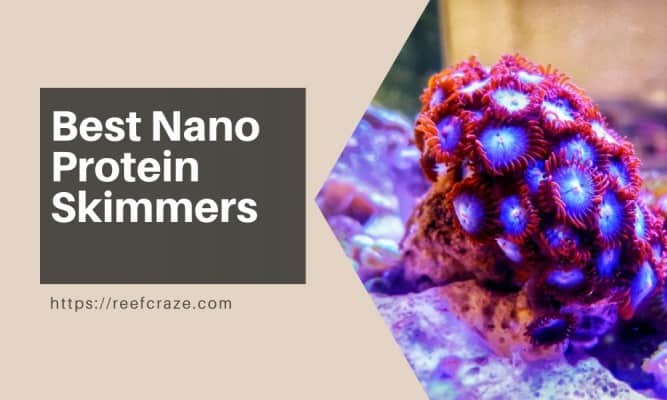 The Pump is The Prime Concern
To be blunt with you, foams or bubbles won't be created without a proper pump. So yes, the pump matters. If you ask me, the Venturi pumps are really popular and they are most effective at what they do.
The Bernoulli principle is applied in the Venturi Pumps. Don't trust me? Look it up yourselves! High-pressure Waterflow is induced through an hourglass-shaped tube. Thus, it creates micro bubbles which in turn are responsible for the cleaning.
Then comes the needle wheel or turbopumps that use blades to agitate the water and air to create bubbles. This one you'll see in most of the products that I recommended as parts of the list.
Combo pumps are available as well. Additional impellers are there to accelerate the process that offers faster results. Just remember: More bubbles mean more cleaning.
Hence, check the pump type before you buy it. I mean, it's pretty natural for you to have your own preference.
The Placement Inside/Outside the Tank Has to Be Proper
Placement of the skimmer IS, by all means, a personal choice. Just like full-fledged skimmers, nano protein skimmers can be placed in several ways as well.
Some skimmers are made to be placed in the sump. All you have to do is place them in the sump of the tank accordingly. After that, you're good to go. There are external skimmers as well. Just in case you want to keep the tank totally separate. These circulate and clean the water from outside.
The procedures might be different from one another but the process of cleaning isn't all that different. Finally, comes the internal nano models. They don't need sumps. They do their duty while being fully submerged.
At this point, it very much depends on the compatibility with your tank and the type of placement you like for yourself.
Don't Forget the Size
I've said it before and I'll say it again (in two articles about "Skimmers" no less). Size does matter. Don't place your order unless you have seen the dimensions and are quite sure that the device will fit inside your aquarium. If It's an external skimmer then that's a different story entirely.
The tank size is a factor here as well. The skimmer's capacity has to match the size of your tanks. Improper matches will bring bad or insufficient results.
Hence, it's best to double-check the size-related compatibility aspects of both your tank and your skimmer. A proper balance can play a big role in cleaning.
Efficiency is Crucial
It's easy to get deceived by the modern futuristic look of a nano skimmer for coral reef tanks. I'm not saying that aesthetics is pointless. But efficiency should be your prior concern. If the nano protein skimmer is good at what it does, then it's far more worth it than cool looking hollow shells.
All the products that I've listed above are quite efficient. Still… if you require further assistance, you can look for recommendations of those who have actually used it. Even brand value might not be enough in every case. I mean no brand produces products that are all perfect every time.
A Well Built and Durable Skimmer Should Be Prioritized
Functionality and efficiency aside, you should always check the materials that are used to craft the device. A protein skimmer should always be a long-term investment. It's a bad idea to settle for something flimsy.
I personally won't be happy if my product starts to malfunction after a few months of use. So… yeah, materials and construction play a big part. Don't get overwhelmed by astounding specifications unless it is actually well built inside and out.
Maintenance Should Be Easy for the Product of Your Choice
It's not really smart to think that after installing the nano protein skimmer, you can simply forget about it. Every cleaning device require maintenance. Skimmers are no exception.
Now the question is, how can a skimmer reduce the effort in maintaining them properly. Timely maintenance has to be performed nevertheless unless you want to see your skimmer get jammed. It's better to clear the waste in the collection cup down the drain or in your garbage.
The prime factor that makes a skimmer of low maintenance is the disassembly feature. How easy is it to detach the cup that collects waste from the rest of the body? Some models even come with collection cup drains. These empty the waste in a larger container for you to clean it later on.
If the device doesn't have that feature then all you have to do is clean the cup a few times a week. Oh, and the waste does smell, so be cautious.
How'd You Put Together A Nano Protein Skimmer?
Yes, this is the "Setup" guide if you want to call it that. Well, I'll not go into the specifics. Rather, this will be the "Dumbed" down version of the entire process. You might have to tweak the process here and there for different brands of products. So, here goes!
Pay close attention to the skimmer's body. There should be a rating in place. This will tell you if the skimmer is perfect for your aquarium or tank or not. Make sure the rating is within range.
You'll have most of the parts needed to set the machine up for use. With every product, there's a manual in place for beginners to take a look at.
If you're read my post about larger skimmers, you'd know that these things come in different types. Make sure to get the "Type" right and set it up (inside or outside) according to the needs.
Make sure to connect all the accessories accordingly. Turn the device on. Check the hoses and tank corners to see if any water is leaking. If it does leak, you can troubleshoot by calling experts. Otherwise, you're good to go!
Let's Put an End to the Discussion!
Phew! I'm done with the "Moderately" long guide on the best nano protein skimmers out there. Let me tell you this: It wasn't easy researching, using, and coming up with all the products you see on my list. I'd say each and every device deserves its place. I'd keep Comline DOC at the forefront of the list.
This is perfect for Coral Reef Tanks as it facilitates the growth of different coral types. Also, you have a needle-based pump that produces foam rather quickly!
If you have a fish tank or a mini-saltwater aquarium, I'd tell you to go for Magus' product instead. Not that it's "Hugely" different, rather this device is specifically tailored towards our fish friends.
Take a look at my "Buying Guide" section of the article while you're at it. This thing should give you an idea about how to proceed in your own research. Feel free to comment here should you run into problems!