UV rays (or Ultra-Violet rays) nowadays are the most reliable mediums when it comes to disinfecting surgical equipment. That's common knowledge at this point. However, can they do the same for our aquariums, tanks, and ponds with their own ecological systems?
The short and sweet answer here is, "Yes, they can!"
Due to their short wavelength, these rays can be used within a device we call UV Sterilizers. These products are used to kill off dangerous pathogens, bacteria, viruses, and fungi.
Just as it is with any other product, these machines can be found by the tons on the market. The trick is to find the Best UV Sterilizer Reviews by users that detail their experiences with the devices.
As it happens, I've had my fair share of experience with such products as well. That's why I'll be providing you with some of the top-rated tools that aided me throughout my years as an aquarist. As a bonus, you'll get an insider's peek into how I chose them via my buying guide.
But, first thing's first… Let's get to know these things a bit better, shall we?
What Are UV Sterilizers in a Nutshell?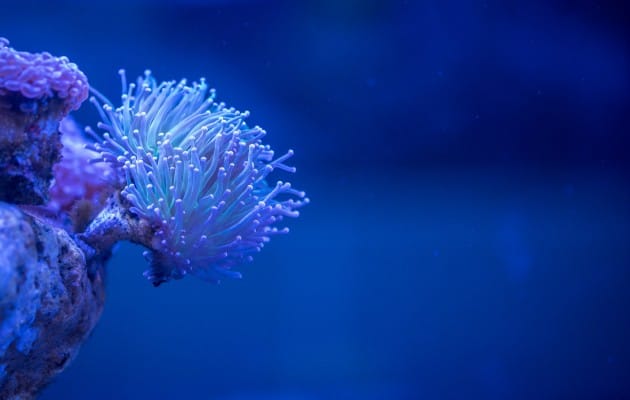 I know, I've told my readers about the medical applications of UV sterilizers earlier… Yet, these things are now widely used in commercial facilities for decontamination. The thing is, these rays are scientifically proven to kill off bad micro-organisms. Like I said, these are pathogens.
In fact, there's a scientific study done to show how effective these things are when killing off airborne fungi in office spaces.
Now, a UV Sterilizer is based on similar principles. It utilizes an ultraviolet bulb to emit the rays. Our aquarium water flows through the bulb and it destroys viruses, bacteria, algae, fungi, and life-threatening insect larvae.
How Does It Work Its Magic?
These machines will emit powerful UV light (just like natural sunlight does) in our aquariums. What you need to is to set your water up to flow slowly through the bulb. Then, it'll kill off targeted organisms.
I'd take this opportunity to say, "These things are better at prevention than cure." Our aquariums won't be infested by fungi, bacteria, virus, or algae in the future if we do it right.
We all know how good algae is for the ecosystem of our ponds, tanks, and aquariums. Yet, when they grow "A bit too much" in the water, it's dangerous. These things can infest in the tool we use for the aquariums and even climb up the glass. That is, if we're not careful enough.
If the algae infestation is too much for your sterilizer to handle, treat it with medications.
Best UV Sterilizers you Can Bank On – My Recommendations
I can understand the hassle people undertake when browsing the internet for information on these products. It can take you hours, days, and even months to come up with a list of your own.
What I suggest is going through my list of products and reading my UV Sterilizer Reviews to make an educated choice instead. It'll save you valuable time. Let's get to it then!
1. Coralife Turbo-Twist – Best UV Sterilizer For Reef Tank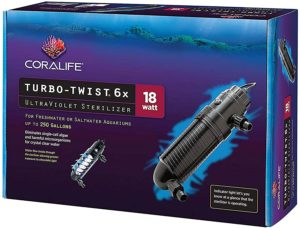 The Coralife Turbo Twist UV Sterilizer is a reliable addition to your aquarium for removing all kinds of unwanted free-floating algae, bacteria, and parasites. These pests are harmful to your fish and corals. Hence, it's a necessity that you use a UV sterilizer to remove them. What could be better than Coralife?
The Coralife Turbo Twist UV Sterilizer comes with mounting brackets which lets you install it the way you want. You can hang it on or place it in-line. Its dimensions are 16 inches x 9.2 inches x 3.2 inches. It weighs only 5.6 pounds. Talk about being weightless!
If you're a beginner at handling UV sterilizers, don't worry! It's actually very easy to set up and install. Just follow the instructions inside the pack and you are good to go.
This UV Sterilizer is well suited for aquariums as big as 250 gallons and as small as 50 gallons. It can also be used for aquariums with larger Bioload. However, for the sake of the aquarium, it is better to use a UV Sterilizer that is built for its size.
The Coralife Turbo Twist UV Sterilizer is great for both freshwater and saltwater aquariums. It efficiently removes the harmful microorganisms that are otherwise invisible to the naked eye. The thing is, they don't show themselves until it's already late and the harm is done.
Hence, UV sterilizers should be used from the very beginning, even if it's a totally new tank. This Coralife UV Sterilizer has an indicator light that shows when the device is working. It requires 18 watts and works with a power outlet of 110V that should be already available at your place.
How is Coralife Turbo Twist is so good, you ask?
The answer is in its name: Turbo Twist. This UV Sterilizer is designed with a Twist Flow design that is not found in other such products. This unique design assists the water to flow more consistently through the UV Sterilizer. This helps to increase the UV Light exposure.
Hence, it can effectively remove harmful algae and parasites. Wait, there's more. Coralife has built its UV Light bulbs with quartz glass. This glass permits a higher emission of UV energy.
The unique Turbo Twist design is coupled with the high-level output to ensure better algae and parasite removal and increased dwell time. The Coralife UV Sterilizer will help to provide your aquarium with a microbe-free environment with little effort.
The bulb will require replacing every 6 months or when you can't see the light anymore through the clear screen.
Things I Liked about the Product:
This aquarium uv sterilizer complements huge tanks perfectly thanks to the lightweight design and capacity.
This little thing complements both freshwater AND saltwater aquariums for fishes or corals.
The bulb is rather powerful. But this is to be expected from such a reputed brand.
The makers utilized "Quartz" packaging to give it a bit of strength and durability when it counts.
I'd say Coralife UV stabilizer is very much affordable after comparing performance with price
Things I Didn't Like about the Product
You'd need a water pump to go with it. It isn't included with the product. I had to buy it separately.
The bulb you see isn't a good fit at all. It wobbles a bit when you pair it up with the socket.
2. Aqua UV 15-watt Advantage 2000+ – Best Hang on UV Sterilizer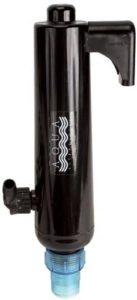 The Aqua UV 15-Watt Advantage 2000+ is one of such UV Sterilizers that is suitable for aquariums, small ponds, and coral reef tanks. An aquarium UV Sterilizer is a lifesaver when it comes to removing bacteria, viruses, and protozoa from all kinds of vivariums.
These unwanted things can harm the Bioload without you even noticing. And that is why you need something like the Aqua Advantage 2000+ UV Sterilizer. This is mainly a hang on UV Sterilizer; it does not support in-line installation.
In fact, proper installation is key to getting optimum results from this machine. If you have only begun keeping an aquarium or pond, don't worry. This product comes with easy to understand instructions which if you follow will allow you to set up the whole thing in no time.
The Aqua Advantage 2000+ UV Sterilizer is manufactured in the USA. It has a slim body and it weighs only 1 pound. As it is lightweight, hanging it on the side of the aquariums is no big deal.
This device is suitable for aquariums and ponds of varying sizes. It works with aquariums from 50 gallons to 150 gallons and more. In the case of ponds, it goes well with that are even as big as 2000 pounds. The Advantage 2000+ UV Sterilizer can be used as clarifiers for large ponds.
This thing is designed to provide maximum UV output. It uses only 15 watts and works well with 110V power outlets. As is the case with all UV Sterilizers, this one also requires bulb replacement. But you will only have to do once in two years, so it should not be much of a headache.
This Advantage 2000+ UV Sterilizer by Aqua provides your aquariums and ponds with visible results. Depending on the size, this UV Sterilizer will help to clear water overnight or within the next 3-4 days after installation. Once cleared, it will keep the water like that until it requires any sort of maintenance.
You can use this UV Sterilizer in sump aquariums as well. And if you do that, make sure that the level of water is enough high for the sterilizer to hang on. It's all about finding the right set up and your aquarium is good to go. This Aqua UV Sterilizer suits both freshwater and saltwater aquariums.
One small note: In case of a saltwater aquarium, this UV Sterilizer is stated to be suitable for up to 125 gallons.
Things I Liked about the Product:
This product is perfect if you have small coral or fish tanks, aquariums, and even terrace ponds.
The water body will look clearer when you turn on the sterilizer during night time.
When you utilize this product to its fullest, there'll be no algae growth at all. It's a guarantee.
Makers included a timer to see for how long this product is running and when you need to turn it off.
I'd call this a Beginner-Friendly machine by all means. It's easy to set up and maintain.
Things I Didn't Like about the Product
This thing kills bacteria indiscriminately. Yes, even the good ones die under its watch. Be careful!
Aqua Hang-On Sterilizer has some sealing issues. I had to be extra careful and checked it thoroughly.
3. AA Aquarium Green Killing Machine – Best Internal UV Sterilizer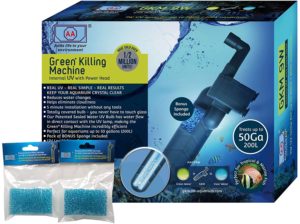 The AA Aquarium Green Killing Machine Internal UV Sterilizer is listed as the number one UV Sterilizer in the USA. With all the features it has and the level of satisfaction they provide, it can very well be the best sterilizer for the aquarium.
It is designed with patented technology, which means no other brand uses the same technique to kill off algae. One of its patented designs includes a Sealed UV Bulb Unit. You will never have to touch the bulb directly and so you will not need an extra pair of gloves to touch it when changing the bulb.
In fact, it has an LED Replacement Indicator on the control box that will tell you when to change the bulbs. Moreover, the chambered bulb assembly ensures higher water dwell time. That is… more filtration in less time.
This Green Killing Machine will provide your fish with clear water by removing algae, bacteria, and the cloudiness they create. Cloudy water is never a good sign for aquatic life.
This internal UV kit has also undergone UL Safety Test and come out certified. The only problem (if it even can be called a problem), is that this UV Sterilizer is designed for small-sized aquariums.
That is, it is best suited for aquariums up to 50 gallons. It can be used for both freshwater and saltwater aquariums. The AA Aquarium UV Sterilizer is very easy to assemble and install.
You will not require any tools. All you have to do is follow the simple instructions and you will be done in 10 minutes give or take! With this UV Sterilizer, you will get clearer water in just a few days. It not only eliminates microbes but also makes sure there is no further growth.
The AA Aquarium Green Killing Machine uses sponges placed close to the UV light that does the primary filtration. Remember to clean the sponges once a week if you are running the sterilizer continuously. Some people only switch it on when they notice cloudiness in the tank.
I'd recommend you to use this pump as often as you can. This is a good practice. The pump works at a rate of 220 liters per hour and it has a warranty of 3 years. This UV Sterilizer only works with a 110V power outlet, the ones available in every household.
This product consumes only 9 watts and runs on a low voltage of 12V that is completely child-safe. A UV Sterilizer like this one will make things easier for you and your fish and corals.
Things I Liked about the Product:
It removes algae, bacteria, and the cloudiness that happens if you don't change water for a long time.
The UV bulb you see in the machine, is sealed. Water won't cause it any harm in the future.
The sponges used to seal it off are great. They do what is advertised. No complaints from me!
You'll be able to run this thing on "Insanely" low voltage of 12V (in other words, 9 watts).
You'll not require any tools to set things up. Everything is packed inside the box for good measure.
Things I Didn't Like about the Product
I didn't find any notable discrepancies while I was Aquarium Green Killer for this review.
4. Sun 13W UV Sterilizer – Best UV Sterilizer for 75 Gallon Aquarium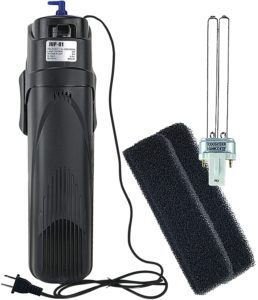 Aquariums require a lot of care and attention. A simple misstep can be harmful to the Bioload. Thus, you need to make sure everything is in the right manner. A good quality UV Sterilizer like the Sun 13W UV Sterilizer will be a big help in this matter.
They help to remove all the free-floating and unwanted bacteria and algae. These things are not only bad for fishes and corals but also make the water in the tank cloudy. This UV sterilizer is made for both freshwater and saltwater aquariums. It is suitable for tanks as big as those with 150-gallon Bioload.
It can also be used for smaller sized aquariums but not less than 50 gallons. This is a submersible UV Sterilizer and is designed to be used inside the tank and so aquariums smaller than 50 gallons will not have enough space to accommodate it.
In fact, the Sun UV Sterilizer can be installed in a sump aquarium as well.
This is a compact UV Sterilizer and can be installed both horizontally and vertically. It is actually very easy to install as there no additional circulation pump or tubing. It comes with Suction Cup mounting brackets that help you to fit it easily to the walls of the aquarium.
Its dimensions are 3 inches by 2.5 inches by 13.5 inches. As it is compact, the manufacturers have put the UV-C Lamp, UV Ballast, and the pump inside the main unit.
The 8-Watt water pump helps to direct the water over the UV lamp. This ensures maximum removal of harmful bacteria and free-floating algae.
Having said that, algae and bacteria are not always free-floating; sometimes they stick to the glass of the aquariums and so a UV sterilizer can't remove those. You will have to clean those manually or you can use Pleco to get rid of them, whichever suits you.
The Sun UV Sterilizer uses a 13-Watt UV light that is very effective against free-floating microbes. This sterilizer requires a 110V power outlet, which you should already have in your household.
This UV Sterilizer has an added feature. It's a Water Flow Regulating Nozzle. You can use the nozzle to adjust the water flow if you feel the need to. If not, you can just let the sterilizer do its thing. In case of replacing any of the parts, you will simply have to contact the manufacturers.
Things I Liked about the Product:
Sun UV sterilizer serves you the best when you're using it for medium to large-sized aquariums.
I didn't have to invest on the pump separately as it was already built-in within the machine.
I could install this both vertically AND horizontally with two of my aquariums. Versatility at it's peak!
This UV sterilizer accounts for both saltwater and freshwater aquariums, tanks, and ponds.
13-watt UV light is nothing to frown upon. It's very powerful as far as killing harmful organisms is concerned.
Things I Didn't Like about the Product
The makers could've improved on this fragile body given the capacity of this machine.
5. SunSun JUP-01 9W UV Sterilizer – Best For 55 Gallon Fish Tank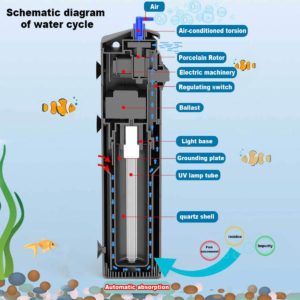 The SunSun brand UV Sterilizers are always compact. Using them is very convenient. The SunSun JUP-01 9W UV Sterilizer is a submersible filter pump. Its dimensions are 12 inches x 3.3 inches x 3.75 inches.
It comes with Suction Cup mounting brackets and needs to be fitted against the aquarium walls. The reason why this UV Sterilizer is convenient to use is that it can be used both horizontally and vertically.
Plus, setting it up and installing it is very easy. You will not need any extra tubing or the circulation pump. It is suitable for medium-sized aquariums like those of 75 gallons of Bioload.
People can use it for smaller aquariums, but those which are smaller than 40 gallons may not have enough space for this device. Users should always get a UV Sterilizer that is built for the size of your aquarium. It is better not to go overboard. Aquariums require just about the right pieces of equipment.
As the SunSun JUP-01 9W UV Sterilizer is submersible you can use it in your sump as well.
This sterilizer is suitable for both freshwater and saltwater aquariums. It is also a great addition to garden ponds. However, when it comes to installing it in a pond you have to find a proper way to attach the machine. Just as with the size of aquariums, this is best for small-sized ponds.
With the help of the SunSun JUO-01 UV Sterilizer, you can remove all kinds of unnecessary microbes like free-floating algae, bacteria, and protozoa. Some bacteria are beneficial for an aquarium, but having none in a tank will not harm the fish and corals.
The JUP-01 has everything built inside it. The UV-C Lamp, pump, and UV Ballast are all built-in. The flow rate of the pump is 210 gallons per hour. The pump is designed in such a way that it lets the microbe filled water through the UV-C Lamp that efficiently removes all of the unwanted materials.
This product will make the tank water clean and help to keep it that way. The pump is prone to debris collection and that may compromise its functions. That is why SunSun has included a Large Mechanical Pre-filter sponge that filters out the debris and keeps the pump clean.
Moreover, this assists the UV light to better remove the microorganisms. You will need to clean this sponge once every week. And you should change the UV light every year to make sure the UV Sterilizer provides consistent results for a long time.
Things I Liked about the Product:
SunSun is perfect for small-sized ponds, aquariums, and tanks in cramped apartments.
The built-in pump handles 210 gallons per hour. Considering small tanks, this is more than enough!
You'll have a mechanical filter inside this machine. Dirt and debris can be removed rather easily.
SunSun made this product affordable. It consumes only 9 watts of power. Totally worth the money.
We have to use a bunch of tools to maintain our aquariums (skimmers included). With this at the helm, our "Already High" electricity bills will come down a notch.
Things I Didn't Like about the Product
You can't adjust the flow-rate for the machine. I was rather miffed after I found that out.
How Would You Shortlist These Products on Your Own?
It's quite natural for us not to like something. I know because I rejected these products by the tons before honing in on these five. If, by any chance, you don't like what I offered on my list, you'll need to do your own bit of searching on the internet. If you do, here's my advice for you to do it even better.
Consider Your Aquarium/Pond/Tank's Size First!
Not a surprise now, is it? Just as it is with Protein Skimmers, you need to consider the size of your aquarium here as well. Picking a low-power sterilizer for a high capacity tank WILL be a bane than a boon. It'll disinfect water slower than the normal speed.
Conversely, high-power sterilizers will prove to be harmful for your fishes and corals by causing them health problems.
In fact, many of us don't require a UV sterilizer to begin with. Specially, if you have a tank or an aquarium capacity of less than or just about 5 gallons. I'd not advise you to go for one unless you ABSOLUTELY need it.
Why, you ask? That's because, these devices are already space-consuming. Honestly, you can do without a sterilizer and eating up the space inside your fish/coral tank. Yet, IF you NEED to invest on one, I'd suggest going for a sterilizer with a 3-watt bulb.
Let me give you another alternative. Set the sterilizer up only when you need to disinfect the water.
Now, when people need to buy one for their medium to large aquariums, they'll need to look at the bulb's power only. Consider the following recommendations:
For aquariums with 10 – 20-gallon capacity, go for a device with a 3-watt bulb.
For aquariums with 30 – 40-gallon capacity, aim for a machine with a 5 to 7-watt bulb.
For aquariums with 55-gallon capacity, aim for a device with a 7 to 10-watt bulb.
For a fish/coral tanks or aquariums with 75-gallon capacity, go for a sterilizer with 13 to 15-watt bulb.
If you have an aquarium that amounts up to 90 gallons, 15 to 18-watt bulbs will do just fine.
If your tank is of 125 to 150-gallon capacity, you'd need a device with a 24-watt bulb inside.
Humongous tanks with more than 150 and less than 180 gallons of water need 24 to 36 watts.
Would You Pick One with a Submersible or Non-Submersible Pump?
This factor is purely dependent on your choice. I've seen and spoken with aquarists who're on both sides of the isle. You'll find some of the best Ultra Violet Sterilizers in both varieties. With their individual pluses and minuses, of course.
For example, submersible devices clean the water better. These things won't soil your floor with water. However, you'll ruin the look and feel of your aquariums. On the other hand, non-submersible pumps look better and clean the water to a satisfactory level. But they are prone to leakage.
I know what you're thinking. You need the best of both worlds, right? I've found a way around from my experience with these things. Just remove the device when you don't need it. Whenever you need your water disinfected, set it back up. Simple!
Ones with Power Heads vs. Ones with None – Which To Pick and When?
This is the important aspect you need to consider next. Some of the top UV Sterilizers on the market come with their own power units. I recommend you buy those. That's because the makers have fine-tuned the power needs of your device with it. It works in sync with your water filtration system.
When you buy a device without a power head, it's capacity will depend on the separate unit – more likely a canister filter or pump. In most cases, both the sterilizer and the powerhead don't match in wattage and voltage levels. That's why the efficiency dwindles by a significant margin. This bears an impact in killing the pathogens in the water.
Consider the Flow Rate and the Dwell Time As Well
Understand the fact that UV sterilizer compliments your aquariums and other machineries you use in them. The efficiency and performance depend on how well your water pumps do their job, the types of bacteria and other organisms you're targeting, and the capacity of the bulb (as I mentioned earlier).
Simply put, you'll be able to measure your machines through:
How fast or slow your water flow rate in the tank is.
The tube's dimensions.
The power of your sterilizer's bulb.
Let me explain: If the water pump is slower and the bulb has a considerable wattage in a large tank, the micro-organisms will be exposed to the UV bulb for a longer period. They'll be easily killed of. If it is faster, the sterilizer will still do a good job if the bacteria aren't too threatening. If they are and your water flow rate is fast, you'll need to think of something else.
Why Would You Need a UV Sterilizer?
Well, you've read through my handpicked best UV Sterilizer Reviews, didn't you? Not that I'm boasting that I'm the perfect man for these personal accounts, but still… you know. If you're still dwindling on should you or shouldn't you buy one for your fish habitat, let me explain the benefit of these babies.
These devices prevent algae from overwhelming your aquatic life at home. Yes, algae contribute to food growth in the system via photosynthesis. Yet, they should be kept in check.
Now, if the algae "Do" overwhelm the water in your aquarium, you need to change it frequently. You don't want your tanks to look green instead of blue, believe me. By keeping algae in check, these machines reduce the need and hassle of changing the water frequently.
These products are versatile. You can use them to disinfect saltwater just as well as you'd do in case of freshwater aquariums.
I'd advise people to use a UV Sterilizer to disinfect water as opposed to aquarium water filters. There's a reason for that. Filters only work against microbes of a certain length and above. Then again, more pass through than getting killed. UV sterilizers kill microbes of every size.
Infections that your fish and corals suffer are secondary effects that we see from bacteria, virus, and fungi. Rather than spending a chunk of money on medications, buy such a machine to kill them off.
You need to set these devices up just once. These will clean tank or aquarium water by themselves. You just need to switch the bulb in every few months.
Things You Don't Want to Do with Your Products
Now that you've went ahead and bought your own Ultra-Violet Sterilizer, let me give you some tips on "What Not to Do" when you're dealing with a product such as this.
I'd tell you not to stare at your UV sterilizer directly and for a long time. Please understand the fact that these machines use the same principals as our Sun. As in, UV lights damage our eyes the same way the Sun's UV rays would.
My advice would be to wear protective gloves when handling the sterilizer. Both during the installation process and while switching the bulbs with new ones.
Remember the fact that some of the products kill off bacteria indiscriminately. Yes, even the good ones die. That's why, keep means of reintroducing the beneficial kind of bacteria later on.
Remember to replace the bulbs in every 14 months or so before they give out.
Get a sterilizing tool that comes with a mechanical filter of some kind. You'll need them to remove dead pathogen of every kind.
Let's Put an End to the Discussion!
If you've gone through my guide on Best UV Sterilizer For Reef Tank Reviews and subsequent information, there's more than 80% chance that you're gonna buy one. It's actually necessary when you consider just how quickly the water in our aquariums get murky and cloudy. My recommendations will surely come in handy.
My personal recommendation is Coralife UV Sterilizer. It can cater to freshwater as well as saltwater aquariums. Also, it consumes less power than competitors in its class.
If, by any chance, you don't want to go with my list of devices, feel free to refer to my buying guide for an insight into these products. Not to mention, the tiny section with Do's and Don'ts will help as well.