Most of us take aquariums lightly. I mean, "Very" lightly. Unlike what you guys think, aquarium management doesn't mean "Setting it up and feeding the fishes." You need regular maintenance. The "Taking Care of Aquatic Life" bit is important as well. That's where Wavemakers come in.
These babies work exceptionally well in circulating the water from one end of the aquarium to the other. This might look rather simplistic but it's not. Water circulation allows oxygen to mix and keep the water fresh by maintaining ideal conditions for the fish to survive inside.
This little article of mine will help you in finding the best aquarium wavemakers that'll be worth your money and deliver the performance that you deserve from these babies. There's a buying guide tagged at the end as well just to give you an insight into how I chose the products.
Top-Rated Wavemakers That I Found
If you're worried about the oxygen count in your aquarium and want to move the water around to freshen it up for the inhabitants, these machines will surely help you in your endeavor. I present you the short reviews of these wavemakers. These reviews represent my research and experience.
1. Zomma Maxspect Gyre XF-230 Kit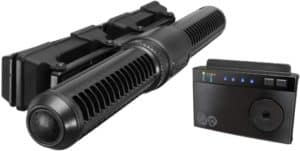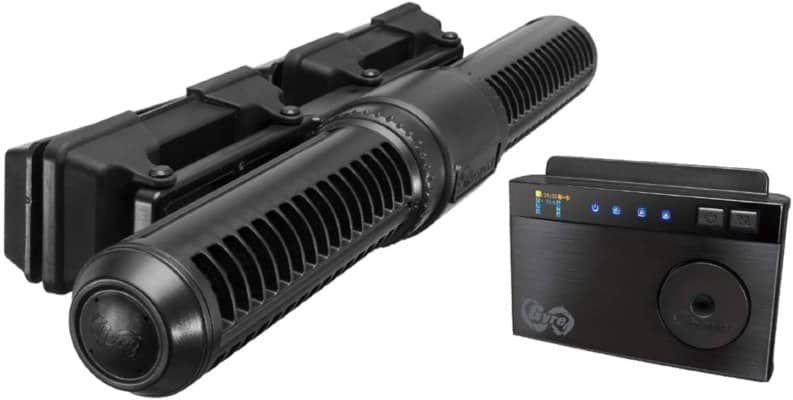 Let's start off this list of wavemakers with something a bit different from the conventional wavemakers. In fact, the product here falls under the category of a Gyre Wave Generator rather than straight-up a wavemaker. No need to get startled, this device here does a great job at doing what's expected and more.
Introducing the Zomma Maxspect Gyre XF-230 Kit. Apart from it being categorized as "Next Gen" technology, the guys at Zomma claim this one to be the very first Gyre. This here is fully capable of moving water just like the natural current system of the ocean.
What makes it so special? Let's see for ourselves.
Unlike conventional wavemakers, this one actually does a better job. Standard propeller nozzle tech devices often leave dead spots due to poor water movement. These create the possibilities of generating poisonous substances that can be harmful to fishes and invertebrates.
Whereas this "200 series" Maxspect gyre leaves no such possibilities by diminishing chances of weak water flow in all areas. This bit is ensured by the revolutionary Crossflow Technology. It promises even water flow in every area of the aquarium in all circumstances.
So, what else do we get from gyre generated flows? The device makes the water flow in a circular motion. This is way better than the products that make water flow vertically up and down. The sheer flow of water from one side of the tank to the other produces better results than your usual wavemaker.
The device can be run on two presets. You'll be glad to know that there's an additional mode compared to the previous one. The more the merrier I always say. With a flow rate of a maximum of 8000 ~ 9000 l / h, this one here can handle tanks from 100 ~ 400 liters.
I wouldn't really worry too much about the power consumption of the Gyre XF-230. You can't go wrong with the power specs of max. 35w ~ min. 8W. Trust me, this is way less than similar products that are available on the market.
Along with the waterproof mounting magnet, the controller has a sleek and discreet design. The magnet is compatible with a glass of 20mm max. The controller to pump cable length is 3m. The length of the cable from the power supply to the controller is 1.5m. I'd say that's more than adequate.
With all the specs and benefits laid out, this one is definitely a product worth looking into. Especially if you're an aquarium enthusiast that won't settle for less than what your tank deserves.
Things I Liked about the Product:
The product uses new gyre technology. It can move the water to all corners of your aquarium.
Efficiency is pretty great for me. It circulates the water around exactly as per the electricity it works with.
For me, the maintenance is pretty much hassle free and easy to take care of.
The design is rather stylish for a wavemaker. It doesn't look out of place with the rest of your gear.
Zomma is a well-built product. If taken care of, this will stay good for a lifetime for you guys.
Things I Didn't Like about the Product
Could have been more competitively priced. The price is more than what you should pay.
2. Ecotech Marine MP40W QD Wireless Quiet Drive Smart Wavemaker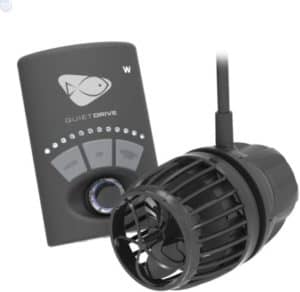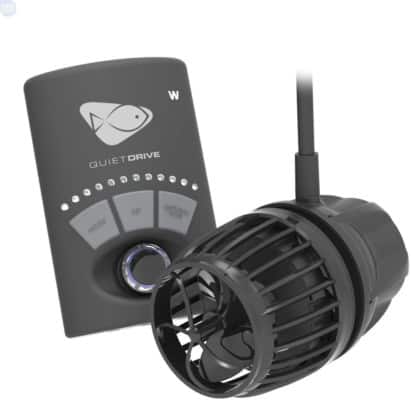 Don't at me for being repetitive with the genre here folks. Let me introduce you to yet another wavemaker that uses the "Gyre" style of moving the waves around. It might sound a bit difficult to handle and different to some people. But trust me, it's anything but that.
As long as efficient features are kept in mind, the Ecotech Marine MP40W QD Wireless Quiet Drive Smart Wavemaker checks all the right boxes and offers great reliability.
The device makes use of some innovations that set it apart from the rest of the competition. VorTech actually put the motor out of the aquarium. Not only that, but they also put some extra effort to ensure quiet operation. The new MP40W got upgraded with the new quiet drive driver that reduces noise.
Discreet operation is of course a plus. But apart from that, the flow efficiency of this product is overwhelming. The guys at VorTech revolutionized the aquarium hobby with massive water movement capacity. A flow of 4,500+ gph is not something you overlook. It's tailored for
You might get startled at the power efficiency that this device offers. All that raw power comes at the cost of only 9 to 38 Watts. Cool, right?
With that said, let's dive into the measurement bit of the product. It seems pretty handy with the dry side dimensions of 3″ Diameter, 2.25″ Height and wet side dimensions of 3″ Diameter, 3″ Height. You'll be glad to know that this wavemaker can adjust to glass thicknesses up to 0.75″.
All you have to do is keep in mind that the clearance needed behind the aquarium is 2.5″. Oh, and you should be good to go with tanks ranging from 50-500+ gallons. That's some BIG aquariums we're talking about here. I know a few enthusiasts who even used this on commercial-grade fish habitats.
After all the technical specifications explained, you might be curious about the operation modes. This amazing little machine comes with a new driver and has more than six continuous operation modes that include Wave Auto Tune, Feed Mode, and Night Mode. It just makes life a lot easier.
Something about this wavemaker seemed rather impressive to me. The guys at VorTech kept things as clean as possible. The installment requires no wires to be in the tank. Which means you'll find no distractions from the beauty of the tank and its inhabitants.
As for the safety of the marine lifeforms, the water column is kept safe from any kind of unwanted heat. Nor are there any risks of electrical discharge that can harm the aquatic life or the user. Adding a bit of sugar on top, installing, relocating, and cleaning the powerhead is totally hassle-free.
Now that's what I call a "Complete" wave-making experience.
Things I Liked about the Product:
The wireless features are great to have. You don't need to get your hands down and dirty.
I got multiple modes to choose from. This helps if you have different species in your aquariums.
I found the tank capacity the wavemaker can handle rather impressive. It's a good fit for mid-size tanks.
When you consider how much electricity is needed to move the amount of water, this is an efficient machine by all counts.
An all-rounder in performance. It saves your electricity all the while keeping the oxygen count high.
Things I Didn't Like about the Product
No apparent flaws were noted.
3. Hydor Koralia Evolution Aquarium Circulation Pump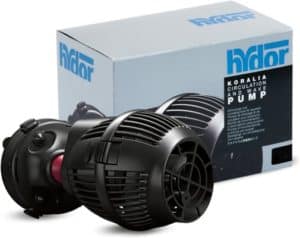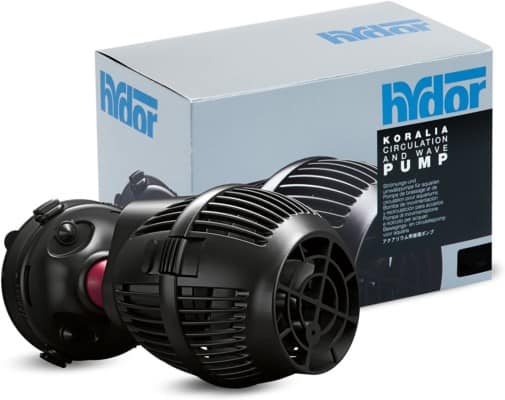 While selecting the best aquarium wavemakers that offer efficiency along with reliability, there was no way of overlooking the Hydor Koralia Evolution Aquarium Circulation Pump. Designed and made in Italy, the motor is on a different league entirely. So, what makes it worth considering? Let's find out!
First of all, mounting it and setting it up was pretty easy. This thing has a patented magnetic suction cup base. This makes mounting it to glass, acrylic, and plastic pretty easy. No need to worry about the device to stay in place. Easy direct flow is ensured by the magnets. No matter where you place it.
As far as positioning is concerned, this one has a spherical joint. With the help of this thing, you'll be able to position the Koralia inside the tank however you please. The pump can practically pivot in any direction to direct the flow wherever needed.
There are a lot of wavemakers out there that cause annoying noise and vibration. This is something obviously we don't want for our aquarium setup. The Koralia Evolution Aquarium Circulation Pump is well equipped with vibration absorbing silicone to make it as discreet as possible.
Compatibility can be an issue for many. The common question regarding versatility is answered with a large array of options from Hydor. This device can verily be used in Saltwater and Reef Aquariums, Freshwater and Aquascape Aquariums, and Turtle Habitat and Ponds. Now that's great to have!
The device itself can be connected with a controller. This allows it to be set to intervals from seconds to hours. I have to mention that this one works great with the Hydor Smart Wave Pump Controller in particular. It even has a wave timer support and it's totally safe to use with all wave timers.
If you're looking for something with low power consumption with higher flow rates, then you're in luck. This model offers far-reaching improvements in both aspects when compared with the older models. Plus, you get it in four sizes, 600gph, 850gph, 1150gph, and 1500gph.
The features really do speak for themselves. This tiny little machine from Hydor meets expectations and goes beyond them too. A very decent buy all in all!
Things I Liked about the Product:
Hydor offers a quiet operation thanks to the noise reduction technology that's in place.
Narrow slots in this wavemaker prevent fish from entering the pump. You won't have performance issues or fish deaths to deal with.
The power adapter is of the right size. It can get to any outlet without any problems whatsoever.
Hydor is a well-designed device. It looks trendy and functions just as you'd expect.
This thing is available in various sizes. It can cater to different sizes of aquariums that you have.
Things I Didn't Like about the Product
No controller is provided with this machine. You'll have to do everything manually.
No variable speed settings to choose from. Yes, this is a machine with "One Go" and that's it.
4. Sicce Voyager 3 Power Stream Pump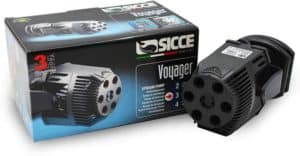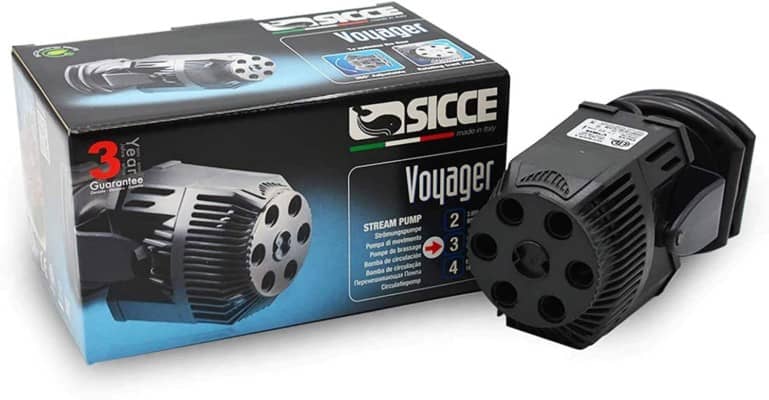 Whether it be marine or freshwater aquariums, Sicce's Voyager line of stream wavemakers has been one of the best choices for aquarium enthusiasts for a long time.
With a set of features that actually matter this tiny little device is designed to provide ample water flow while sustaining accurate efficiency.
This wavemaker is very much capable of maintaining flow rates that range from 800 US gph – 4000 US gph (3000 l/h to 15000 l/h). There are a lot of wavemakers that deliver performance at the cost of being power-hungry. But this one here has a power requirement of only 10W.
The power-performance ratio being pretty well off, the device has other perks as well. It's equipped with a Unique Bidirectional Rotor. It has a one-way start and to my great relief operates quietly. Unwanted vibration and noise can be a real turn off when it comes to these sorts of products.
The Voyager range can be turned on and off quickly without harm or noise. This here represents a quality choice for the most demanding hobbyist. Plus, if you're worried about your underwater critters, the Voyager 3 has a grid pump cover. I mean… why take chances, right?
I was glad to see that this has magnetic mount support. These small implementations do matter as installing some devices can prove to be a real hassle. The magnetic support allows the stream pump to be positioned just about anywhere.
You'll notice that there's a front ring insert that allows you to regulate water flow. Wide or narrow? The choice is totally up to you. Plus, the mounts allow the wavemaker to have a wide range of output angles. Angles up to 180 ° vertically and 360 ° circulatory offer endless orientation possibilities.
With a self-cleaning impeller, maintenance becomes a whole lot easier. Keeping it in shape isn't that problematic at all. Speaking of problems, we've all suffered from electrical devices that don't have adequate cord length. Well, this one has a 6 feet cable so put those worries to rest for good.
Sicce does have the renown for providing users quality experience and long-lasting products. The Voyager 3 is definitely not an exception. Every feature and specification of this device is good enough to provide complete satisfaction.
Things I Liked about the Product:
The magnetic support is a very helpful inclusion. You can position the device anywhere you like.
This thing runs silently without disturbing you or your fishes for that matter.
It provides ideal water currents for all aquarium sizes or environments be it fresh or saltwater.
The 360-degree positioning offers flexibility in operation. One can position it anywhere he/she likes.
Locking fasteners are provided for micro fine direction. One can control the direction of the waves.
Things I Didn't Like about the Product
Could have been available at a better price point.
5. Jebao OW Wavemaker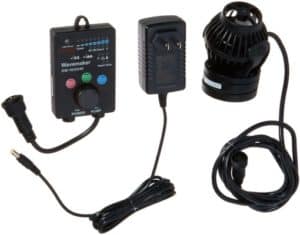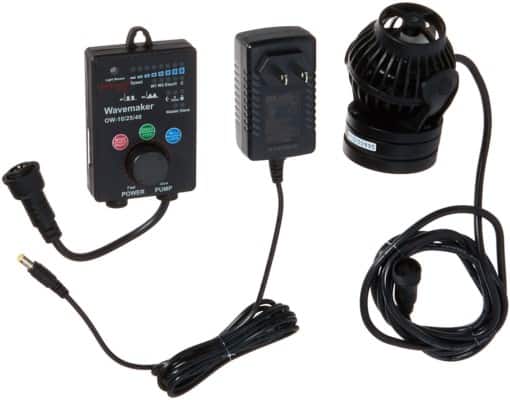 Any pump is only as good as the motor. The same goes for wavemakers. The motor is at the heart of performance when it comes to keeping the water in your tank in motion. The new generation of Jebao wavemakers includes an improved motor that's better than the previous models by far.
The motor in this one is better built and made to withstand damage. A solid build does matter when it comes to pretty much any hardware. The rugged exterior apart, the internals of the motor is designed to create minimal noise. So, you get a silent operation all the way.
As for the features of the product, they are in one word "User-Friendly." The device features a master/slave wireless mode and it makes controlling the wavemaker a lot easier. Plus, the Jebao OW wavemaker has an adjustable flow rate. This feature is pretty nice to have if you consider the option.
The large rotation angle of the wavemaker helps to adjust the direction of the water flow more accurately. I should let you know that the stand and the pump can be separated. This allows you to tune the angle within 360 degrees.
The control features of the device are pretty awesome too. The separated design makes it easier to control the wave shape. Also, I have to mention the anti-reverse design that helps to protect the pump. Not only that, but it makes it easy to disassemble.
This wavemaker from Jebao has a small core. The wear-resisting material with titanium alloy is very well suited for both fresh and saltwater. The impeller is pretty strong too. The spiral design of the small resistance impeller ensures strong yet silent movement.
Positioning the device wasn't that difficult at all. The strong magnetic cups hold up the pump pretty well. Not to mention, it can handle thickness up to 15mm. Which is adequate to set it up in almost any aquarium.
It's a relief to know that there aren't any electrical devices in the pump. So, it increases the lifespan of the product in general. No need to worry about longevity really. This baby is certainly built to last longer than expected.
So that's pretty much all you get from the JEbao OW wavemaker. I'd say this one is definitely worth checking out if you want to have proper value within the price point.
Things I Liked about the Product:
The multi-pump control features are pretty awesome. You can pair up multiple wavemakers together.
This little device can replicate wave patterns of saltwater sources where coral reefs prevail.
The wireless controls are pretty handy. You won't have to worry about wires tangling anymore.
Jabao OW wavemaker is designed and preprogrammed with various rates of flow modes.
The four-pole impeller design is nice to see. I was tired of seeing same kind of machines all over. This is a breath of fresh air.
Things I Didn't Like about the Product
The build quality could have been improved. It's a bit flimsy to say the least.
6. IceCap 3K Gyre Generation Aquarium Flow Pump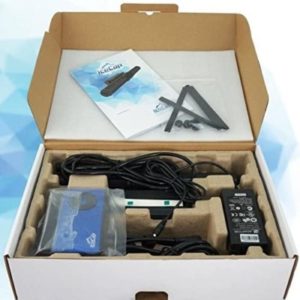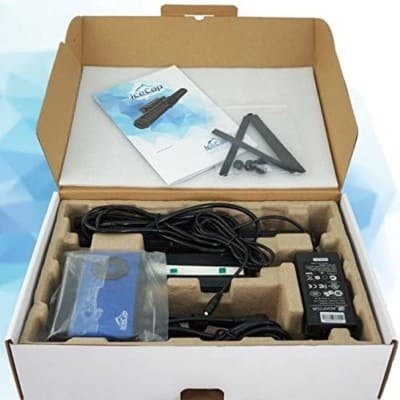 As I've said before, Gyre's are different beasts entirely in the game of wave-making. When it comes to generating massive movements of water these are on a league of their own. The IceCap 3K Gyre Generation Aquarium Flow Pump is capable of creating "Gyre Flows" just like the best of them.
The device creates water movement from one side to the other. The movement itself is so strong that the water bounces back from the opposite side creating a circular motion. The best part about this technology is that there won't be any dead spots. All this comes with an evenly distributed flow as well.
The IceCap 3K Gyre has a discreet design along with twin directional flow cages. The device is well built and is quite easy to adjust. Some wavemaker machines require a lot of hassle to be set inside the tank. But the waterproof magnetic mounts that come with the product make installation a lot easier.
Before we get into the details, let's discuss what came with the box. You know what they say, "The first impression is the unboxing impression. "Let's see what we get inside.
The box had the contents of 1x 3K Gyre Pump, 1x 3k Gyre Controller, 1x 3K Controller Cradle, 4x Protective Sleeves, 1x Magnetic Mounting System, 1x Power Supply, and 1x Instruction Manual. I would definitely call it a complete package. A wholesome unboxing experience guaranteed.
With the dimensions of 12.2″ L x 3.1″ W x 1.7″ H, the pump is compatible with tanks up to 100+ Gallons. But that doesn't mean you can't use it with smaller tanks. The gyre should work just fine with 25 Gallons as well. Just keep in mind that the thickness should be within 1/2″.
Now let's talk about how efficient the device actually is. I would say it's very much capable of delivering raw flow power up to 3000 GPH. Now, this is definitely beyond average. With a bare minimal power consumption of 8w – 40w, I wouldn't really question the product's power to performance ratio.
The IceCap 3K Gyre has five flow modes. I mean, it's always nice to have some additional options. They even went as far as keeping the cable length to an ideal 6.5 ft (controller to pump) and 5 ft (power supply to controller). This clearly shows how much thought has been invested in crafting this device.
With all that said, this one here is certainly worth holding its rightful place in my list of best aquarium wavemakers. Proper performance is hard to find with the proper value. The IceCap 3K Gyre delivers just that.
Things I Liked about the Product:
The product is very competitively priced. Your money is well-spent let me tell you that.
The small profile offers an elegant look. Not to mention, it's portable and lightweight as well.
The controller is very handy. It gives users the option to take a "Hands Off" route when using it.
This thing offers more gph per dollar than most pumps if you measure the performance.
It has the ability to connect to the IceCap battery backup. This offers longevity and continuous functioning of the machine.
Things I Didn't Like about the Product
Wireless functions are missing. I'd have loved to have at least a certain degree of freedom.
I Can't link multiple pumps together with this machine. This is a bummer.
7. Current USA eFlux Wave Pump Kit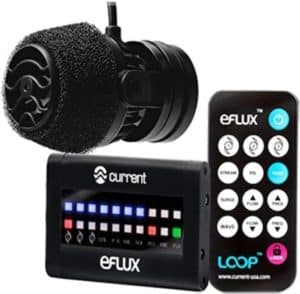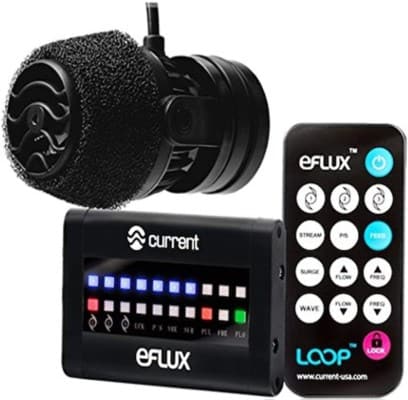 "Current USA" has been producing quality components for aquarium enthusiasts and hobbyists throughout the years. From coral reef lights to wavemaking machines they offer performance that's hard to beat. So, what do they have to offer with the eFlux Wave Pump Kit? We'll find out pretty soon!
First, let's look into the box of content. Inside we get: 1- 660 GPH Wave Pump w/ Magnet Swivel Bracket Assembly 108' cable, 1-24V DC Power Supply w/60' cable 100-240VAC 50/60Hz, 1- Infrared Remote-Control w/Battery, 1- LCD Digital Display w/Mounting Hardware, 1- MicroUSB Connection Cable, 1- Infrared Sensor w/18' Cable, 1- Pump Prefilter Foam Guard, 1- Pump Cable Guard and Cable Wraps.
I also have to mention that the package comes with an installation manual. This is a pretty handy thing to have just in case you're new to wavemakers in general. The unboxing experience was pretty satisfying as this one here is a complete package. Literally, nothing was found missing.
Kudos to "Current USA" for that!
This device can imitate the natural flow of water, providing the tank with a wide and adequate circulation. This not only improves water quality, but it also promotes the growth of corals and increases fish health in general.
The eFlux Wave pumps use a magnetic bracket that makes installation a whole lot easier. This allows the pump to be virtually positioned anywhere in the aquarium. Plus, the silicone pads are well-positioned to absorb vibrations. This offers silent operation all the way. Neat eh?
As for the controls, it simply can't get any more convenient than this. Wireless connectivity can go a long way. The Wireless IR remote allows the user to operate 3 eFlux wave pumps. Two Wave pumps can be programmed into multiple flow modes and synced together, while the third one can offer steady flow.
Also, the LED display is there to show the current mode of flow and velocity. This small little addition is really nice to have.
As far as adjustability comes to the question, the swivel brackets provide accuracy in directional water flow. Whether you want to direct surging water current at an anemone or produce wave action on the water surface, simply pivot the pump in the direction. And voila! Just watch it flow.
There are multiple flow modes to choose from too. You can go with Wave Pulse Mode, Stream Mode, or Surge Mode. Just remember to slow down the water flow to give the fish and corals time to feed.
Things I Liked about the Product:
The swivel bracket is easy to adjust and supplies with directional water flow.
The LED display is a very nice addition. It helps you get a fix on what is happening with the pump
The wireless controls make operation a lot easier for newbies as well as experienced people.
All the tools and accessories needed to operate efficiently are already included.
The magnetic mount works great. You can set it up anywhere you want without problems.
Things I Didn't Like about the Product
Proprietary power plugs are needed.
The controller is only brand specific. Meaning, any other controller won't work with the machine.
8. Tunze 6045.000 Nano Stream Propeller Pump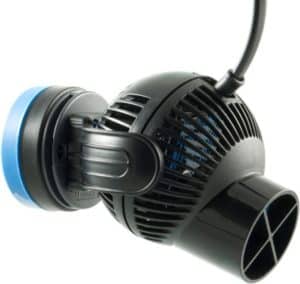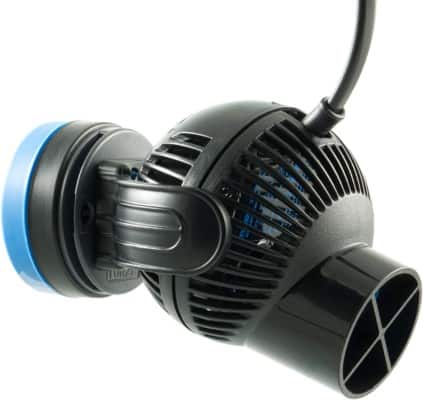 This particular wavemaker right her uses a compact propeller pump. This technology is ideal for nano and medium-sized aquariums in particular. It's capable of producing a 3D current flow that can practically be adjusted in every direction. And this feature requires no accessories either.
Pretty cool right?!
But wait, the pump has to offer more! The pump contains a really large intake strainer that sucks water in. This helps to prevent premature water pollution. This advanced technology has been applied to this pump, and the guys at Tunze claim that this device is the very first of its kind.
The innovative water circulation that it offers a flow of 4,500 l/h (1,189 USgal./h) with the diameter of 70mm. It's a great relief to know that the motor doesn't heat up too much even while offering this much performance. Now that's what I call proper optimization.
Apart from the integrated protective thermostat, this device makes life a lot easier for the users. User-friendly features can create a pretty good impression. Adjusting and maintaining the direction of the device is pretty easy. Thanks to the magnetic holders that come along with the product.
You can literally wash away all your worries regarding compatibility. This aquarium will serve you just fine if you don't go beyond 40-500 liters. With that said, if you're not going for a full-fledged oversized tank, this wavemaker should suit your needs just fine.
As far as efficiency is concerned, the Tunze 6045.000 Nano Stream Propeller Pump is one beast of a performer. We already discussed that earlier, but ever wondered about how much power it consumes? With a bare minimum wattage of 5-7W, this machine can fulfill all your needs.
But do keep in mind the general glass thickness. Don't go beyond 15mm (2/3") or you might face some issues in installing the pump.
I've laid out all the features that this device has to offer, but I bet you've already understood that this one here is anything but an average joe. It's all in all miniature sized well-performing product that's designed to impress the masses. No doubt about that.
Things I Liked about the Product:
The long power cable makes things convenient by allowing us flexibility in positioning the device.
This machne operates silently without disturbing us users or the fishes themselves.
No chances of fish getting caught up in the tank thanks to the low profile of the machine.
The motor is reliable. It'll last you a long time. It offers an impressive flow rate as well.
Again, the magnetic holder allows people the room to position it on the aquarium wall.
Things I Didn't Like about the Product
Tunze Nano Propeller pump is incompatible with controllers other than its own brand.
9. Mini Polario 10ML Low Voltage Water Pump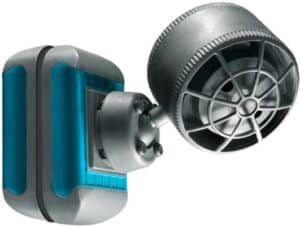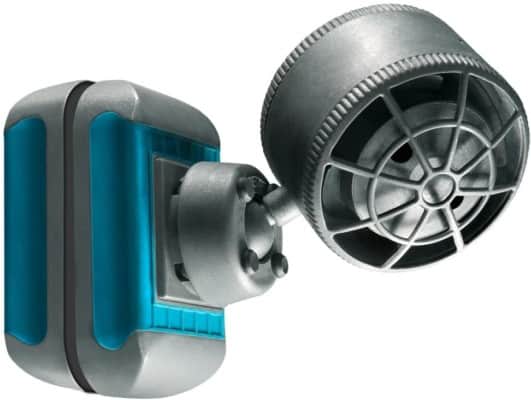 We've definitely gone through quite a few wavemakers that stand out from the crowd. But where does the Mini Polario 10ML stand in this list of best aquarium wavemakers? We'll find out pretty soon.
Let's face it, energy efficiency is something we all want from every good wavemaker. That, including a high flow rate that comes with a set of good controlling features. This device here doesn't fall short in any aspect.
The dual action turbine is no pushover. This makes the pump a worthy contender among the rest. The pump ha bi-directional outputs that stimulate the natural water flow of the ocean. This increases the general health of the corals and fishes to great extents.
The device has pre-set random flow and alternating outputs too. You can set all settings to gradually increase flow: first 5 seconds – 50 percent, next 5 seconds – 75 percent, next 5 seconds – 100 percent, then a delay before the water will discharge from the opposite side of the pump.
Go ahead and take your pick!
Pre-set random flow and alternating outputs have flow rates up to 1,500 to 2,600 gph. Random flow rates can go from approximately 1300-2600 GPH (5000-10000 LPH). Calling it anything less than powerful would be an understatement. You basically get two pumps in one body.
Managing and adjusting the product is totally hassle-free. With the dimensions of 2.1″ x 2.4," it's pretty easy to hold and handle. I should let you know that there's a magnet mount included. This makes installation seem like a breeze.
When compatibility comes to the question, almost anything goes. With the approximate size of 40-100 Gallons, the wavemaker should operate just fine. But it's best to keep in mind the glass thickness. It would be wise not to go beyond the .7-inch threshold.
They even threw in a mounting bracket to make things even easier. This makes it a perfect 360-degree pump overall.  A pretty good performer that's easy to go around if you ask me.
Things I Liked about the Product:
This device is a powerful performer. You can set the waterflow as per your choice in intervals.
Polario offers natural waterflow that mimics the natural habitats of fishes.
The mounting magnet makes installment very easy like so many on my list today.
The product is power efficient. The settings give you exactly what they promise in terms of flow.
This thing offers a genuinely quiet operation when you put it to work.
Things I Didn't Like about the Product
The cycle of the wavemaker isn't adjustable rather you need to control the time.
10. KEDSUM Aquarium Circulation Powerhead Pump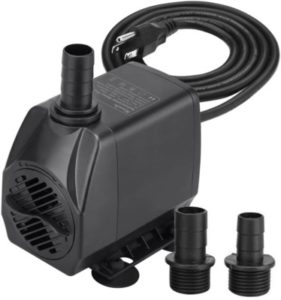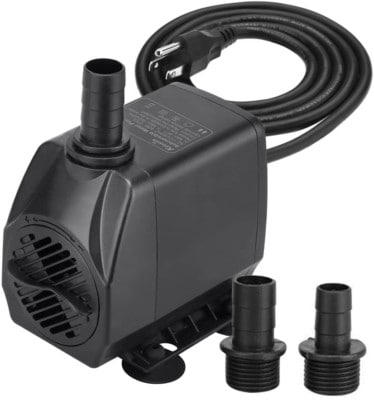 Yes, fellow aquarium enthusiasts… we've come down to the very last product on our list. But don't judge this product by its position.
It definitely has all the features and qualities necessary to be deemed worthy of being in this list of amazing wavemakers. Without further delay, let's see what this baby is made of!
Let's start off with the flow rate this time. The KEDSUM 2642GPH pump offers a whopping flow rate of 1850 GPH. Impressed yet? If not then I just have to let you know that it delivers this much performance only at the cost of 12W. Now that's the "Peak" of efficiency that any of us can expect or demand.
A complete 360-degree rotation is pretty nice to have. Full directional water flow can be achieved and can create water movement on almost any area of the tank. This is really great for aquatic life, not to mention awesome for cleaning debris and adequate flow in the tank.
The KEDSUM aquarium circulation pump promises higher dissolved oxygen content. This is great for the tank's ecosystem. And to make things better, the motor operates with minimal noise. This is definitely something we all want for our aquariums. Maximum output with minimal disturbance.
This pump is suggested for aquariums with a capacity of 100 to 135 Gallons. That should be pretty good enough for both enthusiasts and aquarium hobbyists. If you're concerned about the length of fish tanks that this 12W pump can deal with, then it'd be best not to go beyond 1.9-3.3 ft.
It's best to lay out the precautions that you might need to consider before getting started with the wavemaker. This circulation pump is made to create a constant flow so keep that in mind while dealing with sensitive corals. Plus, this device isn't meant to be used with fishes like Neon Tetras.
Oh, and also the inner shaft will require a bit of lubricant to ensure the constant efficiency of the motor. Be extra cautious when dealing with sensitive fishes and plants.
There are a lot of wavemakers out there that don't provide an adequate length when it comes to cable connectivity. Though with a lengthy 95-inch cable that this one offers, you certainly shouldn't fall short.
Unlike the previous ones, this device offers a suction cup mounting option. This is great for vertical mounting. Plus, you don't need to worry about messy oils and all the other hassle of the sort. These implementations show how much the brand cares for user satisfaction.
Things I Liked about the Product:
The pump is rather powerful. I measured the wave intensity with the power input. I was surprised.
It's no surprise that KEDSUM works great with large tanks seeing the powerful motor it has.
The pump is portable. It won't overwhelm users with sheer size. It compensates with performance
Installation is pretty easy for me. It took me ten to fifteen minutes to get this thing running.
Things I Didn't Like about the Product
Too powerful for smaller tanks. I'd advise you to get started with a mid-size tank first up.
I must tell you; this is not very energy efficient.
The Factors That Prompted Me to Select These Wavemakers
Before you wonder about my process of choosing the ideal wavemakers for aquariums, let me put it out there for you. This section deals with the factors I kept in mind while choosing these models for me and my readers for a continuous usage. Let's take a look at them.
Price Should be Priority Number One
It's not just wavemakers when it comes to any sort of electrical device, the price to performance ratio has to be measured. Then again, all that does indeed depend on your budget. It's only common sense to go for the wavemaker that's the best bang for your buck.
That being stated, let's all adhere to the common law of purchase. "The more you pay, the more you get." Now, to leap across this rather troublesome equation, you have to know what kind of features you actually want for your wavemaker. Get the one that has the most and puts the least pressure on the wallet.
Safety Has to Be Considered
All the gadgets and gear that we get for our aquarium are first and foremost for the aquatic life we wish to sustain in them. No point in getting something that can prove to be harmful to the critters that are inside.
First of all, when you have small fishes in your aquarium, you should ensure that there's no way of them getting inside the pump. That could prove fatal in every form. Another thing to keep in mind is the heat that the pump produces. It's best to get the one that doesn't tamper with the natural temp of the tank.
Electrical surges can be fatal too. So, make sure that the wavemaker is properly equipped with protective features that are built to prevent electrical hazards.
Durability Counts
Getting a wavemaker might seem pretty simple, but it's often easy to miss out on the simplistic aspects. I would suggest you to always check for what the wavemaker is made of. A sturdy and well-built product is more likely to serve you better than a flimsy counterpart.
A well-constructed device can lead to better performance as well. Just make sure that the exterior doesn't wear off. This will probably lead you to buy another one over and over again. Stop that ominous cycle through your own good judgment.
Installation and Mounting
Installing a wavemaker can get tricky. Sometimes an instruction manual can be insufficient. Look for tools and accessories that make mounting the pump and installing the device easier than what you'd expect.
Magnetic clamps or mounts can really be handy. These save a lot of hassle in installation. There are of course options like the suction cup mount. Whichever it is, my point is, it has to reduce effort. Letting professionals handle the task may get expensive. So, choose a product that you can go DIY with.
Water Flow Management is Important
This might be very much common sense, but it's best to state the facts regardless. How much water can be pumped by the unit simply can't be overlooked. If you're going for a coral reef tank, the wavemaker has to pump the water twenty times the tank's capacity. What I'm saying is, you have to know the math.
Read more about placement and positioning of the powerheads/wavemakers in a reef tank.
The Efficiency Factor
The way to measure efficiency is simple. Look for the performance per watt. This basically refers to electrical efficiency. Higher the flow rate with lower power consumption will dictate the value of the purchase on a big margin. I did refer to this issue while going through the products.
I'm pretty sure you can do the calculation yourself by now. Right?
Which One Should You Pick?
As you could see, choosing the best aquarium wavemaker can be challenging as well. Especially, when you have heaps of options and technicalities to keep in mind. Thankfully, this article has the ideal products for you to look into.
For example, if you want a convenient size and decent operation, you can go for Tunze. This thing is small, portable, and delivers the power to generate feisty waves when you need it.
If you want performance and constant operation, there's hardly any alternative to Current USA or Echotech. However, if you favor Gyro technology over everything else, feel free to go for Zomma as this little machine gives you top notch performance within your budget.
Look, I understand that finding proper buying guide on these machines is a bit tough (well, a lot… actually). That's why I think my precise buying guide would be more than a little help for aquarium enthusiasts. Please let me know about your experience with these units in the comment section.