Call me a nitpicker all you want but I like to meticulously plan everything when it comes to my aquariums. A well-lighted aquarium brings out the best in my fishes as well as the coral reefs that reside in it after all. And I'm no slacker when it comes to going the extra mile to get the very best for myself.
The best LED Reef lights simulate a fresh or saltwater environment in your aquarium down to a tee. But here's the catch: Understanding what's the ideal product to cater to organisms underwater is easier said than done. People need to take into account the right color spectrum, PAR count & heating rate.
Before you know it, the task will become a tedious one.
Okay, this is enough of me trying to give you a head's up. Let me help you find the ideal product and point out all the facts you'll need to judge them. At the end of this humongous piece, you'll be well-equipped to find just the right product at the right price for your own private river or ocean at home.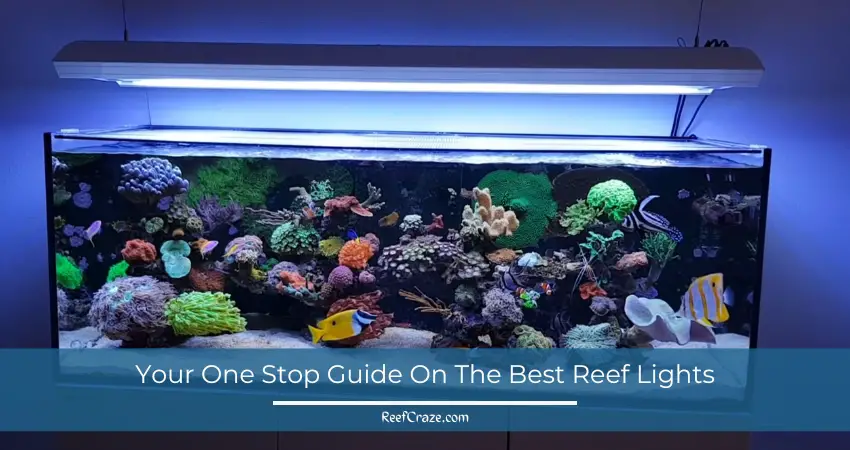 Top 5 Best LED Reef Lights: Comparison Table
Reviews Of Top-Rated Coral Reef Lights You Can Go With
I understand that selecting the ideal lighting system depending on the reef type can be difficult on your own. That's why I've come up with my own recommendations that should serve your needs. Take a look at these brief reviews to see if any of the products matches your taste.
1. ETM Ecotech Marine Radion XR30W PRO GEN 4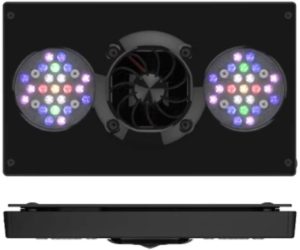 Coral Reef tanks are anything but easy to maintain. You need to know exactly what kind of light diffusion you need to keep coral mortality to zero percent. Or, at least to a bare minimum. Keeping the expenses in mind, the XR30W Pro from Ecotech Marine can be a good enough option for an aquarium.
Why so? Well, let me guide you to what this device is actually capable of.
Being the 4th generation of its kind, the product definitely has refined itself from the predecessors. As we all know, light dispersion is a key fact to the health and lifespan of the corals. This one offers a maximum spread of 32″ x 32″ and the recommended spread is 24″ x 24."
Proper spreading of the light is very much necessary for the symbiotic functionality in the corals to grow and do their magic. If the zooxanthellae aren't able to perform photosynthesis… well, you'll eventually end up with a tank full of dead corals. Now, that's a scare.
Don't worry. The XR30W Pro is here to make sure that doesn't happen.
Makers put in a lot of thought in coming up with and implementing the lights as part of the device. The Reeflink controller allowed me to regulate the violets and warm whites that the LED lights created. It was great to see that the guys went for HEI Optics (Hemispherical Edge Illumination) as well.
Speaking of lights, going "Pro" does mean going for the extra features that come along with the name tag. There are twelve additional lights to offer a fuller spectrum with a higher peak of 420nm.  So, in terms of uniformity, color mixing, and overall spread… Ecotech Marine did an outstanding job.
Heat and energy consumption were the two of my primary concerns when I opted for this device. But to be frank, I ain't disappointed. The TIR optics do a fine job of spreading the heat that eliminates all possibilities of creating major hot spots. Yes, the eco-friendly features are spot on.
As for the internal cooling system, the IP55 cooling fan ensures better cooling over the "Micro-Fins." I get brighter lights without sacrificing the general lifespan. Plus, the device isn't too "Power" hungry.
If you're wondering about enhanced interface perks, then you won't be displeased. The web-based interface keeps all the controls at your fingertips through the cloud. Even when you're on a vacation, you'll have the liberty to control the tank's lighting with ease.
All these "Must Have" features (in my opinion as I can't do without them) make it a fine choice for coral tank enthusiasts nevertheless.
Things I Liked about the Product:
These are perfect if you have some high-end reefs you want to take care of and maintain.
I could do unlimited customization to my heart's content. These lights offer you many options.
If you want to grow corals commercially, these lights are perfect giving you proper PAR ratio.
I liked the cooling system with IP55 fan and how it operates overall. It's very much hassle-free.
Yes, it has TIR optics that eliminate hotspots and keep the environment eco-friendly as well.
Things I Didn't Like about the Product
I'd say these lights are a touch expensive compared to the competition we have.
It requires a bit of know-how as it's not exactly a "Plug and Play" device.
2. Kessil A360X Tuna Blue LED Aquarium Light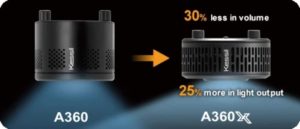 You have to appreciate a brand that actually puts a decent thought and effort to improve their products.
As it happens, I kept tabs on Kessil's line of Aquarium Light products and I did notice some changes when the makers opted for this update. They made additions that bear a positive impact on performance. But the question is, "How will these changes serve me and you?"
I'll get to that straight away!
I got the A360X a while back and I have to say it was nothing less than impressive. The lights were actually brighter than the A360WE or A360NE with a lower profile. I appreciate the "Two-Way" improvement.
The device is 25% brighter than the previous models to be exact. This is offered because of the well-engineered implementation of the sunflower heat sink. I ended up getting better performance at lower temperatures. Cool, right?!
For an impressive coverage area of 30″ X 30″, the control features were far better than what you'd normally expect. This literally opened up unlimited color combination possibilities to enhance the beauty of my coral tank. Even with all this, the performance of the core spectrum didn't falter.
The feature that I really liked about this one is the low dimming of the lights when needed. Nothing beats smoother transition of colors blended with proper dimming. Even the ever-demanding moonlight effect can be achieved flawlessly.
However, there's a catch to all this. To get access to the complete color capacity and different modes, you will need the Spectral Controller X. This doesn't come with the box, but it's a must buy nevertheless. Since we're talking controls. This baby has much more to offer.
The K-Link communication system is indeed a nice thing to have when you are planning to control multiple A360X's. I was even able to ensure each to run properly through separate programming. This was a huge improvement from the basic plug and play plug & play 0-10V.
And guess how many lights you can actually control with this? I got to control 32 separate lights. No, I'm not joking around.
The 25% brighter lights that run at a bare minimum of 90 Watts are controlled through two separate knobs. If you take manual controls into consideration, this is actually great to have. One knob for light intensity control and another for the LED spectrum mix.
The product does not fail to disperse the light properly. With proper positioning, I was able to ensure that no area of my coral tank was completely shadowed. So, no chance of unwanted coral death.
Now that's what I call a "Win-Win" situation for me considering the budget I had for these lights.
Things I Liked about the Product:
Besides all the good features, the 360X from Kessil features a bulletproof design to ensure durability.
You can control the LED spectrum as well as the light intensity of these lights using two knobs.
One can even link several of these products together with the K-Link communication system.
These lights are 25% brighter than your average product. They can light up some big boys as well.
The unit doesn't get too hot to handle at any point of time thanks to the sunflower heat sink.
Things I Didn't Like about the Product
The PAR count for this unit is not all that high when you consider it.
You'll need a spectral controller to have a grasp over the "Complete" control of these lights.
3. Kessil A160WE Controllable LED Aquarium Light
I've been using aquariums for more than a decade. And trust me when I say this, proper lighting "Does" matter. Even more so if you are going for a special lighting arrangement for corals in there. There are a few selling points that Kessil had which won me over. But I bet you want me to discuss them in detail.
If you're familiar with Kessil's line of products you'll know that they prioritize efficiency over gimmicks each time. The Kessil A160WE Controllable LED Aquarium Light was not an exception either. I was pretty impressed with how this device performed.
Good plant growth, cool operation, and low power consumption are the things that get me ticking when it comes to aquarium lights. The A160WE delivered all that and more.
I use this in my rather large tank. By large, I mean a capacity of 30 Gallons (Yes, I am a proud enthusiast). The primary impression was, "Is it really worth all the money I spent?" Hell yes! It took me not more than 30 minutes to install it and the process was as easy as pie.
And with the Kessil Spectral Controller (Not included in the box), operating the light intensity and colors was fairly easy. And the product was loaded with options. If you are looking for an aesthetically pleasing coral tank, then very few lights are actually on par with this one.
I installed it approximately five inches above the waterline. it delivers a really good spread. Light diffusion is what I call, "Great." It offered a great shimmer that was just astounding.  The "Natural Sun" effect is perfectly reproduced and it's just great to look at.
However, I did notice something. the intensity of the lights does lessen at the very edge of 30 inches. But it is very much expected and isn't a big deal at all. The plant growth rate is just superb and the fish remain healthy. I successfully created a healthy ecosystem in my tank with the device's help.
I can't say I am not just a tiny bit excited about the results.
Apart from external controls, you'll see physical knobs on the top. These can control the spectrum and intensity. This addition is great to have for old-timers like me who want a more "Hands-On" experience.
The product deserves two thumbs up from all those who actually care for their aquarium's aesthetics and healthy life sustenance. A good buy without a doubt!
Things I Liked about the Product:
Controlling this machine is super easy. I loved the fact that you have only two knobs for the job.
You can do a daisy charm (keeping one light as the master and the other as the slave) with it.
The users can use external controllers to do the controlling when using this Kessil product.
Installation is rather quick with these lights. You can do it in under 30 minutes of time.
Kessil offers a substantial light defusion that any aquarium enthusiast would fall in love with.
Things I Didn't Like about the Product
This thing is a bit expensive when you compare it to the competition you see in the market.
You'll have to hang this thing from the ceiling and the power supply needs to be placed well.
4. VIPARSPECTRA Timer Control Dimmable 165W/300W LED Aquarium Light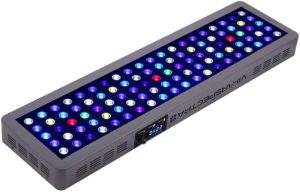 If you're planning on creating the perfect coral tank environment, then your budget just HAS to include a proper lighting setup. All of us know that, right? That's where my third recommendation from VIPARSPECTRA comes in. These guys have a long lineup of products to choose from.
They don't mess around when quality comes to question.
I got the VIPARSPECTRA Timer Control Dimmable 165W/300W LED Aquarium Light quite a while back for myself. I was even willing to spend the extra dollars for the optimum performance they offered. I wasn't satisfied at all with the competition and all the "Near Perfect" devices that loomed about at the time.
I've been using this for a few months and I say this with a smile on, "I am one happy customer." Why so? Let's get to it step by step.
With professional lighting equipment, a proper PAR control is to be expected. It directly affects the photosynthesis process of the zooxanthellae that reside within the corals. The symbiotic function has to thrive in order to ensure the survival of the corals.
The V165 is specially engineered to keep balance in the PAR output and overall coverage. This can be controlled to provide high levels of PAR that are necessary for accurate coverage to suit all aquarium life.
The 90-degree optic Lets ensures concentrated light with minimal loss ensuring high Lumen output. Not only that but the maximum yield is also delivered which I appreciate a lot.
It might not look that important to some people but the internal timer is great to have. I can turn the lights off and on separately and automatically. The dimmable features are just awesome. Adjusting two channels of brightness individually had never been this easy.
Just so you know, the V165b is a "Full Spectrum" device that's great for just about every photosynthetic coral. By dimming the lights right and adjusting the exposure/intensity properly you can choose and house any type of coral you want. No choice limits with this one!
You should be a bit cautious about the size and weight of this big boy. With the dimensions of 16×8.5×2.4inches, this will occupy some space.  The total weight of 6.8 pounds isn't too much. Yet, it isn't measly either.
As far as heat dissipation and noise are concerned, this one works like a pro. Upgraded aluminum heat sinks spread the heat just right and increase the lifespan of a product in general. The attached fans are made for high-speed quiet operation. You won't be able to hear any buzzing noises whatsoever.
With an average power draw of about 105 watts, the Viparspectra is highly unlikely to cut a hole in your pockets. With a lifespan of 100,000 hours, this amazing product won't let you down.
Things I Liked about the Product:
ViparSpectra comes with a solid build for people who're prone to damages and accidents.
Honestly speaking, I never once had any technical difficulties with this LED reef light at all.
You'll have a complete light spectrum to play with at your hands. I'd call this complete nourishment for corals.
One can control each spectrum separately and using a remote control that's easy to operate.
The lifecycle of these lights is something I love. You have 100000 hours of runtime on these babies.
Things I Didn't Like about the Product
The users only have one size option to go with this product.
You can't control it through Wi-Fi functionalities anywhere.
5. Current USA Orbit Marine Aquarium LED Light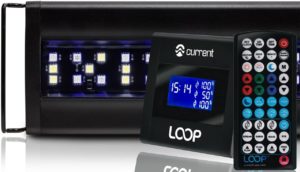 Imitating the natural light is no easy task. But the Current USA Orbit Marine Aquarium LED Light does get the job done. With flying colors if I might add. As the brand claims the device does bring every color in the aquarium to life.
The Orbit Marine is without a doubt a worthy contender when it comes to producing vibrant colors. Plus, the machine is well built and aesthetically designed. It's a great fit above the aquarium and certainly won't look odd in your living room either.
This product comes with the all-new LOOP setting that allows the pump and the light to function jointly. This takes the user experience of the aquarium to an entirely new level.
If you're fascinated by colors then prepare to get blown away by the eye-popping spectacular spectrums that this thing has to offer. Along with stunning shimmer effects, the Current USA Orbit Marine Aquarium LED Light can provide literally a limitless number of color spectrums.
We don't purchase LED lights just to treat our eyes, they have other significant purposes too. This lighting system has wide-angle lenses to ensure that the dispersion is done right. Like the solar and lunar rays, the Orbit Marine LED Lights can actually replicate light environments of the sea.
This device allowed me to go the extra mile when it came to using next-level features. The ultra-bright LED is capable of producing dim lights too. The cloud cover effects and storm modes literally took my breath away. The color blends were far more accurate than what I had expected.
Installation was simply a breeze. The extendable brackets made it a whole lot easier. I was able to make it fit over 18-24 inches wide tanks too.
We usually come across a few features that set a particular product apart from the features. I found that this one had some awesome realistic effects that put it in the leagues of the best LED reef lights.
They call it Orbit Marine because it can literally reproduce all the orbit lights. Yes, I mean all of them (even the complex ones). From slow sunrise to dimming sunset, this thing has it all. I had all the lighting cycles at my fingertips. Aesthetic beauty apart, it offered an extended coral lifespan.
Creating waves of water according to the preprogrammed daily light schedule is made possible with this wonder of a product. Now that's what I call an "All-rounder" in every sense of the word.
Things I Liked about the Product:
The advanced LED chips you see here can very well deliver you full spectrum of lights.
You get access to different modes of lighting and a wireless remote to control it all.
I found it rather easy to install and control as I cycled through different modes of the machine.
This is specially designed for the saltwater corals that you find in the oceans.
Unlike many of its competitions, this thing is rather affordable and budget-friendly.
Things I Didn't Like about the Product
I had to resort to YouTube videos when testing some of the stuff as the instructions were vague.
If you lose the remote for some reason, you'll need to change the entire package.
6. Wattshine 180W LED Coral Light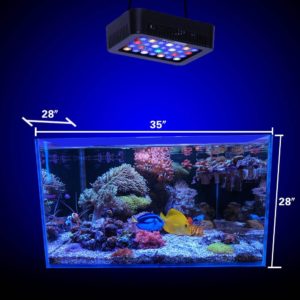 As I have said before, low power consumption has always been a huge selling point for me. The Wattshine 180W LED Coral Light offers just that with a promise of long-lasting efficiency. With a total lifespan of 50,000 hours, you just can't go wrong.
The first thing that caught my eye about the device was the impressive build quality. This thing was not difficult to carry at all. Lightweight construction with anti-corrosion material is something a coral tank enthusiast like me will have to appreciate.
Occasional fire hazards are a possibility with these types of devices. I mean, accidents can happen when you are dealing with electronic devices. Have no fear, this device here is flame retardant. A plus to have for those who are concerned about general safety.
Now let's talk about the lights a bit. Aquatic organisms require a variable spectrum of lights and this has the perfect color ratio. Wattshine literally outshines the competition when these features come to mind. All varieties of coral lifeforms will get proper nourishment. That bit is guaranteed.
Controls are undeniably an important factor when choosing these lights. I won't deny that.
Honestly, a bundle of awesome features won't be of much value if you don't have proper control over them.  The lights are fully adjustable and dimmable. I was able to control the intensity from 0-100 percent with the dimmers. This is something great to have.
If you are a coral reef tank enthusiast then you are most certainly aware of soft and hard coral growth tanks. Even if you are a proud owner of a fish aquarium, this device will serve you right. I was able to make it fit on a 24″x24″x24″ fish coral tank without any issues at all.
Now that's what I call having versatility at your fingertips.
Speaking of fingertips, with a few simple gestures on the controls you can even adjust the PAR value which can go 31% higher than average along with a powerful light penetration system. The 3W LED lights are capable of strong heat dissipation. I got all this with minimal noise. Cool right?
Just in case you want to know, just one of these lights is capable enough to deal with even a 180-gallon reef tank. So, go big with your tanks, because the support you have above them is stronger than you think.
Things I Liked about the Product:
I must tell you that this is an efficient piece of tech. You'll end up spending less electricity bills.
One product is capable enough to deal with a reef tank of 180 gallons of capacity.
People can dim the lights or bring them to maximum brightness without much of a fuss.
No matter what type of corals you're playing around with, this thing ensures proper care.
Flame redundant lights offer you a safety net against occasional fire hazards from possible circuit failures.
Things I Didn't Like about the Product
This is cheap, expect some of the lights to fail you in rather quick time.
7. Phlizon 165W Dimmable Full Spectrum Auqarium LED Light

As far as lighting coral reef tanks come to mind, full spectrums are vital without a shred of doubt. I came across a lot of LED lighting systems in my lifetime. But the Phlizon 165W Dimmable Full Spectrum Aquarium LED Light had some special aspects that I simply couldn't overlook.
Each type of UV light has its own separate impact on your tank's lifeforms. Whether it be blue UV lights for enhancing your plant's defense mechanisms or purple UV lights to promote fish growth, this little product from Phlizon has it all.
Not to mention, the red white and greens are also at your disposal. Each of these lights can be matched accordingly to increase the unique aesthetic value of your reef tank. This primarily contributes to the general health and lifecycle of the tank inhabitants. A "Must Have" for all reef tank owners.
The versatile utility is something I really like and appreciate. This full-spectrum LED light system is best suited for both freshwater and saltwater plants. Both moss and coral algae lifeforms are ensured proper nourishment. This opens up a lot of possibilities for owners to decorate their tanks.
Coral life inevitably perishes if the photosynthesis process fails. The device ensures that the symbiotic function of the corals thrive and they can produce ample oxygen. Which in turn enhances the lifespan of the fishes in the tank.
I found the double dimmer model on this one to be rather interesting. I've seen basic dimmer controls that dim the lights down. But the dimmer knob on this one works on dual channels. This makes it capable of adjusting two channels of brightness individually.
This function is great when it comes to keeping the aquarium life healthy. Both the fish and the plants need to adjust to the new light settings. The slowed-down exposure and intensity of light can go to great lengths in this aspect.
If you're worried about weight and inconvenience, then you won't have to roll your eyeballs. Because this product weighs only about 6.6 pounds. This isn't something I would consider to be a deal-breaker.
It's very much capable of handling 24″*24″*24″ fish tanks. In fact, any other size of tank you throw at it. I would recommend not going above 57 gallons though. With the dimensions of 20″*7″*2.4″ and a solid construction I give this device a "Must Buy" rating without a second thought.
Things I Liked about the Product:
Clearly defined On/Off switch and detailed control panel makes it easier for beginners to handle this piece of tech.
I must say that the LED lights give you a strong penetration into the water to impact growth of the corals.
LED lights here stay operational for the long haul. You won't have to worry about replacements.
Phlizon comes with UV lights that facilitate growth along with normal red, green & whites.
Despite being feature-heavy, it doesn't weigh as much as you think. It clocks in at 6.6 pounds.
Things I Didn't Like about the Product
When these babies go bad, they go bad for life. There's no fixing them.
8. Lightimetunnel WiFi LED Aquarium Light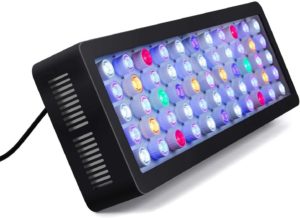 This might sound repetitive but like all other products that I considered putting in this list, this one too has its own special perks. The control features of this device make it undoubtedly one of the best LED reef lights available on the market.
The guys at Lightimetunnel put all the features that matter at the tip of your fingers through a mobile app. This utilizes Wi-Fi functionality. So, you don't have to go through the intricacies of controlling the colors and changing the intricacies manually.
But this might not be everyone's cup of tea. For those who want more traditional hands-on experience, there are separate knobs that are also capable of surfing through the settings that the product has to offer.
The app itself is well designed and the interface is very friendly for first-time users. There are four modes to control the time settings. Choose any of the manual, auto, timer or default modes to suit your needs. I should let you know that this app is only for android phones. A small limitation there…
This too is a full spectrum LED device that can produce all the necessary color patterns needed to keep the aquarium life healthy. The system consists of red light, blue light, purple light, royal blue light, green light, and white light. So yes, I did get a sense of completion with this one.
The app gives access to four seasonal light patterns: White, Blue, Night Blue, All light on Channel and Spring, Summer, Autumn, and Winter. These effects enhanced the beauty of my aquarium and literally elevated it to a work of art.
The lights were 25 percent brighter than traditional coral tank LED lights. Not to mention the 120-degree lens made sure that the spread was just right. No shaded areas were left and the photosynthesis process remained unhindered.
Compatibility wasn't an issue for me at all. This light was great for both saltwater and freshwater lifeforms. Because of this, I got to choose from a wide variety of coral growth and fishes as well. As I always say you can never have too many options when it comes to aesthetics.
An interesting feature caught my attention. The Daisy chain system can very well combine two or three fish tank lighting systems together. So, you can take deep breaths and exhale all that hard work you put in keeping your aquatic living room alive and blooming.
The hanger kit makes it capable of fitting literally all sizes of tanks. The size of my reef tank really didn't become an issue in any way.
Things I Liked about the Product:
LightmeTunnel is the go-to brand for anyone with commercial or personal aquarium that you own.
This thing has a cooling fan to make sure the equipment doesn't get too hot to handle.
You get to use this device for saltwater as well as freshwater aquariums without extra costs.
You can do a daisy chain with this thing as well if you decide to combine one or two products.
The good thing is, this product is perfect for tanks of all shapes and sizes that you may have.
Things I Didn't Like about the Product
Granted that LightmeTunnel doesn't malfunction much of the time. When it does, the customer service leaves a lot to be desired backing the product up.
9. HIPARGERO LED Aquarium Light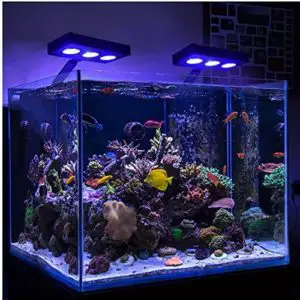 We've gone through a bunch of "Best LED Reef Light" candidates and some of them were pretty darn great. Now, let's talk about something that takes classy aesthetics to a whole new level. The HIPARGERO LED Aquarium Light is without a doubt a well-built device that excels in the features that truly matter.
This device here uses Cree LED lights that are a fine example of the flawless American light manufacturing capacity. These lights proved to be way better than the basic everyday aquarium lights. The professional design of the product was infused with balanced blue and white light proportions.
This was something that I simply couldn't complain about. Because it offered my tank an exactly replicated environment of the deep blue sea. These not only brought out the colors of the coral reefs but kept them healthy in turn.
The use of top quality 90 degrees three in one acrylic lens kept the spread of light just accurate. Not only that but the light efficiency and color uniformity were just off the charts. The performance just wowed me and let me tell you, I'm not one to be easily impressed.
The saltwater oriented lighting system's intensity can be adjusted from zero to one hundred percent with ease. This is just great when you are trying to take care of particular types of sea pets. Whether you want corals or fish to live and flourish in your tank, this baby won't disappoint you to the least.
If we come down to the organic value of the lights then it literally does wonders for the corals. The perfect blue lights help to produce the right amount of vitamin D3. This, in turn, increases the calcium absorption of the corals and makes them look even brighter.
Just so you know, this is great for other creatures including platypus. All these health benefits are ensured due to the proper light diffusion in the tank. HIPARGERO did their math right that allowed every inch of my tank to be well lit. No dead corals on my account at least.
With an ultra-thin body design with a height of only 1.2 inches, the light is easily adjustable even in cramped up spaces. I would suggest 10 to 18-inch tanks for this one and a glass length that does not exceed 0.8 inches. The rest is just "Plug and Play" with this thing. Literally no hassle at all.
Things I Liked about the Product:
Hipergero does a good job of replicating the look of the deep blue see to simulate natural habitat.
You'll not find the product lighting up the aquarium in patches. It's got nice color uniformity
You can adjust the intensity of the light easily with an easy-to-understand control panel.
The blue saltwater lights are perfect for coral as they help to produce vitamin D3 that they need.
Just in case you're not into corals but other animals that live in saltwater, this thing is perfect for them as well.
Things I Didn't Like about the Product
You'll have to jostle with small light spread when you're dealing with Hipargero lights.
If you're into nano tanks, mount can be too long for them when operating.
If you're not that into touch sensitive controls, they can prove to be a bit finicky.
10. Roleadro LED Aquarium Light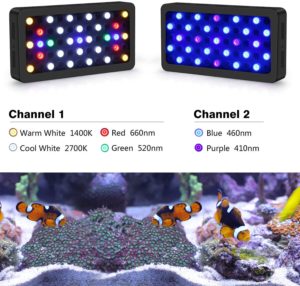 No matter what kind of lifeform you want to keep in your tank, coral reef, grass, or fish… the Roleadro LED Aquarium Light is more than capable of sustaining them all. For the price, this offered tons of features that boosted the value of this product to great extent.
You might be wondering why I am speaking so highly of this device. Well, there are multiple reasons. A "No Joke" performance that comes with a construction that's nothing less than "Solid" is hard to find. But I have to say the guys at Roleardo have simply outdone themselves.
I was skeptical about how this product would actually be, but it ticked the right boxes of my checklist nevertheless. Light, spread, performance, and controls were satisfactory to quite some extent and it all came with a long lifespan.
The device utilizes real 45mil bright lux white chips and 45mil Epistar blue chips. This indeed has its perks that result in 30 percent more brightness than average aquarium lights. Not to mention the 120-degree upgraded acrylic lenses ensure proper light diffusion for extended coral survival rates.
I was astonished to see the color uniformity. It not only maintained the light balance of the tank but created a soothing essence too. The appearance that it offered was nothing less than breathtaking.
A full spectrum is nothing that can be shrugged off as it is vital for keeping the colors of the colors vibrant. This also helps in lowering the bleaching risks. The royal blue 450nm, purple 430nm, red 660nm, blue 460nm, green 520nm, warm white and cool white are the set of colors that it offers.
The lights are fully dimmable and the controls are extremely efficient to bring precision in the color intensity. This opens up a variety of options in keeping aquatic life healthy. It can promote the growth of any SPS and LPS and make them flourish in the aquarium.
Oh, and just in case you want to know, this light is suitable for both freshwater and saltwater tanks. This literally gave me tons of options to choose from in terms of tank inhabitants.
Silent operation is very much appreciated at this point. Because many high performing aquariums tend to get a bit on the noisy side. But the adopted mute fans make it seem almost silent. This paired with a proper heat dissipation system turns this device worth the praise.
Things I Liked about the Product:
As with many of the lights on my list, this one offers complete light spectrum as well.
Roleadro comes with two separate lighting channels for us to operate with and grant value.
You get a different "Dimmer Mode" specifically to save you from the hassle of tinkering with it.
The cooling fan you see here helps to keep the motor in good shape. It's also super quiet.
This LED reef light promotes the growth of any SPS and LPS and help them flourish in the aquarium.
Things I Didn't Like about the Product
The cooling fan is rather small. It takes time to cool the entire thing down.
How Did I Pick These Lights?
Despite how it may look to you guys, picking the right Coral Reef Light isn't a child's play. It's not like they are hard to get. Rather, there are numerous brands available that promise so much to the users. You need to keep certain facts in mind before you go on the hunt for the ideal product suiting your aquariums. Naturally, I followed my own checklist while selecting these. Let's discuss my checklist.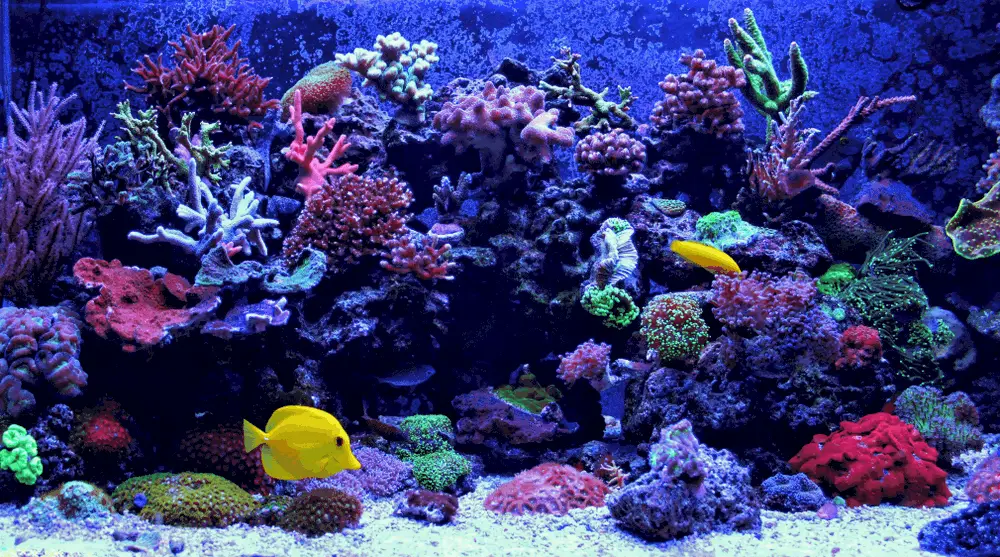 Keeping the Type of the Reef Light in Mind is Crucial
As you can guess, I didn't focus on any single type in my article. Yes, there are types here as well. Primarily, you'll have freshwater and saltwater lights. Make no mistake, saltwater corals won't fair too well when put in a tank with a freshwater LED light over the tank.
Saltwater lights can simulate heat that's available in different parts of the day. Namely, you'll have the "Sunrise" and "Sunset" effects via dimming or intensifying the heat you get from the source. This mimics a real saltwater environment and helps specific corals (more on this later) to grow within your tank(s).
Similarly, products suitable for freshwater plants have different levels of simulated heat. That's because the photosynthesis process of these plants is somewhat different than their saltwater cousins. I imagined you'll have difficulties in picking the right candidate. Thus, I took the smart way out.
You'll see products like Kessil that has both saltwater and freshwater variants. In fact, the majority of the products on my list do. On the other hand, Current USA Marine LED light is specifically designed for saltwater coral reefs. Choose one that goes with your type of underwater organism.
What Type of Coral Reefs are You Planning to Grow?
This is an important question to ask yourselves just before you set out on your own adventure of buying a reef light. To a layman, every species of coral will look the same. I understand that. If you study a little and look deeper, you'll find out that there are different species that have different needs of heat.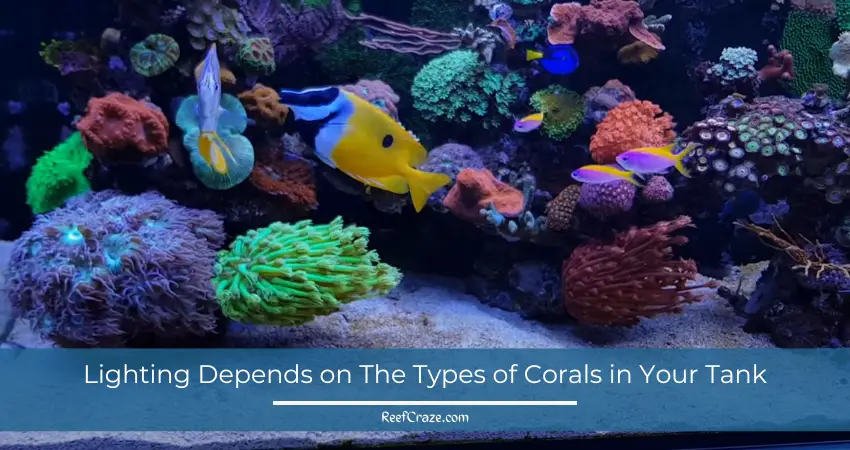 You'll find that hard and soft corals have different needs in terms of heat and access to light. Short Polyp Stony and Long Polyp Stony (SPS and LPS for short) are two types of hard corals that have different vitamin D3 requirements as well. Compared to that, soft corals are easy to maintain.
If you have a mixture of these two types or a single type, in particular, you'll need specific types of lighting that can cater to that type. This is why people need to know about the LED lights before they make a purchase. Try to select one that caters to your coral's needs.
Color Spectrum is Important as Well
Throughout this article, you must have noticed that I babbled about specific color types when it comes to these products. There's a reason for that. When it comes to coral reefs, you'll notice they offer different color types. It has to do with color penetration as you might have guessed.
For example, blue LEDs can simulate natural sunlight and can penetrate deeper into your aquariums. These are good for saltwater or seawater aquariums. The red light has a wavelength of 600 nm and is good for shallow tanks that are not very deep. However, orange, green and yellow LEDs are a no go.
Why? That's because the don't penetrate that deep when you need them to. Now, the obvious question in your mind is, "Why are you even mentioning this?" That's because different species of corals tend to form reefs at different depths. You'll have to know your coral reefs and select LEDs with care.
Make sure to choose products that have the correct spectrum and serve the species you're going with.
Additional Read: Best Light Spectrum For Anemones
Controls of the Lighting System Need to be Considered
Make no mistake, you'll have to be absolutely meticulous when choosing the top coral reef lights. Besides settling on the types of light and coral reefs, you'll need to look into the controls of the unit as well. One needs to operate the lights in perfect order and fashion to get the best out of them.
I know some people who prefer manual controls onboard when choosing a device. I don't have any qualms with it. Some people do like to tinker with their lights head-on, I guess. For me, I prefer lights that are wirelessly controlled. I'm aiming to simulate a natural environment in my aquariums after all.
Hands-free controlling is pretty much the order of the day here. It' all the better if you have a good remote with several functions. For me, I like the option of dimming or increasing the intensity of the lights when and where I need it.
Sometimes, the aquariums can get so big that one reef light isn't nearly enough. I get that. Take a look at my list and you'll find products that can form a daisy chain as well. This allows me to simultaneously use and control multiple units of the light to cover for large aquariums that I have.
The Issue of Heat Dissipation
How much heat do you have to deal with at the cost of running the reef lights? This is one thing every one of us needs to consider. Fortunately, the LED lights heat up way less than what with a halide or the T5 bulbs for that matter. You'll have to thank the advanced chips that go into the making of these items.
The very best LED reef lights come with a cooling fan or two. This acts as insurance. Thanks to the fan, the product won't get heated up that much. Thus, users like us get more years out of our products. Less heat means "Closer to Actual" simulation of the underwater environment for the fishes as well.
Make sure to buy a machine that's equipped with one or two of such fans. Sure, these will chew on your electricity bills but not at an alarming level.
I Measured the PAR and Lumen Counts of the Products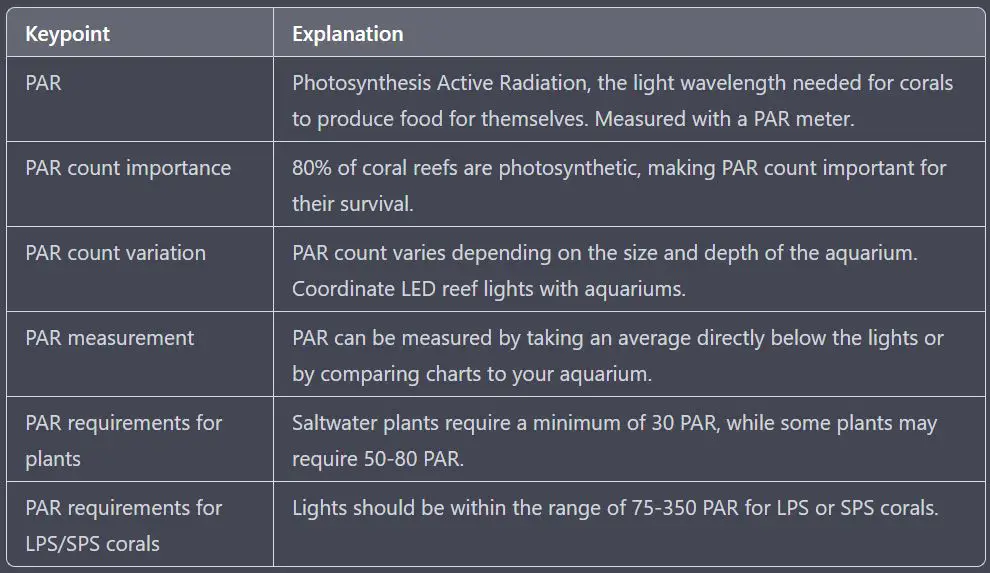 We all have heard about lumens when measuring the intensity of a particular light, right? Lumens are measured by how bright light can be. The brighter the better in this case. Also, if you see an LED light predominantly of a certain color, rest assured that the Lumen is biased to that color.
However, PAR is more specific and different. The extended form of this smart little word is Photosynthesis Active Radiation. In layman's terms, PAR is the light wavelength that's needed for corals to produce food for themselves. There's a set value for all this. You can measure this with a PAR meter.
A titbit of information for my readers: Only 20% of coral reefs are non-photosynthetic. That makes 80% to be photosynthetic (duh). And this is the precise reason PAR count is mighty important.
I must tell you that the PAR count differs depending on how big or small your aquarium is. For example, the wavelength of lights needed for photosynthesis will be higher for a tank with shallow depth compared to the depth of a deeper tank. Thus, always coordinate the LED reef lights with aquariums.
One thing I found out after about one or two months of me buying an aquarium and an LED light is that PAR count is average when you measure directly below the lights. However, it varies depending on the different locations of the tank. That's why it's always best to get an average on the PAR of the lights.
Another way of measuring PAR is by comparing the charts and stacking your aquarium against them. My experience tells me that you'd need 30 PAR at least for saltwater plants. However, there are plants that love themselves a bit of extra light. For them, it's best to go with a 50 – 80 PAR rating.
If you have LPS or SPS corals growing in your tanks, the basic rule of thumb here is to have lights that are within the range of 75 – 350 PAR.
Frequently Asked Questions
What are the best types of lights for a reef tank?
LED lights are considered to be the best option for reef tanks as they provide a full spectrum of light, including the crucial blue and purple wavelengths necessary for coral growth. Additionally, LED lights are energy efficient and have a long lifespan.
How much light do reef tanks require?
The amount of light required for a reef tank can vary depending on the type of coral and fish being kept. Generally, reef tanks require intense lighting with a minimum of 4-5 watts per gallon. It's important to research the specific lighting needs for the types of coral and fish you plan to keep in your tank.
How often should I replace the lights in my reef tank?
The lifespan of LED lights can be up to 50,000 hours, so they may not need to be replaced for several years. However, it's important to regularly check the intensity of the light and the color temperature to ensure they are still providing the proper levels for your coral and fish.
Can I use metal halide lights for my reef tank?
While metal halide lights can provide intense light and a wide spectrum, they can also generate a significant amount of heat, which can be harmful to coral and fish. Additionally, metal halide lights can be less energy efficient and have a shorter lifespan than LED lights. It's generally recommended to use LED lights for reef tanks.
Can I use a dimmer switch for my reef lights?
It is not recommended to use a dimmer switch for reef lights as it can cause fluctuations in the intensity of light, which can be harmful to coral and fish. Instead, consider using a timer to control the lighting schedule in your reef tank.
How do I know if my coral and fish are getting the right amount of light?
Observing the color and growth of your coral and fish is a good indicator of whether they are getting the right amount of light. Healthy coral will appear vibrant and colorful, while coral that is not receiving enough light may appear pale or dull. Fish will also be more active and colorful in tanks with proper lighting. It's also important to research the specific lighting needs for the types of coral and fish you have in your tank.
My Two Cents at the End
To be perfectly honest with you, I could have gone with any kind of light for my trusty old aquariums. Be it halide or T5 bulbs. But I went with the best LED Reef lights for a reason. These things are much safer and seldom cause malfunctions when at work compared to their cousins.
Also, you'll have no problems with heat decapitation. These things produce less heat than halide or T5 bulbs to begin with. Last but not the least, the durability of these products is something to brag about.
Choose the perfect one and it'll serve you for years to come. All in all, these things are anything but a good deal if you are a "True" aquarium enthusiast. I hope, this rather long guide has proven somewhat beneficial to all of you guys.