Fish for a community reef tank should be chosen based on experience, expertise, maintenance effort, and needs. You can go for easy-to-keep fish that require simple upkeep and little knowledge. Or, you can choose reef-safe fish that perform various functions in your reef tank and keep the environment self-maintaining. Both will require some working knowledge of each fish and how to make a proper collection that fulfills your needs.
For easy upkeep, the best reef-safe fish are Ocellaris or Percula Clownfish, Banggai Cardinalfish, Firefish Goby, Yellow Watchman Goby, and Midas Blenny. For a self-maintaining reef tank, you'll want Blue Streak Cleaner Wrasse and Yellow Tang. You can include the low-maintenance fish with the expert-level fish and create a perfect hierarchy in your reef tank.
I'll give you a working knowledge of each of these fish, including their looks, aggression, mating behaviors, functions, feeding, and hardiness. I'll also divide these into the beginner and expert sections and conclude with how to mix the two for the best reef tank. Keep in mind most of the fish on this list will require a 50-gallon reef tank at least.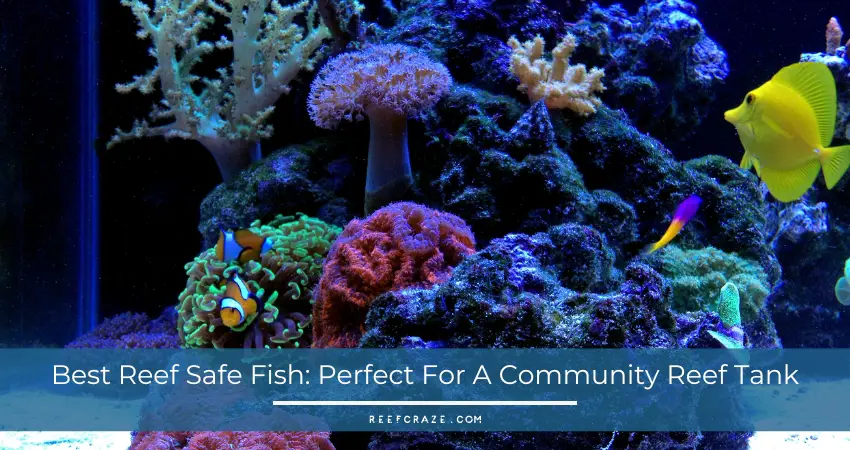 Read More: Coolest and Unique Saltwater Fish
The Beginner Level Reef Safe Fish (That Won't Harm Your Corals)
If you're new to reef tanks and don't have the experience, you need hardy fish who don't need much to thrive. This will help you get acquainted with the hobby without the risk of losing fish and build good maintenance habits that'll help with more complex species. Here are the best 5 reef-safe beginner fish that you can keep in your community tank.
1. Ocellaris Or Percula Clownfish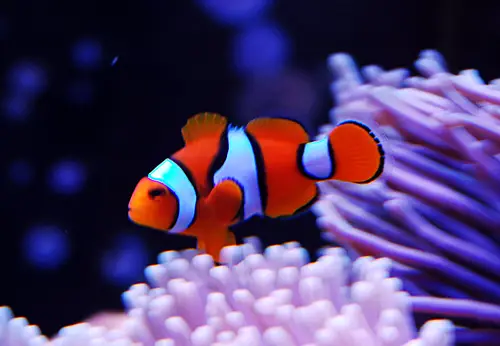 Ocellaris or Percula Clownfish are the most popular fish for reef tanks. You'll find them in almost every reef tank. These are great-looking fish that are hardy and easy to look after.
Looks
Clownfish are known for their bright orange color with white stripes and black lines. Their look is iconic, thanks to this fish being the first that every reef tank owner gets. The black outlines of their stripes create an amazing display when they are swimming.
Clownfish can grow up to 4 inches, but they are mostly on the smaller side. This makes them the perfect fish for smaller reef tanks. They have a rounded caudal fin that makes them bad swimmers. They can't swim around freely if your tank has a strong current.
Aggression
Clownfish are very peaceful fish and don't nip at corals or attack other species. They will become aggressive if you have two different species of Clownfish in the same tank.
Mating Behavior
Clownfish have an interesting habit of changing genders to mate. All Clownfish are typically born genderless. The dominant and larger Clownfish will become female, and the smaller ones will turn male. If you have many Clownfish in your tank, the largest ones will mate while the others will remain single.
Functions
Clownfish don't have any additional benefits for your reef tank, but they have a unique interaction with certain species of Sea Anemone. They use the Anemones as their habitat, thanks to their high resistance to toxicity and ability to secrete mucus to avoid stingers.
They are also weak swimmers, and the Anemones provide them with a cover that blocks water flow.
If you want to include Anemones in your tank, you will need a 50-gallon water tank at least. You'll also need to plan your tank environment around keeping Anemones.
Feeding
Clownfish are omnivores with a taste for almost every type of conventional food. They eat larvae, small crustaceans, copepods, anemone tentacles, fish eggs, and algae in the wild. You can feed them Mysis shrimp, Brine shrimp, finely chopped Table shrimp, and frozen fish chunks to mimic their wild diet. Adults will feed 2 times a day, while the juvenile fish will need food 3 to 4 times.
You always have to feed Clownfish in low-water current sections in your tank. Otherwise, they will struggle to swim and eat.
Hardiness
Clownfish are very hardy overall. They can live with almost any type of food, recover fast from minor issues, and require no added maintenance to keep. You may have to watch out for Dropsy and Ich and remove excess food from the tank.
Final Thoughts
Ocellaris or Percula Clownfish are the 1st fish you should get for your reef tank. They are very social, easy to keep, and won't fall sick easily if you do mess up. It's a good fish to practice and form maintenance habits and gain experience from.
2. Banggai Cardinalfish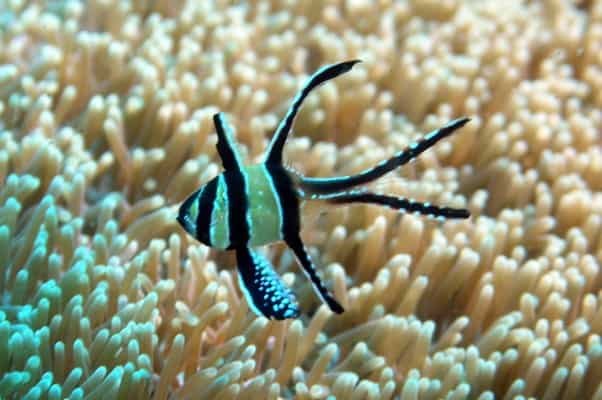 Banggai Cardinalfish is always a challenge to pair up. But they are one of the easiest reef-safe fish to keep once you find the perfect pair. They are hardy, small fish that can live easily in 10-gallon tanks.
Looks
Banggai Cardinalfish are 1-1.5 inches in their juvenile stage, and they grow to 3 inches as adults. They have translucent bodies with black stripes and white outlines. The males have 2 papillae protruding out of their pelvic region, while the females either have 1 or none.
Aggression
Banggai Cardinalfish are hostile to the same gender and when not paired together. The level of aggression is substantially higher between same-gendered fish than non-paired fish. They do not show any signs of aggression against other species and won't attack corals.
Mating Behavior
Banggai Cardinalfish are not hermaphrodites. They are born male and female, and they pair up together. Within multiple Banggai Cardinalfish, you'll note pairs form slowly. Paired fish will isolate themselves and chase away other Banggai Cardinalfish from their partners.
Paired adults will breed every lunar cycle. The male Banggai Cardinalfish will take eggs in his mouth and protect them for 20 days or more, fasting for the entire time. It'll go back to gorging itself as it prepares for the next mating session.
Functions
Banggai Cardinalfish don't have any additional benefits to your tank. Their fast breeding will require you to either have a larger tank to keep them or give the fish away.
Feeding
Banggai Cardinalfish have to gorge themselves for the repeated fasting they undergo each breeding cycle. So they will eat voraciously for a week or so, wanting a meaty, high-nutrition diet. You can feed them frozen Mysis shrimp, Brine shrimp, or live Blackworms.
Hardiness
Banggai Cardinalfish are quite hardy, as they are frequent breeders. While you have to control food, these fish don't easily fall victim to changes and ailments.
Final Thoughts
Banggai Cardinalfish should be your 2nd fish to tackle if you're new to reef tanks. They can stay in smaller tanks than Clownfish, but you have to manage their breeding and feeding habits. Their hardiness gives you ample opportunities to adjust, but you gain experience from micromanaging two easier-to-handle issues.
3. Firefish Goby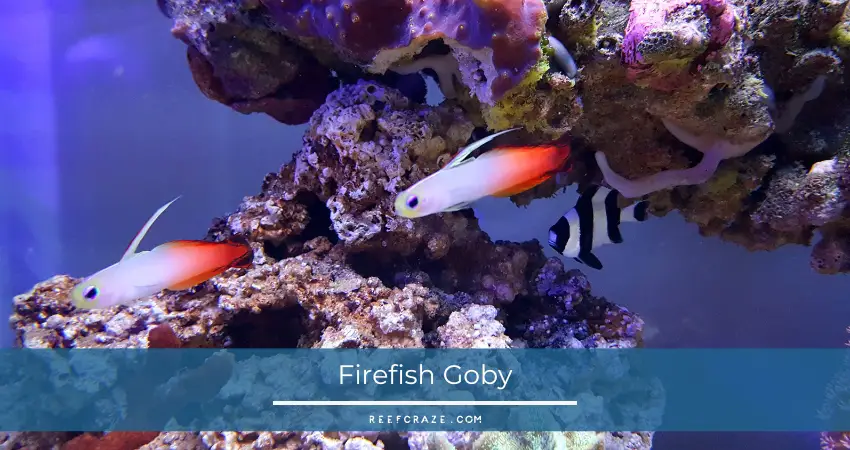 Firefish Goby is elegant fish that look amazing in your tank but has low requirements in terms of maintenance. They are peaceful and don't try to harm your corals. You'll need a 20-gallon tank to keep a Firefish Goby pair around.
Looks
Firefish Goby can grow up to 2-3.5 inches, making them smaller than Clownfish and Banggai Cardinalfish. They are majestically colored. Their tall and slender bodies have a white color to them, slowly transitioning from a fiery red to deep red and then fading to an orange tinge.
Aggression
Firefish Goby isn't aggressive towards other fish or corals. But they live in pairs and bully any unpaired fish. Keeping multiple pairs in the same tank is also not ideal, as they will attack each other.
Mating Behavior
Firefish Goby are also born males and females, and they are monogamous. They typically live alone once they reach adulthood and mate for life. So, keeping a single Firefish Goby in the tank will also work.
Functions
Firefish Goby are entertainers. While swimming, they provide dazzling displays of color, but they are rather shy. If you try to get closer, they'll hide until they've properly acclimated.
Feeding
Firefish Goby will feed on Zooplanktons found in your reef tank. They will also eat live Brine shrimp and Mysis shrimp. You should feed them 2 times per day, and make sure to include flakey food, diced meaty food, and small marine pellets with these for a proper diet.
Hardiness
Like Clownfish, Firefish Goby is susceptible to Dropsy and Ich. However, they are quite hardy otherwise, being able to swim against the current and kept to high water flow areas.
Final Thoughts
Firefish Goby should be your 3rd pick, as they populate the high water flow areas of your tank. You have to introduce a diverse diet to your tank, but it's also another easy issue to handle as you gain experience. They are reef safe and won't fall sick easily so long as you do basic tank maintenance.
4. Yellow Watchman Goby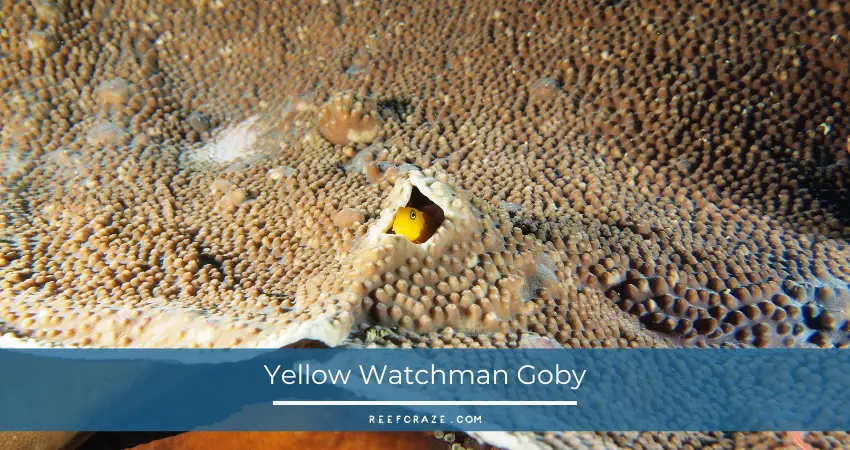 Yellow Watchman Goby is a hardy, fun fish to have around in your tank. You'll need to get a sandy reef tank, but you'll only need a 10-gallon tank for it. It eats just about every conventional marine food you can give and is quite resistant to change and diseases.
Looks
Yellow Watchman Goby will grow up to 3 inches. They are primarily yellow, with small spots of blue dotted across their heads and flanks. They are also equipped with a rounded caudal fin, so they aren't great swimmers.
Aggression
Yellow Watchman Goby is typically harmless towards other species and doesn't nip at corals. However, they function in pairs and can attack unpaired fish or fish of the same gender. It's best not to keep more than a pair in your tank.
Mating Behavior
Yellow Watchman Goby are monogamous fish, and they work best in pairs. Once they breed, they become territorial and aggressive but not overly hostile toward other fish.
Functions
Yellow Watchman Goby is hilarious to watch, and they have great personalities. They have a permanent frown etched on their faces as they idly patrol around their burrows. They aren't active swimmers, but their poking heads and grumpy faces is quite entertaining.
They also have a symbiotic relationship with Pistol shrimps. Yellow Watchman Goby will dig burrows that these shrimps maintain and clean. The Yellow Watchman Goby will protect the shrimp from trouble, and its excrement will be food for the shrimp. Thankfully, you won't need a larger tank to arrange this.
Feeding
Yellow Watchman Goby will sift the sand for food. It's a carnivore that appreciates frozen Mysis shrimp, Brine shrimp, and fish pellets. They don't like to move away from their burrow and shy away when other fish are around. So, you can use a pipette to directly put the food near their burrows.
Hardiness
Yellow Watchman Goby is very hardy. They don't have any issues with food, and won't react badly to changes. They are quite disease-resistant, arguably the most resistant out of the beginner-level fish.
Final Thoughts
Yellow Watchman Goby are resilient fish overall, making them great choices for beginners. However, they introduce the need for a specialized environment for living and feeding. This helps you train further in specific fish behavior without any extra risk.
5. Midas Blenny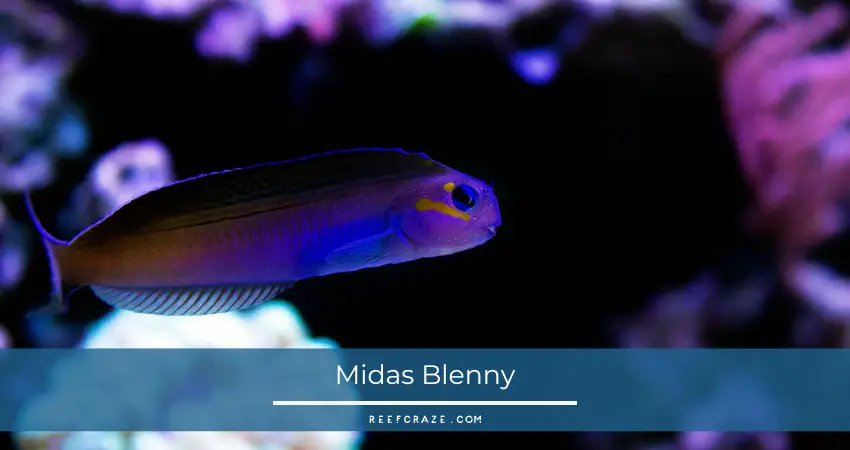 Midas Blenny is one of the larger fish suited for beginners. They are playful, active, and colorful. These fish add life to your reef tank with their motions. You need a large tank for this fish, at least 30 gallons.
Looks
Midas Blenny has a deep golden-yellow body with blue dots around its face and fins. They are scaleless and require a higher water quality than most other fish. They can get quite large, from 1-2 inches to 4-6 inches.
Aggression
Midas Blenny is peaceful but under certain conditions. They need to have a large space to roam by themselves. If you put a Midas Blenny in a smaller tank than recommended or a crowded one, they will become aggressive. Also, Midas Blenny is hostile to Firefish Goby.
Mating Behavior
Midas Blenny is very unlikely to breed in captivity. You can get them to breed in tanks, but they won't breed voluntarily, even when paired.
Functions
Midas Blenny is beautiful fish that swim in a near serpentine fashion. Their swimming is like beauty in motion. They like to be in large spaces with rocks, exploring, playing, and hiding in the crevices. You can watch them all day and never get bored.
Feeding
You can feed Midas Blenny Mysis shrimps, marine algae, tunicate, spinach, Spirulina, Krill, sponge colonies, and cut up Angelfish. If your Midas Blenny doesn't like to eat, feed it non-gutted shrimp to return its appetite.
Hardiness
Midas Blenny is one of the hardiest fish you can get for your reef tank. It tolerates great alterations in water conditions, doesn't get sick easily, and eats a common fish diet. These fish also don't get sick very easily, but you'll spot them changing color when they are under stress.
Final Thoughts
Midas Blenny is the last fish that you should handle as part of your journey as a beginner. It's still a very hardy and low-maintenance fish, but you have to commit a lot more to curb its aggression. You'll have to get a bigger tank, a rocky environment, and manage its hostility against certain fish species. This will prepare you to care for multiple species without creating a hostile environment.
Reef Safe Fish For The Advanced Aquarists
After gaining experience with your reef tanks, you'll want to expand your tank size and collection. To manage the bigger and more populous reef tank with ease and efficiency, you'll want to introduce natural filtering and cleaning systems. Along with your refugium, these 2 fish will keep your tank and fish clean and parasite free.
1. Blue Streak Cleaner Wrasse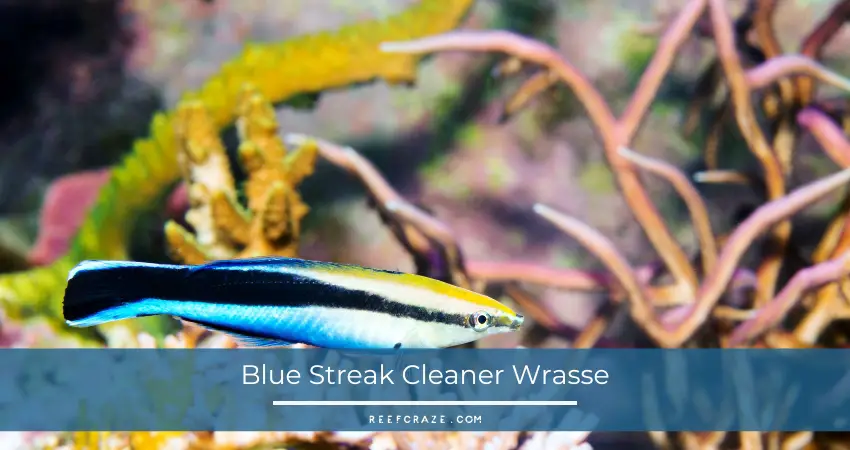 Blue Streak Cleaner Wrasse is an essential fish to have in a community reef tank. They need a large tank to live in and love living with other saltwater species. These fish will require a 110-gallon tank or bigger.
Looks
Cleaner Wrasses have a streamlined body, with the Blue Streak Cleaner Wrasse having wide horizontal black stripes running along the length of their bodies. Their back and stomachs are white, sometimes tinged with yellow.
Aggression
Blue Streak Cleaner Wrasse is the opposite of aggressive. They love to interact with different fish species. They will fearlessly swim up to other fish, expecting them to comply and let them clean.
Mating Behavior
Blue Streak Cleaner Wrasse hardly ever reproduces in captivity. In the wild, a male Blue Streak Cleaner Wrasse will breed with multiple females. Blue Streak Cleaner Wrasse breed externally, meaning the males fertilize the eggs outside of the females' bodies.
Functions
Blue Streak Cleaner Wrasse keeps your fish and tank free of dead skin, scales, and parasites. They are aggressive cleaners, scarfing down any dead skin cells, scales, ectoparasites, and mucus they can. Other fish will voluntarily go up to Blue Streak Cleaner Wrasses and let them clean themselves up.
Feeding
Blue Streak Cleaner Wrasse will find plenty of food from their attempts to clean. But if you have less fish than ideal, you can supplement your diet with chopped shrimp, Brined shrimp, clams, squid, and chopped-up beef hearts.
Hardiness
Blue Streak Cleaner Wrasse are parasite eaters. They have a very potent immune system and hardly ever catch diseases. They can find food on their own and don't care much about water flow or adjustments.
Final Thoughts
If you want to get a 110-gallon or larger community reef tank, Blue Streak Cleaner Wrasse is your savior. They will save your fish from numerous diseases and keep your tank environment clean naturally. The only issue is Blue Streak Cleaner Wrasse doesn't do well with small fish, as these can get in the way of their cleaning.
2. Yellow Tang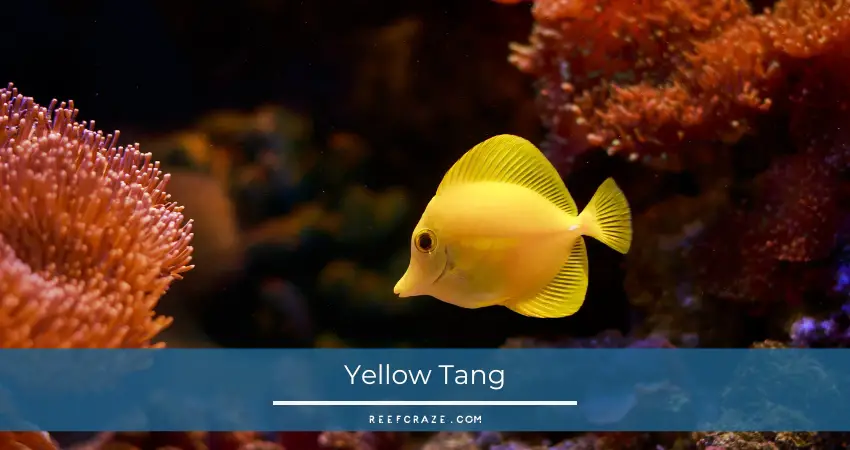 Yellow Tangs are algae eaters that keep your reef tank clean. They are bold and active fish that keep your reef tank alive during the day. For Yellow Tangs, you'll need a 100-gallon reef tank or bigger.
Looks
While Yellow Tangs are yellow most of the time, they change color based on the season, age, and hour of the day. You'll find them switch to a more greyish tone as night approaches to blend in. Other times the color will change from pastel shades to bright neon.
While these are on the smaller side for Surgeonfish, they can easily reach 8 inches in length. They are disc-shaped fish that have sharp, white spines on their tails. These spines can get stuck on nets, so you have to be careful when transferring them to other tanks.
Aggression
Yellow Tangs are outgoing and friendly, swimming and exploring without causing any other species much trouble. They have big personalities and claim their space while they are swimming around.
Mating Behavior
Yellow Tangs don't breed in captivity. Typically, males and females gather and fertilize the eggs externally together. You won't get Yellow Tangs to get along that easily, and they won't breed in a reef tank.
Functions
Yellow Tangs get their fill from eating algae out of niches and crevices in rocks and corals. They keep your tank free from any type of algae buildup. These fish can help you cut down toxicity and carbon dioxide buildup in your tank.
Feeding
Yellow Tangs won't need food frequently, as they will find plenty of algae to eat in large tanks. Feeding them 3 times each week will be enough. These fish also like Nori and other seaweed-based foods.
Hardiness
Yellow Tangs aren't as hardy as other fish on this list. While they can survive without regular feeding, they are susceptible to Ich and other parasites. You have to monitor the tank to make sure your fish aren't afflicted.
Final Thoughts
Yellow Tangs are great choices as they keep community reef tanks clean. The bigger the tank and the more fish in it, the more food Yellow Tangs get. They are curious and outgoing but not hostile. Overall, they are ideal choices if you know how to work with large community reef tanks.
Parting Words
In the perfect community reef tank, functional fish like Cleaner Wrasses and Yellow Tangs will keep the environment clean and pest-free and tone down general aggression levels. You can use this to control the aggressive nature of fish like Midas Blenny and introduce multiple species in the same tank.
To create an active and colorful environment, you'll want a good mix of passive fish like Clownfish and Watchman Goby with bigger and more active species.