If you're any kind of aquarium enthusiast, you've heard about reef tanks. They are super spacious and have options aplenty when it comes to keeping the corals in a good environment. But there's a catch (there always is one)! These things are expensive as hell. Also, you'll need days to set one up for use.
Want a cheaper but effective solution? Get yourselves some of the best nano reef tanks available for purchase. These things came into the spotlight in the last decade or so. You're getting a smaller space with some essential features set up to help your corals dwell into the perfect ecosystem.
Obviously, they're becoming more feature-rich as time goes by. The thing is, you need to find the right habitat that goes well with your coral reefs along with adequate lighting. Now, numerous brands claim to provide all that and more. People need to find the right product for their needs.
This is where my article comes in. I'll be enlisting some of the best reef tanks in business with all the perks and benefits that they have to offer. For people who have a bug for research, there's a buying guide at the end of this little piece of art.
Top 10 Best Nano Reef Tanks Out on the Market
I can understand the passion of users for this type of reef tanks. If you have a small apartment or a thing for miniature tanks, you should go get one of these. This little section will tell you about some of the best in the business. Read these short reviews to know the ins and outs of these products.
1. Coralife LED Biocube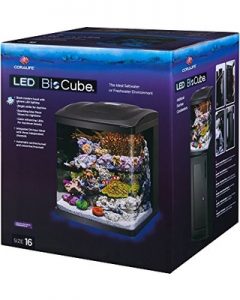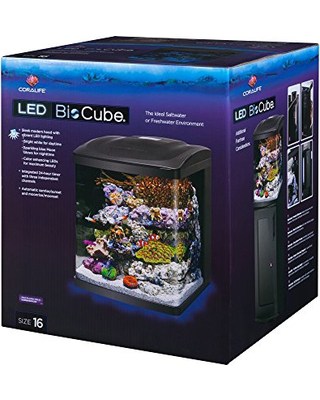 Aesthetics count! Well, it does for me at least. That's why I take looks into consideration when buying a nano reef for myself. If you're someone who is into appearances just like me, then the Coralife LED Biocube just might be a great option.
Not only does this tiny aquarium enhance the beauty of the living room, but it's also a complete reef tank in itself. The sleek and advanced looking hoof comes with a vibrant LED lighting system. Plus, I have to mention that the hinge-top canopy design is compatible with the BioCube 14 and 29 too.
The hood is pretty slim and low profile. It can take full responsibility for the growth of healthy corals. I am pretty impressed by the vibrant colors and the lively shades of color that were sustained by the accurate lighting.
Not to mention there's an integrated 24-hour timer in this thing. This comes in really handy to control all three integrated light channels. It ensured maximum vibrance and beauty that the bright white and sparkling blue lights had to offer.
The most impressive part was the 30-minute sunrise/sunset and 60-minute moonrise/moonset feature. In my case, it accurately replicated the natural lighting of the sun and the moon in the aquatic environment. A natural day/night cycle is easily achieved with the additional features that this tank brings in.
Proper light dissipation is mandatory for coral life to sustain themselves. You know that already, don't you? This much is ensured that no dark corners were left in the tank that would lead to dead corals and other hazards. Just keep in mind to place the corals properly and you're good to go.
You might be thinking that all these features and gimmicks must be hard to maintain. Well, let me correct you in that aspect. Maintaining this nano reef tank was simply a breeze. I had absolutely no trouble setting it up.
This little all in one device here is fully customizable too. There's a compact filtration chamber in the back just in case you want to look into further installments.
Amongst the other great utilities that Biocube brings to the table, the quiet submersible pump has to be mentioned. The dual intakes that come with the package also have an adjustable return nozzle.
A cutting-edge design, loads of functions and features, and a well-built construction is all you can possibly want from a nano reef tank. This one here provides all these with minimal maintenance effort. An amazing product all in all!
Things I Liked about the Product:
This was very easy to set up and adjust compared to its competitors I had to deal with.
There are several lighting modes which proved to be quite sufficient in my case.
The filtration system is customizable. Upgrades are available if you want to make it future-proof.
The design is very attractive and pleasing for the eyes. I would recommend it to the enthusiasts.
This little thing requires very low maintenance and easy to clean.
Things I Didn't Like about the Product
The lights have the tendency to malfunction from time to time.
There are possibilities of cracks on impact. It's best to use with care.
2. JBJ Aquariums 28 Gallon Nano-Cube 40W WiFi LED Aquarium Canopy Upgrade Kit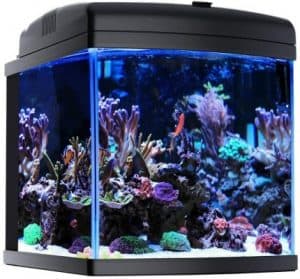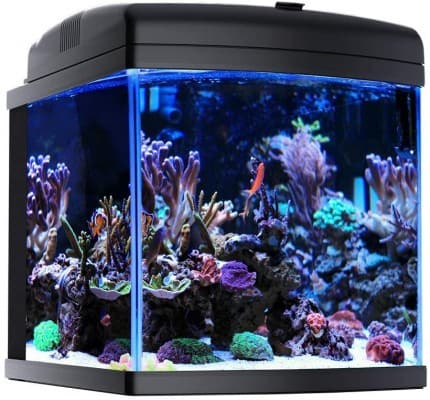 The primary attraction of the JBJ Aquariums 28 Gallon Nano-Cube 40W WiFi LED Aquarium for me was the Wi-Fi canopy. This set it apart from the rest of the competitors because of its unique features and aesthetics.
As the name suggests, there is a Wi-Fi connectivity option to give users an overall better control over the device. Just in case you're a classic user, you can handle things manually as well. The choice is completely subjective even though an extra option is nice to have any day.
The canopy kit is compatible with all 28-gallon nano cube aquariums. So, there's no need to worry about limited applications. I also have to mention that this will work with 24-gallon JBJ nano aquariums. But there's something you need to have. Make sure the removable hinge clip is there and you're all set.
With a bare minimal power consumption of 40 watts, the LED lights work like a charm. You need to know that these are three-channel LED lights. This means that you'll get all the red, blue and white goodness at the same time.
I installed the canopy with a controller that was provided with it. This made controlling the LED lights a lot easier. The setup was actually quick and easy. I was expecting a bit of a hassle, but JBJ proved me wrong as they clearly focused a lot on user-friendly features.
As I mentioned earlier, the two function modes are there for users to choose from. The manual mode and smart mode. Both modes make use of the Wi-Fi features available. It grants access to the lights through an app that can be easily installed. The app can be installed on any smart phone or tablet device.
With the manual mode, I can control the light settings in real-time. Getting the preferred LED effect almost instantly was a piece of cake.
The difference between the smart mode and the manual mode is the automated timer. The light cycles can be set with this in 10 different points. The app is pretty user friendly and easy to understand.
Don't have a smartphone?  Have no fear. Similar results can be achieved with a more "Hands-On" experience. I can do things both ways so no complaints from my side.
Things I Liked about the Product:
JBJ aquarium has a whopping 28-gallon capacity which is quite impressive.
The hood you see on top, is removable. Don't worry! You'll be able to do it rather easily.
Durable and long-lasting clear glass construction looks great. One can enjoy the scenery inside.
The LED lights have multifunctional feature which is much appreciated by me at least.
The filter can be hidden in the blackened section. That is, if you want to keep things natural.
Things I Didn't Like about the Product
The guys at JBJ could've opted for lower price keeping the customers in mind.
A skimmer and heater could have been included with the package (not mandatory though).
3. Fluval 10531A1 SEA EVO XII Aquarium Kit, 13.5 gal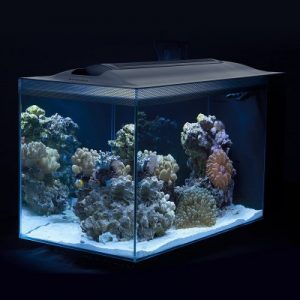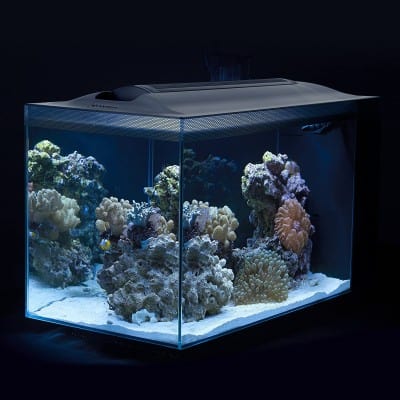 The best way to describe the Fluval 10531A1 SEA EVO XII Aquarium Kit would be, "Tiny… Yet Satisfying!" Ambiguous jokes apart, this product is definitely worth putting into my list of best nano reef tanks due to its awesome set of features.
The product came with a set of accessories that matter a lot. A fully integrated lighting system apart, I got a circulation pump with nozzle output, foam filter block with a handle, activated carbon, and a Biomax insert. These indeed made life a lot easier and usage far more efficient.
As for the looks of this nano reef tank, well it's nothing less than futuristic. The honeycomb design offers a stylish modern look as it conceals the back-filtration area. It's on par with any large reef tank when it comes to performance but it's pretty cut down when it comes to size.
This tank from Fluval can very well fit on top of any desk or countertop. They call it "Nano" for a reason, right?
Filtration matters a lot when it comes to a full-fledged reef tank. This one here doesn't fall short in any aspect. It has a powerful three-stage filtration that comes with an oversized mechanical, chemical, and biological media.
As for the canopy, it's well built and multifunctional. The feed door is easy to get access. These small things add up to create a solid impression in general. The sleek design itself is worthy of praise. Apart from that, the waterproof casing is made completely with aluminum.
Impressed yet? Wait… There's more to it!
This baby here has the dimensions of 56 x 29 x 38 centimeter (22 x 11.5 x 15 inch). For a 13.5-gallon tank that's actually a very appropriate size. Power usage is kept minimal to only 16 watts.
The ultra-bright 14000 K LED provides optimal conditions for healthy coral growth, color, and conditioning. Proper illumination is provided to ensure a longer life for corals and aquatic life in general. All this is made functional with a safe and low voltage transformer.
This product has everything you could possibly need to decorate your bedroom or living room with absolutely stunning coral beauty. Starting from the unboxing experience until now, I have to admit that I'm a very satisfied customer. As picky as I can get, I bet you will be one as well.
Things I Liked about the Product:
A three-step filtration system is included that works great.
The provided pump functions well and within my expectations.
The lighting kit has powerful LED lights. Your reef tank won't be dark at night for the sake of corals.
The water circulation is spot on thanks to the machinery that I got. I had to tweak it a bit.
The build quality is rather good considering how small it is. It's well polished by the guys at Fluval.
Things I Didn't Like about the Product
Heater and skimmer are not included with the package. This might annoy some of the users.
The LED lighting does not have a timer function for you to turn on and off automatically.
4. Cubey JBJ 20 Gallon Black Aquarium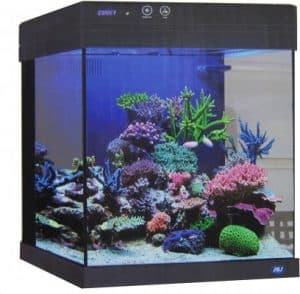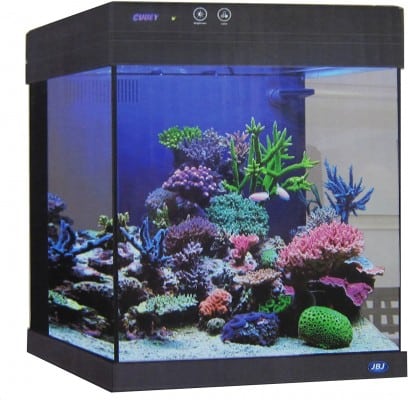 You really can't blame me to put yet another JBJ product on the list. They've definitely made a lot of good ones and the Cubey JBJ 20 Gallon Black Aquarium was something I simply couldn't overlook.
Design-wise, I would call this one simplistic yet not unattractive. The Cubey JBJ 20 Gallon has a high clarity glass frame that makes the internal components pop out. This is great if you want to show off your pets and corals to the onlooking visitors.
With 18.26″ length X 16.25″ width X 18.70″ high dimensions the tank looks pretty compact and can be placed on almost any surface. As the name suggests it can hold up to a maximum of 20 gallons. If you're aiming for a bit of exotic interior decoration then this little wonder will work like a charm.
I have used a lot of nano reef tanks that consume too much power. I mean no matter how ornamental an aquarium is, if it creates a hole in your pocket, it's really not worth it. The little Cubey here is a lifesaver in this aspect. With the power consumption of only 20 watts, it won't do you wrong.
The integrated LED lights can be easily controlled with the touchpad in front of the aquarium. With seven levels of brightness and six levels of color settings, you can guess that variety will most certainly be at your fingertips. For me, the light dissipation was just accurate enough to sustain healthy coral life.
I should tell you the color settings range from all blue, all red, all white, and a combination of the three. If you know about the proper lighting effects, actual day and night effects can be achieved with ease.
A three-stage filtration system was also included in the package which is great to have. It consisted of mechanical sponges, ceramic rings, and activated carbon. All the good stuff packed into one.
As for the general build quality, the aquarium felt pretty solid. It didn't really wobble much when moved. Plus, the glass was strong enough to sustain everything that could be included in the tank. With simplistic controls and easy installation, this tank is proven to be user friendly without a doubt.
So, there you have it, nothing too fancy yet effective in the areas where it should be. A two thumbs up from my side.
Things I Liked about the Product:
Simplistic design looks great.
The build quality felt solid if not premium.
The tank is compact and can be placed just about anywhere.
It's ideal for keeping the temperatures intact with minimal effort.
Very little maintenance is needed.
Things I Didn't Like about the Product
Could have been competitively priced.
5. Fluval 10528A1 Evo V Marine Aquarium Kit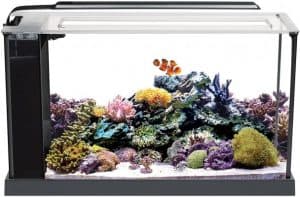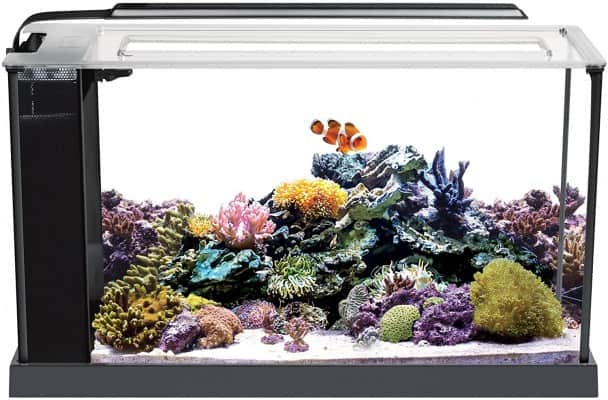 Let's get real here, what do we fundamentally seek from a nano reef tank? Durability, the sustainability of coral life, aesthetic beauty, and a good lighting system. The Fluval 10528A1 Evo V Marine Aquarium Kit simply has it all. It is undoubtedly one of the best reef tanks available out there.
You don't have to take my word for it. Let's look into all that Fluval has to offer in this one.
A product is only as good as it's contents. So, what did the guys at Fluval throw in apart from the tank itself? The cover, LED lighting system, Safe, low-voltage transformer, Circulation pump with output nozzle, foam filter block with handle, activated carbon insert and a BioMax insert was included.
This one is specified for saltwater pets and within the limitation of five gallons at that. I wouldn't really call it a setback as I don't prefer products that are a jack of all trades yet master of none. That said, let's look at the features of the tank.
It accompanies the similar honeycomb design seen in the previous Fluval tank that we talked about. It also does a great job of concealing the back-filtration area along with the waterline. This gives the tank a clean and futuristic look. These small additions indeed have a great impact on user satisfaction.
The filtration system in a nano reef tank does matter. It plays a vital role in aquatic life sustenance. This has a powerful 3-stage filtration with oversized mechanical(foam), chemical(carbon), and biological (Biome) media. Now that's a promising little implementation.
Now let's talk a bit about the lighting system. I find the 11000 K high-output LED lights quite adequate for proper dissipation and healthy coral life. These lights can replicate the natural day and night scenario with a simple touch of a button. The illumination is very proper and accurate. No dark shades at all.
Personally speaking, this one looks a bit different from your day to day nano reef tanks. Just because it looks a bit edgy doesn't necessarily mean it's bad. The white and color scheme might not actually be for everyone. But if features and components are prioritized this tank is "Damn Good!"
Things I Liked about the Product:
The Three phase filtration system works great.
11000K high output LED lights are included.
The stylish honeycomb design hides filtration units nicely.
Proper day and night illumination can be achieved with a touch.
5 gallons of capacity is impressive for the size.
Things I Didn't Like about the Product
The plastic part could have been constructed better.
Prone to break with high impact.
6. SCA 50 Gallon Starfire Glass Aquariums Complete Package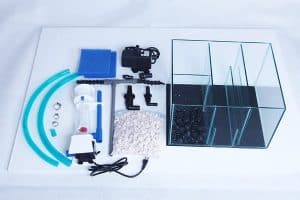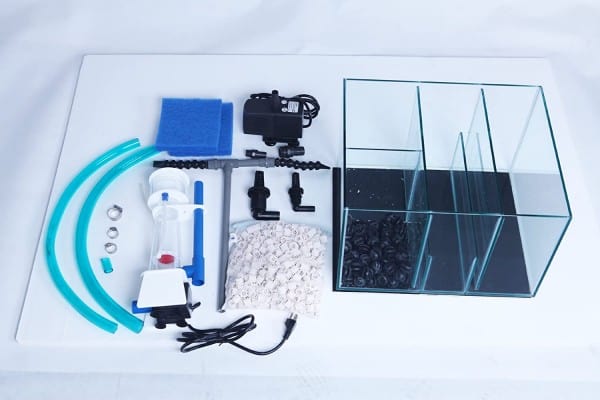 This one here is a cube of wonder that proudly made its way to this list of best nano reef tanks. The rimless design implemented on the tank just looks fabulous. The whole kit can be placed anywhere you see fit and it will look gorgeous nevertheless.
As for the dimensions of 24x24x20 inches, I really wouldn't call it too large. Just so you know, there are three holes drilled inside the overflow box. The cabinet that's included has dual opening doors with the dimensions of 24x24x31 inches.
Like all nano reef tanks, there's a well-allocated sump implemented in this tank too. This has a measurement of 19-3/ 4 x 16-1/2 x 13 inches. The size and measurement of the entire thing are well calculated to keep all its features function properly. Kudos to SCA for that.
There's a very valuable addition in this package which I appreciated a lot. Yes, I'm talking about a fully functional skimmer. The SCA-301 skimmer and Atmen PH2500 return pump come included with the package. So, no need to do some extra shopping when you have all these bad boys in one box.
After using this for some time I found that the skimmer and the pump work just fine and they do add a lot of value to the product in general. The bubble production capacity of the skimmer was adequate and it filtered all the unwanted biowaste with great efficiency.
As for the other included accessories, there were the Durso Stand Pipe, Return T Pipe, Bulkheads, Tubing, Filter Media, and Bio Media. I literally can't think of more of a complete nano reef tank package. The SCA 50 Gallon Starfire Glass Aquarium literally covered all my needs and more.
The SC Aquariums are well known for their plug and play functionality. Setting it up and adjusting the components properly was totally hassle-free. No need to spend hours figuring out what exactly goes where.
One thing I noted on which they really should have given it more thought. I was a bit disappointed to find no lighting kit included in the package. So yeah, this bit has to be bought separately. But considering all the stuff they threw in I couldn't complain much about this little shortcoming.
The American Size plumbing kit SCH40 is assembled before it's shipped. That's a great move from SCA and saves users like you and me from few extra expenses. I would call it a complete nano reef tank nevertheless (If not a perfect one).
Things I Liked about the Product:
The rimless design looks awesome.
A skimmer is included with the package.
The product is made with durable high-quality materials.
All the basic accessories are included.
Easy to set up and adjust.
Things I Didn't Like about the Product
No apparent flaws were seen.
7. Red Sea Max Nano Aquarium Plus Package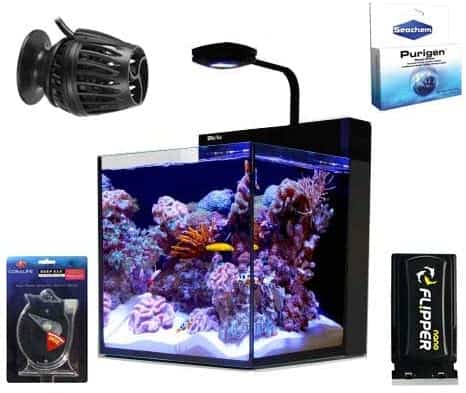 For a coral reef tank to be successful it's really important to get a few things right. Few aquariums out there do it as great as the Red Sea Max Nano Aquarium Plus Package. This product here is an all-rounder and it certainly leaves no stone unturned.
Starting from proper LED lighting to Wi-Fi connectivity, this nano aquarium has it all. An impressive filtration and circulation system are included. This makes aquatic life a lot more sustainable. The package also comes with an ab automatic top-off unit and an easy-access power center.
Cool, right!?
Apart from the box of contents and accessories, the build quality of the aquarium is pretty impressive. The inner content of the reef tank looks ever livelier due to the proper filtration system that's included. The whole thing felt pretty solid and the turbulence was at a bare minimum too.
Let's talk about the pump a bit. The Hydor Aqamai KPS Wi-Fi Controllable Wavemaker Pump is definitely a huge upgrade over the Hydor Koralle. That's because of the super handy Wi-Fi connectivity. I can literally control the water flow of my aquarium from anywhere in the world with just a tap.
The application that allows me to use the pump controls is really easy to use, the user interface is simplistic and easy to understand. This app is available on both Android and IOS.
The Aqamai Pump is smaller than most other comparable pumps available. This 1050 gph pump is powerful enough for tanks up to 50 gallons! Even though this one measures only 2.5 x 1.88 inches. It can easily be hidden from sight. I put it behind the rock in the tank and voila! No traces of it could be seen.
I could easily measure the salinity with the Coralife Deep Six Hydrometer. The Purigen helps to control ammonia, nitrites, and nitrates. The Flipper Magnet Aquarium Algae Cleaner is a 2 in 1 aquarium cleaner that can flip from scrubber to scraper simply by rotating the handle.
Now, these little inclusions do help. Really considerate of the guys at the Red Sea to include these wonderful gifts that make maintenance a lot easier. Looking for a complete package, this one might be just right for you.
Things I Liked about the Product:
It's a simple plug and play aquarium that's hassle free to set up.
The package includes a skimmer.
Wi-Fi connectivity is offered to control the LED lighting kit. People can control it remotely.
The circulation pump works nicely and filters the tank 12 times an hour.
The multi directional eyeball nozzle is great for flushing he tank with water movement.
Things I Didn't Like about the Product
A stand is not included you'll have to either buy or make one of your own.
8. Innovative Marine Nuvo Fusion PRO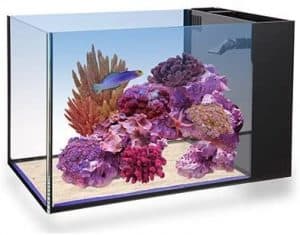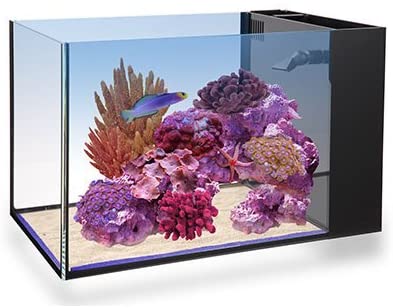 This little AIO aquarium here is definitely one of the best of its kind. It has a wide and clear space for the general display of your aquatic pets and aqua-scaping. The filter wall that's implemented here is an award-winning innovation. Especially in cases of storing all your current and future marine products.
With the dimensions: Length 12" Width: 15" Height: 13 this nano reef tank is great for beginners, hobbyists, and advanced users. As long as the maintenance issues are kept in check this one here will guarantee success. Both in aesthetics and marine life sustenance.
The box came with 1 x NUVO Aquarium a 326 GPH (15W/24V) Controllable DC Return Pump, a Desktop CustomCaddy Filter Media Basket, Desktop Purity Pack Filter Media, a Desktop 200 Micron Water Polishing Sock, a Pre-Assembled Mesh Screen Lid, and a Pre-Installed Rubber Leveling Mat.
When they say all in one, they really mean "All in One." With this many tools and accessories, there's no doubt that you'll get a complete experience. Plus, this one here can house both saltwater and freshwater critters. I mean why not keep some options open?
For the base material, high-quality iron glass has been used so it gave off a very much premium feel. The tank did not wobble or feel flimsy at all. The included filtration and the plug and play design really make it easy to use. Even the water flow is controllable with the DC return pump.
If you're concerned about media. Then have no worries, this product has it all. The box includes 200 Micron Filter Sock, Premium 0.8 ROX Carbon & HC Coarse GFO. Even the Filter Media Basket is customizable. So, you get a lot of options to choose from.
Some components of the Innovative Marine Nuvo Fusion PRO are pre-installed. The rubber leveling mat and the mesh screen lid were already attached. They also threw in a magnetic glass cleaner. Now that's what I call a flawless package.
All this said I found this reef tank very easy to assemble and maintain. The instruction manual that was provided explained in detail the installation procedure. Cleaning it was easy as most of the cleaning components came with the package.
This little thing is a well-built product that puts user-friendliness as their top priority. Within this price point, I really wouldn't complain much about this nano reef tank. Even though you might have to pick up the alighting system separately. But that's just about it. Everything else is already there.
Things I Liked about the Product:
It's very easy to set up.
The tank requires very low maintenance.
Looks stunning and has a great aesthetic appeal.
This one is a great beginner friendly tank.
Very well built.
Things I Didn't Like about the Product
Can crack upon impact.
A tiny bit noisy.
9. GankPike 8-Gallon Saltwater Aquarium Marine Fish Tank Reef Tank with Lid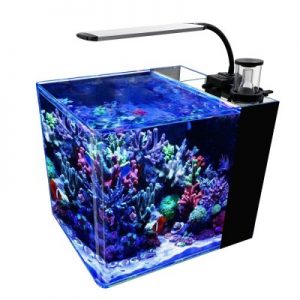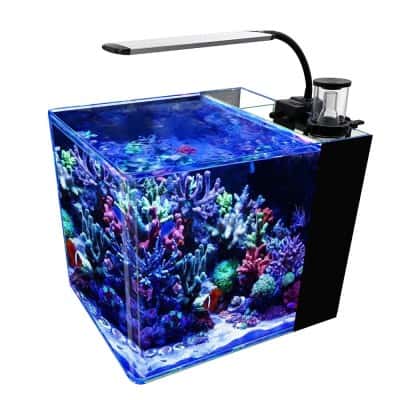 The GankPike 8-Gallon Saltwater Aquarium definitely deserves its rightful place in my list of best nano reef tanks. It has basically all that you require. Not only that, it checks all the boxes when it comes to the aspects of proper construction and aesthetic beauty.
Without further delay, let's get into this gorgeous little beauty.
Straight out of the box I got tons of tools and accessories. These include the 8-gallon aquarium with lid, the LED lamp, a quiet power pump, a protein skimmer up to 13-gallon, a heater, an LCD digital thermometer, two biochemical filer sponges, and one pack of ceramic rings. Now that's a mouthful!
This aquarium here is specially built for saltwater critters. Within the limitation of 8 gallons, it does its job pretty nicely. I decorated mine with saltwater fish, reefs, and corals and the results were stunning. With a front viewing area of 6.5-gallons, it had a large viewing window of 13.8 x 11.8 x 11.8 inches.
The bent ultra-clear glass in front made the tank inhabitants look livelier than ever. The back-filtration area covered about 1.5 gallons. The black filtration equipment the whole thing looked nothing less than stylish. There's also a lid that includes a handy little feeding hole, a generous addition no doubt.
Speaking of filtration systems, the package included a hang-on nano protein skimmer. This baby here can handle saltwater systems up to 13 gallons. Even if I opt for an upgrade in the future this one will work just fine.
The tank also includes an aluminum alloy LED light to highlight all your fish and corals. The LED light has 3 diverse color modes, 5 level dimmable options, and auto-off timers. This is great for general coral health and growth. The lights are fully capable of replicating daytime and nighttime light conditions.
The reef tank was very easy to install and maintain. I mean they practically put in every possible tool I could ever need to maintain a healthy aquatic environment. The ultra-quiet submersible water pump and the heater work like a charm as well.
There's also an LCD Digital Aquarium Thermometer. Just so you can check up if the critters are at the right temperatures. This all might seem a bit overwhelming but this is exactly what I'd call a complete aquarium kit all in all.
Things I Liked about the Product:
It has an in built mechanical and biochemical filter media.
The two-colored LED illuminate fish, corals and plants accurately.
This one is made of super lucid glass which is specially crafted to sustain marine life.
The tank is very easy to assemble and maintain.
The digital thermometer comes in pretty handy.
Things I Didn't Like about the Product
There can be small leaks in the bottom edge.
The surface gets easily scratched. So, it's best to use with care.
10. Lifegard Aquatics Full-View 7 Gallon Aquarium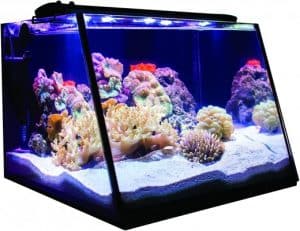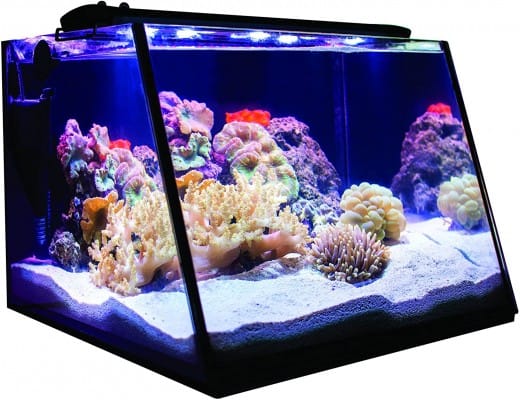 This one might be the last in our list, but it's not the least by far. The first word that popped into my mind when I unboxed this tank was, "smoking cool!" I mean I don't have to say much but the edgy architectural design of the tank sets itself apart from the others just instantly.
The angled front of the aquarium is crafted with a clear glass that makes the aquatic life I kept inside very much visible. Other than the tank itself, the package came with a full spectrum 10" Led Light, heater, net, algae magnet, and built-in back filter with pump. All the basic requirements in one package.
To keep a nano reef tank thriving successfully you'll always need to keep the balance between water capacity, water flow, and filtration power. Not to mention the light dissipation has to be accurate according to the inhabitants. I speak from personal experience; this tank here gets all that right.
There's a unique and interesting bit about this tank. IT has a built-in-the-wall air-line/CO2 line option to inject air or CO2 in the tank. And it does this while hiding the cables from plain sight. That's something I found pretty cool, to be honest.
This full view aquarium has an accurate water level fitting along with a multi-directional nozzle.  Should also mention the insulation pad that came with the package. These small yet efficient inclusions make the whole purchase seem worth it in the end.
With the lights well-lit and everything in motion, this reef tank looks like a small chunk of ocean life itself. Besides, it's easy to place almost anywhere you want to. I had no issues putting it on the surface of my desk. The compact size and sturdy build quality pretty much won me over at the first sight.
Things I Liked about the Product:
The water level filtering features are great.
It's very easy to maintain.
The package includes an insulation pad and multidirectional nozzle.
I personally loved the patented angled front transparent glass.
Designed with an in-built rear filter.
Things I Didn't Like about the Product
Doesn't come with set up instructions.
The filter pump can get noisy at times.
Things You Should Keep In Mind While Buying a Nano Reef Tank
My list may prove to be somewhat unacceptable to some people. They might go on the search of top nano reef tanks on their own. This section will serve as a buying guide for people who want to do their own research and make a worthy purchase using their funds. Let's dive in, shall we?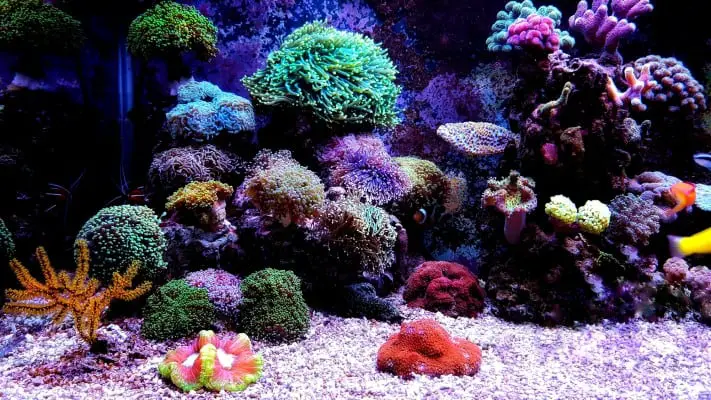 Keep the Size Factor in Mind
The very first thing I'd advise you to look for in a nano reef tank would be the size and capacity. This is the prime factor that'll determine the number of fish, corals, and other inhabitants. This will also have an impact on the overall internal heat of the aquarium.
Generally, bigger tanks do require bigger heaters. It's only common sense to get a better heater to keep the corals at an ideal temperature in a bigger tank. To reach the sweet spot, (which is 70 to 85 degrees Fahrenheit) it's essential to keep the balance of internal heat and size of the aquarium.
Most nano reef tanks you'll come across will have a cube or cuboid design. What can I say? It's more efficient and it looks far better. There are some modified ones too that offer a full view exterior. But I guess in the end the option of shape is very much subjective. But the size does need consideration.
Appropriate Filtration is Mandatory
A proper filtration system is a must if you want your nano reef tank to flourish and sustain itself. Apart from filtering toxins such as ammonia and nitrites, it's also necessary to keep the water clean and clear. Trust me, you don't want to keep the tank dirty. It will lead to breeding algae and bacteria.
If the tank is not filtered properly then water contamination along with diseases and death of the fish and other lifeforms are very much possible. Smaller aquariums are much more vulnerable to toxins due to the compact size. Thus, they require some extra attention.
Apart from the filtering process itself, water filtration has other benefits too. Water movement and surface aeration ensure that oxygen gets dissolved correctly. So… yes, look for a proper filtration system to ensure optimal health of your nano reef tank. Some of them come along with the package too.
Package Contents Matter
Before you are certain that you want to make your purchase, it's best to look into the package in general. The contents of the box can have a significant effect both on the tank and your wallet.
Not all reef tanks come with all the essentials that you could possibly need to create a perfect reef environment. So, just look for the very basic components. If the box contains filtration, sand, and lighting system… you're all set.
However, there will be cases when you find the perfect nano reef tank for yourself and yet find that the package isn't complete. In these cases, it's best to keep some extra bucks to make your purchase have the proper value.
The Lighting System is Crucial
If you are planning to get a nano reef tank then you simply can't go by without a proper lighting system. The light that enters the aquarium not only bolds the color of the coral reef but it helps them sustain a healthy life.
Apart from corals, all fishes and plants need appropriate lighting to survive as well. Plus, the lighting has to be continuous. It's best to keep this fact in mind unless you want dead critters lying around in the tank. I'm serious, no joke!
Some reef tanks offer a lighting system with the package. Whatever the fact is, you'll have to consider that there has to be a dimmer that can adjust the intensity of the lights. If the kit has this benefit with it then you're good to go.
Temperature Regulation Counts
As I have given a bit of info about the tank's overall temperature having to be accurate, the tool that's capable of doing that is the heater. Professionals always ensure the purchase of a heater before assembling a proper and functional reef tank.
The general temperature might vary depending on the variety of aquarium residents. So, proper regulation of heat is mandatory to maintain a healthy and thriving aquatic environment.
There are several heaters and fans that do the temperature controlling in an automated manner. Just in case you live in the tropical regions you might consider a chiller due to the heated temperature. But take note that you'll have to make that purchase separately.
Coral Diversity Can be Tricky
Since we are evidently talking about nano reef tanks, you might have to consider the corals before you choose your tank or vice versa. There are three different types of corals out there that you need to know of and its best to get familiar with each of them.
Soft corals are the first category. Then come the Large Polyped Stony Corals otherwise known as LPS. Finally, there are the Small Polyped Stony Corals or SPS. You have to understand that these coral types can't be mixed.
Each of these requires a different type of light intensities and some even pose a threat to aquatic creatures in close proximity. Know your corals before you build your tank around them.
Let's Put a Pen in the Discussion for Now!
If you're done with this humongous guide of mine on the best nano reef tanks, the power to you! It took a lot of time and effort to put things together and present them to my readers. Hopefully, you'll get a good idea about different brands, types, and products that cater to corals at a small scale.
When I put this thing to shape, I asked myself about the coral types and the kind of ecosystem I want for my corals. Based on this, I'd suggest people go with either Coralife Bio Cube or Red Sea Nano Aquarium as it includes a skimmer as well.
However, if you don't think the list caters to your specifications, refer to my research guide to find a perfect fit for you. Do let me know in the comments about your experiences of buying these objects.