If you're a passionate reefer, you'd know that coral reefs are delicate organisms. They need their share of the sunlight and quality habitat to thrive. This goes for saltwater corals as even more than the freshwater ones. Reef salts are the prime components that make your reef tanks ideal coral habitats.
Now that we've established how important these salt mixes are, it's time to find out which one is the best. This is perhaps the "Most Difficult" part of the job. As a reefer myself, I'd vote for the brand I use. I'm quite sure that others will live and die by the products they use as well. So, which one to go for?
The ideal route will be to try some of the best reef salts there are for yourselves and then categorize them. I took that route and found 5 brands and their products to be more than competent when it comes to maintaining ideal conditions in a reef tank. This article contains brief accounts of my experiences with them.
Oh, I tagged a buying guide at the end as well. This will help you to get started with your own reef salt mix when you need to. That's if you don't like the products I have to offer. Let's go for a dive!
Top-Rated Reef Salts for Aquariums
I must be honest with you; you'll see additives and food supplements for coral reefs by the dozens. It's easy to be confused amidst so many products on the market. That's why my recommendations and short reviews of some of the best in the business below will help you a great deal. Let's get to it.
1. Instant Ocean Reef Crystals Reef Salt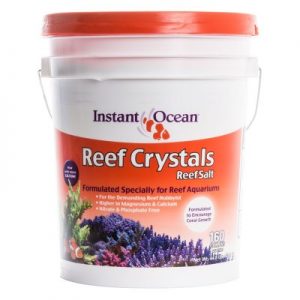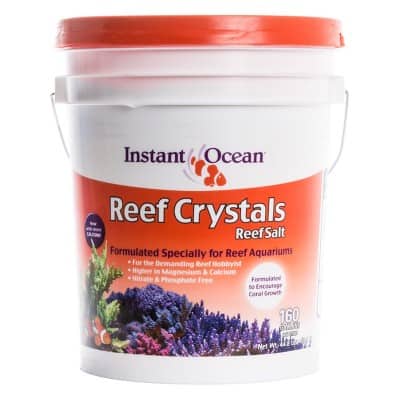 Maintaining a reef aquarium is not an easy task. You have to take care of a lot of things to make sure that the sea life in that glass box thrives. It includes sunlight and some much-needed nutrients. LED reef lights can substitute sunlight. Nutrients can still be an issue though.
Reef salts can solve the problem for us depending on the coral type. The Instant Ocean Reef Crystals Reef Salt is a great choice for both LPS (large-polyped stony) and SPS (small-polyped stony). This reef salt is packed with extra calcium which helps the growth of both types of corals along with coral algae.
There are many people who prefer using natural sea water instead of reef salts. While it's a good approach, natural sea water is not always available close at hand and, let's face it, it's not as potent as it used to be.
In fact, this packet of reef salt contains essential ocean reef elements in higher concentrations than natural sea water.
The Instant Ocean Reef Crystals Reef Salt comes in many different sizes. It's available in 10, 25, 160 and 200-gallon packs. This particular product is a 200-gallon pack weighing 56 pounds, but you can choose other sizes. A big reason to buy this reef salt will be the metal detoxifiers present in it.
Water coming from the domestic water supplies often contains traces of heavy metals. The metal detoxifiers in this reef salt helps to neutralize them. You will not need to use anything extra for this matter. This salt is very easy to use; you just need to know the basics.
What you should be aware of is, when to replenish the water in the tank. If properly used, your reef aquarium will bloom with colors and both you and the corals will be happy.
Anyone who has used the Instant Ocean Reef Crystals Reef Salt has not been less than happy. They are so satisfied that they keep on using it for years. This mix of reef salt is full of extra vitamins which promote growth and survival of coral anemones and other types of invertebrates.
If you have experience in maintaining aquariums you should know that reef salts are not just for corals. You can this mix for your fish-only aquariums as well. It will provide the fish with more calcium, magnesium and other necessary elements.
It is important that when storing this reef salt, you must make sure that moisture doesn't get inside the packs. If you find that the salts have hardened that's when you know there is unnecessary moisture in it.
Things I Liked about the Product:
This thing comes in large containers if anyone is interested in stocking nutrients for aquariums.
You have various size options with this nutrient. The formula is homogenous across every pack.
Once you pour it in the aquarium, it lasts a long time in the water. But it loses potency over time.
Instant Ocean Reef Salt contains detoxifiers that help aquarium organisms to thrive and grow.
This thing is a balanced diet containing chemicals and other elements for all types of corals.
Things I Didn't Like about the Product
The supplement does cloud the aquarium water after a certain point in time.
2. Red Sea Fish Pharm ARE11230 Coral Pro Marine Salt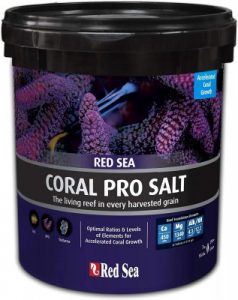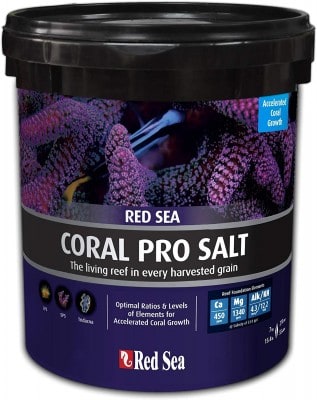 The Red Sea Coral Pro Marine Salt is a great choice for all kinds of reef aquariums. This Coral Pro Reef Salt mix assists corals of all kinds to get a healthy and accelerated growth with enhanced vitality.
The Red Sea salt mix comes in a bucket with a snap on top, which many prefer to boxes. It is available in two sizes only; 55 and 175 gallons. This that I tested is a 175-gallon bucket full of reef salt mix.
Whether you have just began keeping a reef aquarium or you have years of experience, you should know that corals require certain things to develop properly. And all those things, major, minor and trace mineral elements are present in this salt mix.
Corals absorb these elements from the water and use them to build their skeletons. The mere presence of these mineral elements is not enough as they need to be in a certain ratio. And the Red Sea Coral Pro has got the right ratio of calcium, magnesium and carbonates.
So, how exactly is the Red Sea Coral Pro reef salt mix prepared that it is so good?
Red Sea uses a unique formulation. This formulation blends naturally produced Sodium Chloride, which comes from the exotic reef waters, with calcium, magnesium and carbonates – all in elevated yet balanced levels. Other fine elements are also present in this blending process.
These things don't use any organic binders in this process. Thus, the levels of heavy metals present in this salt mix which are not higher than natural. In fact, in every crystal of this salt mix there are 45 minor and trace elements that are present in natural reef waters.
There are other components present as well, which altogether amounts to 57 elements. Regardless of the amount you use in your tank, your corals will get all these benefits.
As I mentioned earlier, this reef salt mix works for all kinds of corals. That is, you can use it for both LPS and SPS corals. Moreover, if you have any SPS coral frags in your aquarium, the Red Sea Coral Pro will help a great deal to grow them out.
Wait, there's more! This reef salt mix is also good for tridacna, which are large saltwater clams and require special care for their growth. It is also suitable for the fish, if you have any in your reef aquarium.
However, if it's a fish only aquarium, you wouldn't need to use this salt. It will not harm them, of course, but it will not do them any particular good. The salt mix will be a waste.
Things I Liked about the Product:
Red Sea fish Pharm is one nutrient pack that dissolves fast in the aquarium water.
It's especially useful when you have an aquarium that is full of corals of various or the same kind.
Besides the coral reefs, your fishes are going to be benefited with this nutrient substance as well.
This thing is a "Complete" mineral solution for you guys. All major and minor minerals are present.
It's a good fit for both LPS and SPS corals that are out there in the aquarium waters.
Things I Didn't Like about the Product
This thing is ONLY for corals. Fish-based aquariums don't have any use for it.
You can't use it on Freshwater corals. Saltwater corals are all this thing is good for.
3. Aquaforest Reef Salt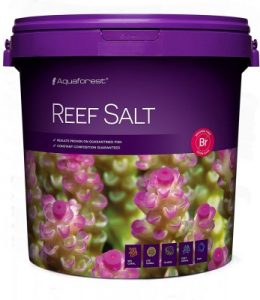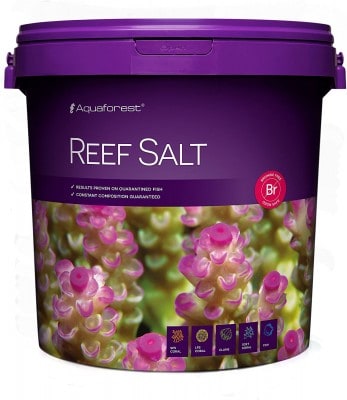 There used to be a time when one had to manually mix different kinds of salts for their reef aquariums; some still do. But when you have something like the Aquaforest Reef Salt close by, you can leave all your worries behind. Now, the salt will not do your job, which is to take care of your aquarium.
Thus, you better be careful on your part. Some consider the best reef salt out there for its versatility and usefulness. If you have one of those aquariums that house both corals and fish, you can use it without a second thought. In fact, this reef salt mix is remarkable when it comes to quarantine fishes.
It's as good for the fishes as it is for the corals. And when they say versatile what they mean is it is great for LPS, SPS, Soft Corals and Clams as well. It is true that for aquariums full of either LPS or SPS or both, this reef salt has shown highly satisfactory results in their growth.
The Aquaforest Reef Salt mix maintains its composition really well. There is no bromide present in the salt mix. You can use it with filtration that is assisted by ozone. The salt mix is free from phosphates and nitrates, and there are no probiotic bacteria or any growth media for that matter.
Some of the users do think the probiotic bacteria are good for their corals. While they are not essentially harmful, your corals can easily do without them.
However, when you are newly filling marine tanks, do not put in the aquatic animals until a period of 14 days has passed. In this way, the tank comes to a stable condition after getting the new salt mix.
Some reef salt mixes tend to make the water cloudy inside the tanks, which mean they are not of good quality. Even if the cloudiness goes away later, it is still a bad sign. With the Aquaforest Reef Salt, the water in the tank will be crystal clear from the very start, as it should be.
The corals will thrive in all the goodness Aquaforest has to offer. This bucket of Aquaforest Reef Salt is enough for 175 gallons of saltwater. You can prepare the water at a suitable level of 1024 S.G. You will need around 380 g of the reef salt mix for 10 liters of water.
Aquaforest makes the whole job of preparing the water feel like a breeze. It is always ready to go and so saves a lot of your time.
Things I Liked about the Product:
Aquaforest comes with probiotic additives that make it quick and easy to digest for corals.
Like so many others on my list, this one dissolves in the water fast as well.
People can use this thing in both freshwater and saltwater reef tanks of their choice without issues.
The makers provided balanced nutrients when coming up with the formula for this thing.
Aquaforest packs vitamins in the mix as well. It quickens coral growth to a significant degree.
Things I Didn't Like about the Product
We don't get a clear idea of the fact that it's ammonia free or not. That bears an impact.
4. Fluval Hagen Sea Marine Salt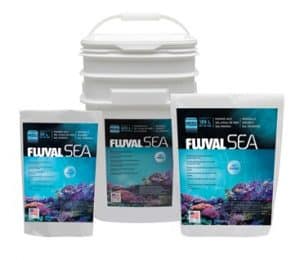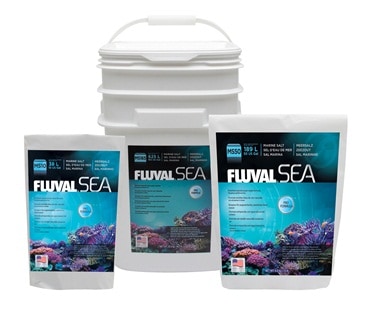 A healthy marine aquarium does not only look good to your eyes, but also feels good to the aquatic animals present in it. In order to maintain such a healthy environment, the tank you must make sure it is as close to the natural habitats as possible. And this is where reef salts come in.
The Fluval Hagen Sea Marine Salt is possibly the best reef salt in the market right now. This bucket full of high-quality salt mix helps to build a naturally ocean like environment in your prized aquarium.
Corals and other invertebrates thrive in colors when they get the right environment. And the Fluvan Hagen Sea Marine Salt is great for fish aquariums as well.
This professional grade reef salt mix contains all the necessary elements your aquarium organisms require. It has got both micro and macro elements that are essential for creating natural seawater concentrations.
The Fluval Hagen Sea Marine Salt helps to enrich the aquarium with the right levels of calcium along with buffering capacity. A problem many people face with reef salts is that they leave residue after mixing. But with this product, you will not face any such problem.
It rapidly dissolves in the water and you will not find any residue afterwards. That is, the water in the aquarium will not get clouded and remain clear as it should be. So, if you were hesitating before seeing the comparatively higher price, now you should know why that price is fitting.
There are no unnecessary impurities in it, like trace amounts of heavy metals that are present in many apparently great reef salt mixes. After all, those things are not at all good for your corals, fish and other invertebrates in the tank. Plus, it is free of nitrates and phosphates.
These buckets are a mixture of salts that people earlier had to all by themselves. And so, consistency is always a matter of concern when preparing salt mixes. However, you will not have to be concerned about it if you buy the Fluval Hagen Sea Marine Salt.
It's as consistent in composition as it is pure. The manufacturers have tested all the raw ingredients systematically to ensure their high-quality natural ocean water formula.
This is a 56-pound reef salt mix that yields 165 gallons of saltwater mix. Everyone who has bought this has nothing less than satisfaction in their minds.
Things I Liked about the Product:
Besides the coral reef tanks that it's meant for, it can work with smaller fish tanks as well.
It creates the ideal environment where the corals can grow and in quick time too. Super effective.
Fluval coral supplement formula can mimic the real sea food that the corals are accustomed to.
Though it's primarily for Hard Corals, the right dosage can work for soft corals as well.
This thing doesn't leave any residue thanks to the high calcium content in it that forms carbonates.
Things I Didn't Like about the Product
Fluval salt mix is a bit expensive when you compare it to its competition in the market.
5. Kent Marine Saltwater Aquarium Salt Mix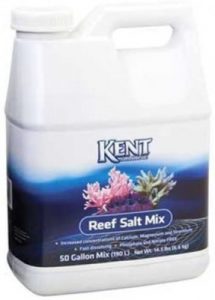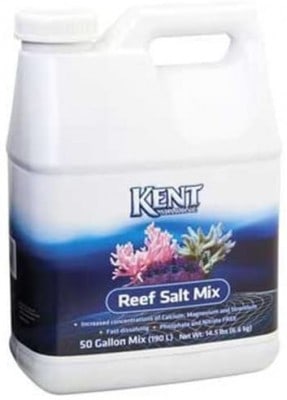 Are you new to the whole saltwater aquarium business and want to know how to be sure the salt mix you are buying is the best one? Then Kent is the answer that people seek.
Kent has been making reef salt mixes for years and never have their quality wavered from that of the best. The Kent Marine Saltwater Aquarium Salt Mix is a fine blend of all the natural goodness of the ocean your corals and fishes need to thrive. '
This thing has got all the minerals and trace minerals found in the ocean waters that are necessary for marine life. The reason why you can buy this reef salt blindfolded is that it helps to create a marine environment that is unrivaled by most other reef salt mix producers.
Kent uses proven Cora Vite technology for this very purpose. When you put a marine life inside a tank, you take on oath to cherish it at all cost. Sounds intense, doesn't it? In truth, all you have to do is give it an environment which is as good as the natural one it came from.
Some reef salts still fall short as they either lack something or have something the corals and fishes don't need. The Kent Marine Saltwater Aquarium Salt Mix has just the right amount of everything. It easily helps to prepare 1.025 S.G. saltwater which is the optimum level.
The users can use it for both fish only and reef aquariums. It is rich in calcium, iodine, strontium, vitamins and other minerals. Kent Saltwater Aquarium salt is nitrate and phosphate free.
Kent has used Micro Processing to ensure that every of their buckets and bags consists of a uniform blend of all the essential elements, major, minor and trace. As a result, people get a blooming marine aquarium where your corals and fishes are enjoying a happy life.
The Kent Marine Saltwater Aquarium Salt Mix is rather famous for its unmatched consistency and solubility. It dissolves superbly and helps to form a crystal-clear marine environment in the tank. Such an environment is not only beautiful to look but also healthy for the corals and fishes.
This Kent reef salt mix provides a proper pH level along with proper levels of calcium and magnesium. The corals or fishes won't die or get a bad stomach from digesting this. This reef salt comes in variety of sizes starting from 25-Gallon pouch, 50-Gallon Jug, 200-Gallon Box and 200-Gallon Bucket.
If you are still having second thoughts (which you don't need to have!), get the smallest size and try it out. Everybody who has bought this is happy and so are their marine aquariums. That may sound cheesy, but it's the truth.
Things I Liked about the Product:
Unlike Fluval Hagen mix, Kent saltwater mix is very much affordable and cost effective as well.
Like many of my chosen nutrients, this one suits hard coral aquariums as well as fish-only tanks.
Ideal pH level makes it easy to be ingested by corals as well as fishes in your tanks when it counts
1.025 S.G. Saltwater is the ideal count for a saltwater reef salt. This reef salt has the count.
Kent Marin Saltwater reef salt mimics ocean life perfectly as the name suggests.
Things I Didn't Like about the Product
This is not something that'll easily dissolve in the water sometimes. It's hard as brick in some cases.
How I Ended Up Choosing These Reef Salts?
You must be wondering, "How did this guy choose all the reef salts in the first place?" I must tell you, "There's a trick to all this." I'll be explaining the tips and tricks to choosing the ideal supplement for your corals in this segment of the article. Let's discuss the ins and outs in detail.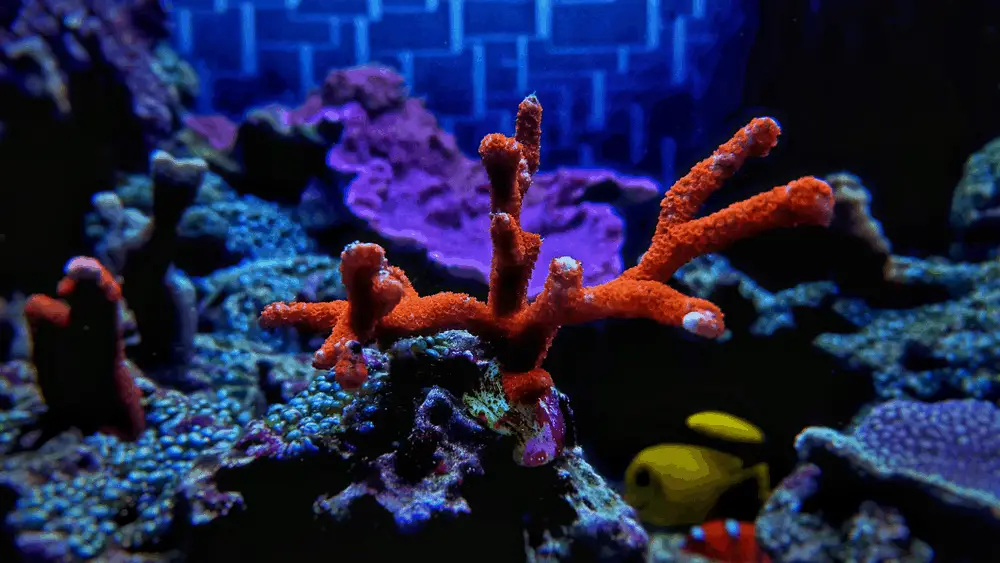 It's Best to Start Slow
Yes, indeed it is. If you know next to nothing about reef salts, you should take your time and go for budget-friendly products. However, I don't mean "Cheap" in quality. Rather, go for the brand of salt which balances performance with price. For beginners, my advice would be to go for Instant Ocean.
This is the most reputed brand when it comes to reef salts and doesn't require people to be rocket scientists to know how to apply it. In other words, it's a safe bet to go with. As a beginner, if you have some extra bucks lying around, I'd advise you to invest in better pieces of equipment for the aquarium.
Get a Reef Salt that Matches Fishes/Corals in Your Tank
Not knowing what your fishes or coral reefs need and buying reef salt is the same as playing blind. If you've noticed, I included certain salts that the fish need too. Besides the coral reefs, of course.
When we're talking fishes, certain fish need certain level of saltiness in the water. Reef salts CAN make that happen. Fishes do require certain amount of minerals to be present in the water as well. Reef salts can make the concentration of minerals favorable to our friends as well.
When we're talking coral tanks, different species of corals require different salt mixes. Normally, these mixes would have Calcium, the right dosage of Magnesium, and proper count of alkalinity. Additionally, people will have bicarbonates to contend with. Bicarbonates do a lot to reduce the acidity of the water.
People should always go for a balanced salt mix for their corals/fishes that replicate their normal habitats.
You Should Pay Attention to the Components
When it comes to Reef Salt Mixes, only the purists among all the aquarium enthusiasts know the main ingredients. Basically, you have three main ingredients to play with in any brand or product. These are: Calcium, Alkalinity, and Magnesium count in your mix.
But why would I need the ingredients? To answer your question, "These are the ingredients found in Saltwater besides the standard Sodium Chloride." Since we simulate saltwater environment in confined aquariums using salt mixes, these three are the ideal ingredients to look for in them.
If you don't know, Calcium helps in building up the stone-like construction in the corals. In layman's terms, the corals will grow up to be strong and sturdy. There's a recommended amount of calcium that has to be present in the mix. That is, 400 PPM or Parts per Million.
When it comes to Magnesium, we find it very little in saltwater. Yet, it plays an important part in the play. It adds to the Alkalinity factor in seawater. You'll find Magnesium in trace amounts in Bi-Carbonates that dissolve quickly in saltwater.
It's best to keep Magnesium count around 1200-1450 PPM in your salt mixes. People can add Calcium and Magnesium separately as well if the quantity doesn't match.
When it comes to Alkalinity, both Calcium and Magnesium contribute to up the count (but you already know that, don't you?). As an aquarium enthusiast myself, I can vouch that proper Alkalinity level is necessary. Saltwater alkalinity is slightly higher than 8. This is pretty basic.
In this case, if you have acidic water in the aquarium, it will melt the skeletons of your corals and coral reefs. Alkalinity helps to bring the acidic count down. People will normally measure the count by the amount of bi-carbonates present in the water. However, this is not the way to do things.
You'll need to measure the alkalinity manually if you want to get an accurate hold on things. The ideal Alkalinity count of saltwater is somewhere between 8 – 11 dKh.
Now, there's a catch! Naturally, brands will tell you that they have the best reef salt on offer with the correct ratio and superior ingredients. Still, you'll need to double-check if the claim is true or not.
Other Things You Might Need to Concentrate On
Although I'm grouping these two factors under one roof (I meant, point), these are equally important when we set out to buy salt mixes. The first thing is the longevity of your product. There are products that can stay good for a month. Others stay in top conditions for well over a year or so.
You need to know what kind of shelf life you want in this case. For example, if you run frequent maintenance on your tanks and change the water frequently as well, it's okay to buy mixes that have short shelf lives. If you have a large tank and change the contents infrequently, you're good for the former.
Again, if you have a small tank, buy salt mixes in smaller quantities even if they have a long shelf life. It acts like an extra layer of insurance when we want our product to stay fresh for the fishes.
One more thing I'd tell you to be conscious about is the fact that some salt mixes change the color of your aquarium's water. Let me be honest, it won't harm your corals or fishes. However, the changed color might make some pollutants difficult to see and eradicate. Be mindful of that fact before you buy.
A Short Note on How to Mix Reef Salts
Seasoned aquarium enthusiasts won't be needing this "Tiny" footnote of a guide for themselves. However, if you're dipping your fingers in a saltwater aquarium for the first time, you'll need to know how to put the best sea salt at work. You'll be needing a bunch of stuff for the mixing.
Firstly, you'll need reef salt from a good brand (cue: Take a look at my list of products). The next thing to do is to get water. I prefer deionized water for the job. But hey, one can also use tap water if the quality is satisfactory to begin with. I'd get myself a bucket, stirring tool, submersible heater, thermometer, and a hydrometer as well.
Now, it's time for mixing the salt you got. I'd pour in deionized water in the bucket first. Keep the size of your aquarium in mind and pour in reef salt according to the quantity mentioned by the manufacturer on the package. Use the stirring tool and mix the salt with water. Monitor the temperature while you do it. Next thing to do is to keep the mix undisturbed for a night. This will allow the mixture to settle down.
Before you pour the mix into an aquarium, monitor the temperature again just to be safe. Measure the salinity carefully with a hydrometer or refractometer. The temperature of the mix should be same (or at least near) as the aquarium water.
---
My Favorite Refractometers: Editors Choice
Best Handheld Refractometer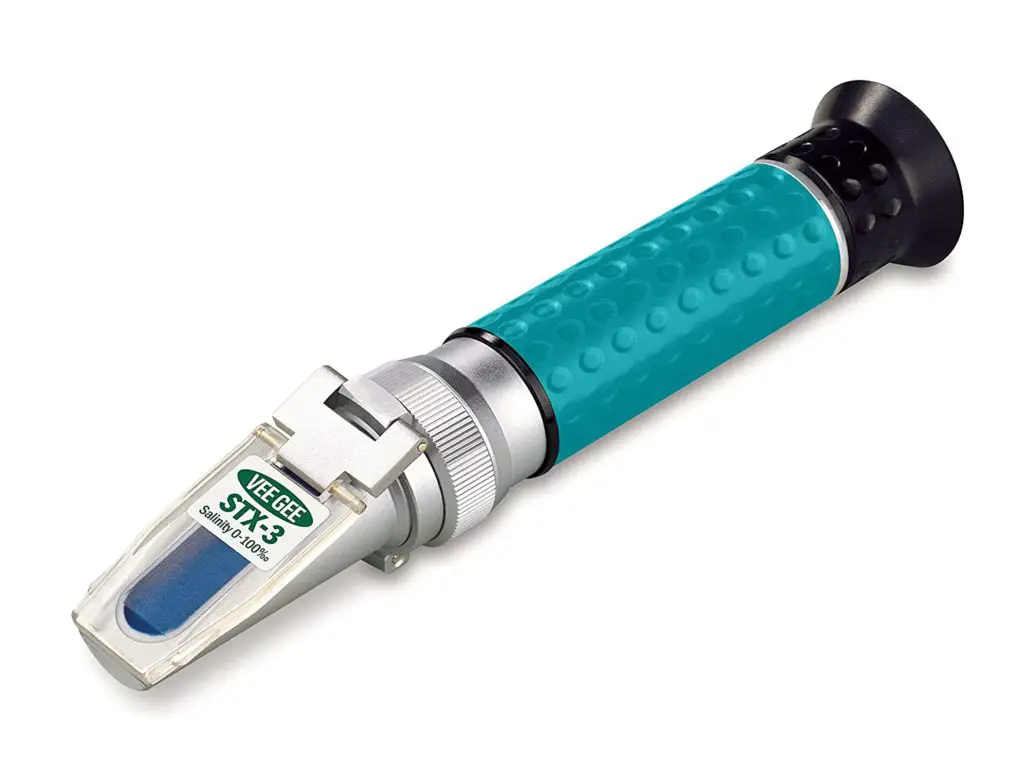 Best Digital Refractometer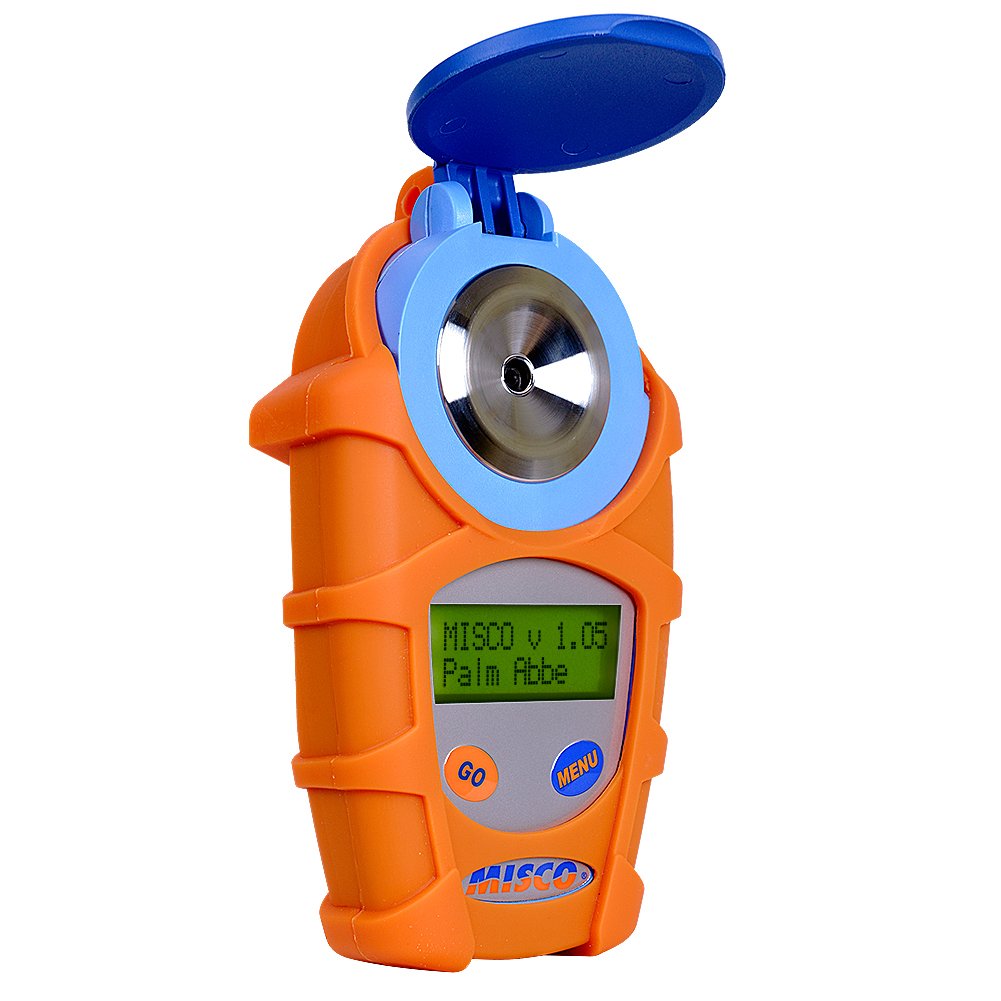 ---
My Two Cents at the End
Take reef tanks as the "Houses" your corals live in. Regular maintenance and an ideal environment are necessary for the organisms to thrive there. The best reef salts help to keep it clean and tidy.
On top of that, you'll have to know when and how to use a brand. You'll need a guide first up. My article fills the gap just fine with the recommendation, factors that prompted me to go for these salts, and a bit of "How To" section for the newbies out there.
While I did dish out five of the very best products, Fluval Hagen and Instant Ocean remain my favorites from the bunch. These two brands have everything it takes to match your saltwater aquarium. These two are nicely priced and offer the benefits to the tee.
However, I'm curious to know about your choices as well. What salt mix brand or product would you've picked and why? Let me know in the comments.